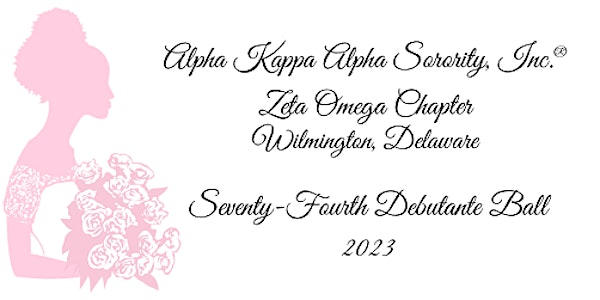 2023 Debutante Souvenir Journal
Patrons may use this page to submit payment for advertisements that will be included in the 2023 Debutante Ball Souvenir Journal.
Refund Policy
Contact the organizer to request a refund.
Eventbrite's fee is nonrefundable.
About this event
2023 DEBUTANTE PROGRAM SOUVENIR JOURNAL ADS
The souvenir journal is a key component of the Alpha Kappa Alpha Sorority, Inc., Zeta Omega Chapter's Debutante Program. In addition to highlighting the program's activities, it features an autobiographical page for each Debutante as well as congratulatory advertisements to honor them individually or collectively.
There are two types of congratulatory advertisements that can be purchased to publish in the souvenir journal. The first type is a custom-designed ad that includes a written message and artwork/photo. The second type is a sponsor ad which includes only a written message. Upon purchase, the ads must be submitted via email at debutantesouvenirjournal@hotmail.com. Specific details for each ad type and payment options are indicated below.
CUSTOM ADS
Full Page
Half (1/2) Page
Quarter (1/4) Page
Designed and submitted electronically in one of the following formats: Word, Publisher, PowerPoint, PDF, JPEG, GIF, PNG, or BMP.
Note: When designing custom ads, use Portrait layout for full and ¼ page ads and Landscape layout for ½ page ads. All custom ads should be sized 8 ½ x 11 (fill the page) as we will resize accordingly before production.
SPONSORSHIPS
Typed brief congratulatory message submitted electronically in the following sizes:
• Platinum – up to 4 lines, 26 pt font size
• Gold – 2 lines, 18 pt font size
• Silver – 1 line, 12 pt font size
How to complete the advertisement /sponsor process:
Purchase your advertisement or sponsor using this payment portal.
Record your transaction number for your records.
Complete the advertisement form (insert link) and then email the completed form and your camera ready advertisement or sponsor wording to the email address on the form.
For questions or assistance, please contact Mrs. Erika Thomas-Brown at 302-345-6580