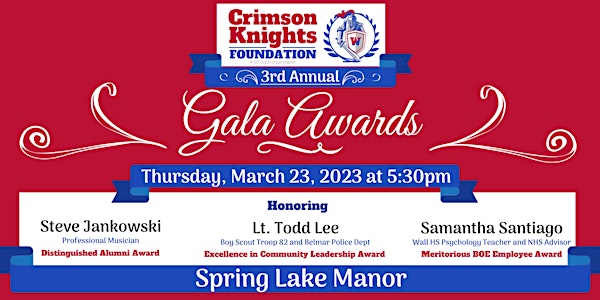 2023 Crimson Knights Foundation 3rd Annual Awards Gala
Wall Township's Crimson Knights Foundation invites you to our 2nd Annual Awards Gala at Spring Lake Manor on March 23, 2023, at 6 PM.
When and where
Location
Spring Lake Manor 415 Highway 71 Spring Lake Heights, NJ 07762
About this event
The awards are presented to persons whose outstanding accomplishments in their professional and vocational fields have had a lasting impact on the Wall Township schools and community. There will be a cocktail reception followed by dinner and the awards ceremony.
Three outstanding members of our community have been chosen to receive the following awards:
Distinguished Alumni Award: Steve Jankowski, Professional Musician, Class of 1978
Excellence in Community Leadership Award: Lt. Todd Lee, Boy Scout Troop 82 and Belmar Police Dept
Meritorious BOE Employee Award: Samantha Santiago, Wall High School Teacher and NHS Advisor
Our Distinguished Alumni Award recipient, Steve Jankowski (Wall Class of 1978), is an award-winning trumpeter and musician. Steve is an exceptionally gifted trumpet player based in the NYC area who is currently on tour with Nile Rodgers and Chic, and is one of only three trumpet players to have toured with the band Chicago. He has been a member of Blood, Sweat and Tears for 8 years and was the Musical Director for his last 6 years there. He has toured with several other artists, such as Don Henley, the Funk Brothers, Sam Moore, K.C. and the Sunshine Band, and the late Donna Summer. He has recording credits on several albums, including those by Amy Grant, Darryl Hall, Jeff Lorber, Luther Vandross, Bon Jovi, the Rolling Stones, and The Mighty Mighty Bosstones. He has also performed at several notable events, such as the Montreux Jazz festival, Madison Square Garden, Carnegie Hall, Hyde Park London, and the 2022 Royal Variety show at Royal Albert Hall. When not touring, Steve records, produces, and engineers at Jankland Recording Studio. He is also a member of NARAS, AES, and SAG. He endorses and plays horns made for him by AR Resonance and mouthpieces made for him by GR Mouthpieces and AMT Microphones.
The Excellence in Community Leadership Award will be presented to Wall Township resident and Allenwood Boy Scout Troop 82 Leader Lt. Todd Lee of the Belmar Police Dept. Todd is a highly trained and experienced law enforcement professional who graduated from the Marine Academy of Science and Technology as Battalion Commander in 1990. He has also graduated from the United States Department of The Interior Law Enforcement Academy and The New Jersey Department of Corrections Academy. He began working for the Monmouth County Sheriff's Office Youth Detention Center in 1999 and was hired as a patrolman with the Belmar Police Department in 2001. He also serves as a Monmouth County Sheriff's Office Maritime Emergency Response Team member, Dive Supervisor MCSO Maritime Emergency Response Team, and Training Officer of the Belmar Police Department. Todd has received extensive training in various areas and is an instructor for various programs. He has been an active contributor in the scouting community locally and at the county level and has received various awards for his leadership contributions. He resides in Wall Township with his wife, Liza, and his two sons.
The Meritorious BOE Employee Award will be presented to Wall High School Teacher and NHS Advisor Samantha Santiago. Ms. Santiago is a highly qualified educator with a background in biological sciences, health education, and psychology. She earned a Bachelor of Arts in Sociology with a minor in Psychology from Quinnipiac University, a Master of Arts in Health Education from Teachers College at Columbia University, and is currently working towards her Doctorate in Education in Higher Education from Fairleigh Dickinson University with a focus on mental health and inclusivity of the LGBTQ+ student community in higher education institutions. She has ten years of experience teaching general education and special education students in various subjects such as biology, anatomy and psychiatry, environmental science, and AP and CP psychology. Her goal is to create safe and inclusive spaces for learning and materials tailored to her students' unique needs. Samantha draws her inspiration from her husband and children and in her free time enjoys reading, being near the ocean, and spending time with her rescue pitbull.
This event is open to all and your ticket purchase includes hot passed hors d'oeuvres, a full sit down 3-course dinner, entertainment, and an open bar offering beer and wine (cocktails available for purchase). Come as a single, a couple, or put together a whole table of 10 to enjoy the event together. We hope to see you come out for a memorable evening in support of Wall Township Public Schools on March 24!
Please direct any questions to ckf@crimsonknightsfoundation.org.
About the Crimson Knight Foundation
The Crimson Knights Foundation (CKF) is a 501(c)(3), a not-for-profit foundation created to support excellence in primary school education in the Wall Township Public School District. The CKF funds programs and purchases over and above what the school district provides to maintain the excellence of facilities and opportunities in the Wall Township Public Schools. In our first 2 years, we donated half of the cost of the sound system at the High School football field and a new lighting system in the High School performing arts center.  In addition, the CKF supports restoring, maintaining, and building Crimson Knights pride. All donations are tax-deductible. EIN: 81-1899141