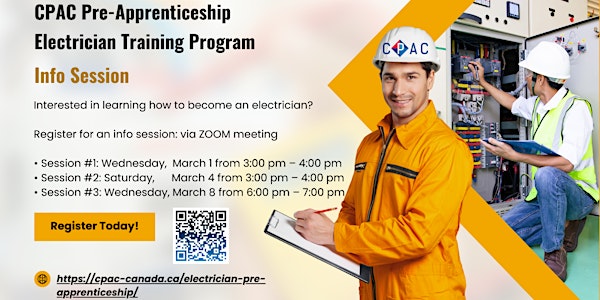 2023 CPAC Pre-Apprenticeship Electrician Program Info Session #3 on March 8
Join an info session to learn about CPAC's Pre-Apprenticeship Electrician program.
Date and time
Wed, Mar 8, 2023 3:00 PM - 4:00 PM PST
About this event
Working as an electrician in construction is a well-paid career and the demand is high for electrician apprentices and journeypersons in the labour market. CPAC, in partnership with Centennial College, runs a Pre-Apprenticeship Program for immigrants and youth from immigrant families. This program will prepare participants to become ready for employment and apprenticeship in the trade.
Program Features:
• Primary trade: Level 1 Electrician: Construction and Maintenance,309A
• Secondary trade: Fundamentals in Refrigeration and Air Conditioning
• Trade specific communication and math courses
• Health & safety and job readiness training
• Eight-week work placement
• Apprenticeship registration support
Eligibility Requirements:
• Canadian citizen or permanent resident status
• Canadian high-school diploma or a diploma/degree from a Canadian or international college/university (credential assessment is required or international education)
• CLB Level 5 for applicants with international credentials
• Commitment of 24 weeks of full-time training and work placement
Program Start Date: April 3, 2023
To apply for the program, please complete the application form and send it, along with your resume and copy of your diploma/degree or assessment report of overseas credentials to Jason Yi at Jason.Yi@cpac-canada.ca
To learn more about the program, please register and attend an upcoming online information session.
• Session #1: Wednesday, March 1 from 3:00 pm – 4:00 pm
• Session #2: Saturday, March 4 from 3:00 pm – 4:00 pm
• Session #3: Wednesday, March 8 from 6:00 pm – 7:00 pm
Frequently Asked Questions (FAQs) for 2023 CPAC Pre-Apprenticeship Program
About the organizer
CPAC is a non-profit organization serving a community of internationally trained professionals. For over two decades, CPAC has been helping immigrants with employment and career advancement, gaining necessary credentials, and accessing international business opportunities. CPAC is also an organization that assists them with cultural integration into Canadian society. The organization now has over 30,000 members from various cultural and ethnic backgrounds with a wide range of professional training and skills. CPAC members get access to a comprehensive package of services and benefits to enhance their life in Canada.