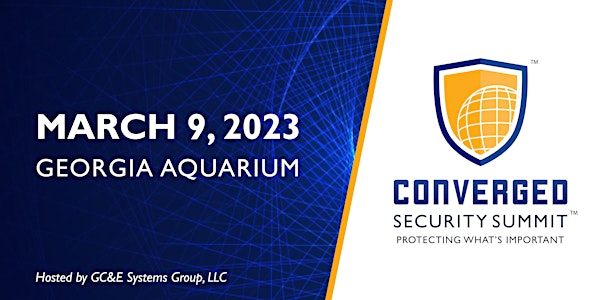 2023 Converged Security Summit
[REGISTER NOW FOR THE 2023 CONVERGED SECURITY SUMMIT!]
By GC&E Systems Group, LLC.
Date and time
Thursday, March 9 · 7:30am - 3pm EST
Location
Georgia Aquarium - Oceans Ballroom 246 Ivan Allen Jr. Blvd. NW Atlanta, GA 30313
About this event
Welcome to the 6th Annual Converged Security Summit!
Hosted by GC&E Systems Group, the Converged Security Summit (CSS) is a one-day, comprehensive event that will bring together experts in physical, electronic, and information security to discuss best-practice countermeasures to safeguarding IT infrastructure and information assets, as well as proven solutions for perimeter security, privacy and employee safety.
This year, GC&E will introduce Cyber Island providing dedicated space for you to connect with industry leaders specializing in cyber security.
KEYNOTE SPEAKER AND TOPIC:
R.C. Woodson, BBNC SVP & CIO will share insights on Cyber Threat Landscape: Navigating Challenges and Protection Solutions
R.C. has over 30 years of experience in the IT industry, with over 20 years of senior executive experience in providing technology solutions to organizations. He has experience derived from a wide range of industries, both public and private. These industries include logistics, financial services, and the Department of Defense. He has taught information technology and business management courses at local colleges. Currently, R.C. is responsible for establishing, planning, and administering the overall Information Technology strategy, policies, and goals for Bristol Bay Native Corporation (BBNC). BBNC is one of the top ten Alaska regional corporations with more than a hundred subsidiary companies across multiple lines of business. Tourism, industrial services, government services, and construction—together, BBNC companies blend expertise and technological muscle in support of smooth, safe, and successful business operations nationwide. R.C. is known for his expertise in Strategy & Governance, Cybersecurity & Risk, Mergers & Acquisitions, Server & Network Architectures, Distributed Systems and Enterprise Resource Application implementations. He is talented in efficiently creating and deploying IT solutions across many business models. He drives results and provides innovative methods to improve both IT operations and clients' bottom-lines. R.C. mentors and manages IT activities for subsidiary companies as well as the parent company. His company is currently engaged in transforming the business to adapt improving efficiency across the enterprise while continuing to streamline back-office IT operations. He serves a member of the Alaska Vocational Technology and Education Center (AVTEC) Technology Council and the Alaska InfraGard Board specializing in Cybersecurity activities.
PANEL DISCUSSION AND TOPIC:
A panel discussion led by industry experts will address best practices for today's security and IT-related technology platforms highlighting ways to partner with IT departments, technology providers and integration partners to best protect what is important to you.
Panel Members:
Ben Butchko, President & CEO Butchko, Inc.
Danny Nieves, Chief Technology Officer, VanRan Communications
Jim Mills, Account Executive 4, Dell Technologies
Rommel Roberts, CEO at ReddWare, Inc.
More than 25 manufacturers and solution providers will be on hand to exhibit and share relevant information pertinent to the latest in their areas of technological offerings.
Bringing together IT and security professionals and best-of-class security manufacturers, the Converged Security Summit offers an avenue for engaging sought-after speakers and industry thought leaders, while providing ample networking opportunities with other professionals and service providers. The objective of this summit is to spark new ideas and facilitate conversations with the goal of informing industry leaders and the community of ways to better mitigate risks to physical and information assets. 
Come Check Out the Cyber Island NEW for 2023!
New this year, we are happy to bring the Cyber Island to CSS 2023 to help our partners stay protected and prevent hacking in their critical infrastructure such as CCTV, Access Control, and Intrusion Systems! Dell Technologies and VanRan Communications will be present to help walk you through strategies to mitigate risks associated with cybersecurity.
FAQs
What is the dress code to the event?
The dress code is business professional attire.
What is the cost to attend the event?
The event is free to all registered attendees. 
What are my transportation/parking options for the event?
If you are driving, parking is FREE to CSS attendees & exhibitors on 03/09/2023 at the Georgia Aquarium-Oceans Ballroom covered parking deck located at 246 Ivan Allen Jr. Blvd. NW or 357 Luckie Street NW; once parked, follow signs to the Oceans Ballroom. 
If you are traveling by train via MARTA, the Georgia Aquarium is a 10–15-minute walk from the Dome/GWCC/Philips Arena/CNN Center Station on the Blue/Green line or from the Civic Center or Peachtree Center Stations on the Red/Gold line. Upon arrival, follow signs to the Oceans Ballroom.
Can I bring my firearm?
No. Georgia Aquarium has established – and strictly enforces – a "No Weapons" policy. Weapons include (but are not limited to) firearms and knives. This policy was created to ensure a safe and comfortable experience for all guests, and to eliminate a potential risk to guests, staff and/or animals. This policy was created based on the findings of a comprehensive threat assessment conducted by Georgia Aquarium and the Georgia Department of Homeland Security. With more than two million guests visiting the facility each year, and thousands of aquatic animals living in 10 million gallons of water behind acrylic, Georgia Aquarium cannot put themselves at risk of either an intentional or accidental discharge of a weapon within their facility. Signage has been placed on their property stating that firearms are not permitted. Enforcing this policy and ensuring the safety of aquarium guests and team members is Georgia Aquarium's 24-hour security staff, which is supplemented by (2) off-duty Atlanta Police Officers.
What if I'm an "On Duty Officer" and I'm carrying my firearm?
If you are an On-Duty Officer, please notify us upon your arrival. You will be checked in with the Georgia Aquarium's security manager.
Will food & drinks be provided?
Yes, breakfast and lunch will be provided.
Will there be a raffle drawing? Yes! For 2023, GC&E will be conducting two drawings. For the general raffle, each attendee will receive one (1) raffle ticket upon registration check-in. Further announcement and details of the second raffle are in development. To win in either drawing, you must be present to claim the prize. Event staff and exhibitors are not eligible to participate.
Does registration to the event also allow for admission to the Aquarium? No. Registration allows you access to the event only, which is held in the Oceans Ballroom.  
Where can I contact the organizer with questions about Cybersecurity, Vulnerability & Assessment Testing, and/or Electronic Security?
You can contact the organizer by email at hsteinhoff@gcesg.com or by phone at 678-431-1819.