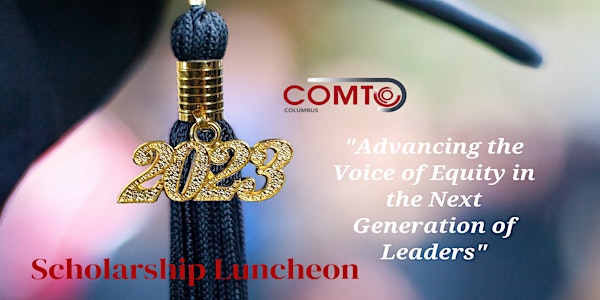 2023 COMTO Columbus Scholarship Luncheon
During the 2023 COMTO Columbus Scholarship Luncheon, we will award academic scholarships to numerous outstanding and deserving students.
By COMTO Columbus Chapter
Date and time
Wednesday, June 7 · 11am - 1:30pm EDT
Location
The Grand Event Center at Grandview Yard 820 Goodale Boulevard Grandview Heights, OH 43212
About this event
2 hours 30 minutes

Mobile eTicket
The Conference of Minority Transportation Officials (COMTO) Columbus chapter will award scholarships for the upcoming 2023-2024 academic year to deserving students who express an interest in pursuing college studies/technical programs in a transportation related field. The scholarships seek to provide educational funding for underrepresented groups (African Americans, Hispanics, Native Americans, Asian-Pacific and Subcontinent Asian Americans, and women), and the funds may be used for tuition, books, and/or room and board expenses.
About the organizer
Mission
Our mission is to ensure opportunities and maximum participation in the transportation industry for minority individuals, veterans, people with disabilities and certified MWDBE businesses through leadership training, professional development, scholarship and internship funding, political advocacy, partnership building and networking opportunities.
Vision
To build upon our 50-year continuous legacy of ensuring full access, while keeping pace with the rapidly evolving industry and anticipating future goals and accomplishments.
Membership
COMTO has thirty-four (34) chapters throughout the United States and Canada. Members include individuals, transportation agencies, academic institutions, industry non-profits and Historically Underutilized Businesses (HUBs). From highways and roads to mass transit systems; from subways to rail systems; and from port authorities to airports, COMTO members represent every facet of the transportation industry.

COMTO National History
Founded in 1971 on the campus of Howard University in Washington, DC, the Conference of Minority Transportation Officials (COMTO) was created to provide a forum for senior level minority professionals in the transportation industry. Since its inception, COMTO has continued to evolve to become the premier organization for the training, education, and professional development of minority transportation professionals. The true measure of how far COMTO has come is revealed by the talent, tenacity and accomplishments of the members who have joined forces to correct the inequities of the past and chart the direction of the future.

COMTO Columbus History
COMTO Columbus reorganized its chapter on July 18, 2014 to provide a networking forum for minority professionals in the transportation industry within Central Ohio. COMTO Columbus serves a multitude of stakeholders, by providing the value of research, organization, advocacy of local/state policies, information sharing, educational & professional development, training, and collaboration for members' constituencies (public sector, private sector, and academia).

COMTO Columbus' core values are embodied in how we conduct business and how we interact with our stakeholders, or members, customers, partners, and supporters. We affirm, and are committed to:

Transportation Advocacy

Diversity & Inclusion

Education & Scholarships

Growth & Retention

Integrity

Service

COMTO Columbus Scholarships
COMTO Columbus' goal is to assume an active role in the minority community, establishing numerous programs that will energize and strengthen the communities we serve. One program we ae very committed to is our scholarship program. We believe education is a core foundation of excellence in the transportation and any other field of study. Our scholarship program provides financial support to minority students to help them maximize their education potential.