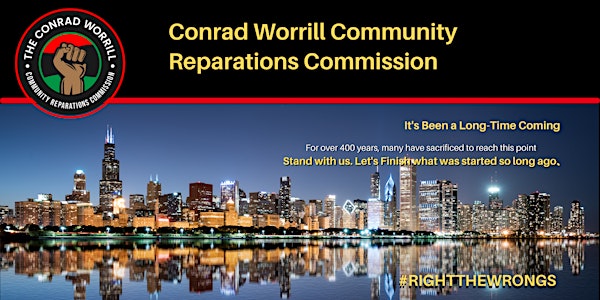 2023 Community Meeting - Conrad Worrill Community Reparations Commission
Conrad Worrill Community Reparations Commission - Community Meeting - Selection Committee Application Process. Choose the Commissioners.
By Conrad Worrill Community Reparations Commission
Date and time
Saturday, April 22 · 10:30am - 12pm CDT
Location
Cinema Chatham, Powered by Emagine 210 West 87th Street Chicago, IL 60620
About this event
1 hour 30 minutes

Mobile eTicket
Community Meeting Co-hosted by the Conrad Worrill Community Reparations Commission and Reparations United
COME JOIN US at the Chatham Emagine Theater on March 25, 2023, at 10:30 am as the Conrad Worrill Community Reparations Commission and Reparations United Co-host our monthly community meeting.
The purpose of this community meeting is to allow the CWCRC to continue its work educating and organizing the community and elected officials toward creating, passing and funding reparatory proposals for local reparation efforts.
Topic: We will discuss the selection committee duties and the application process in choosing the Conrad Worrill Community Reparation Commissioners. 37 Community Commissioners will oversee reparations issues, research, design, and implementation for Chicago's 77 communities. The Commissioner will present their territorial reports to be consolidate and used to further extend our supportive efforts with the City of Chicago Subcommittee on Reparations.
Each community will be represented by a member of that community to form subcommittees that roll up to the commission. This will allow a greater, more accurate consensus of facts and numbers to be collected in formulating a true and realistic plan, in addition to the implementation for African Descendants Reparations.
All Qualified*communities and its community members will be:
Heard and Considered
Represented Fair and Equitable
Given the opportunity to receive reparations
Extended the chance to Justify their Communities Involvement
Able to Attend Educational Workshops and Field Trips
Granted Access to specialized Corporate D.E.I. Training and Events
* Descendants of enslaved Africans
Go to our Website: Conrad Worrill Community Reparations Commission
Special Thank You to the Chatham Emagine Theater, City of Chicago Reparations subcommittee, acknowledgements to Alderman Roderick Sawyer, Alderman Stephanie Coleman, and Alderman Andre Vasquez, Foxx Entertainment Group Inc. and more.
All Guest will receive a complimentary popcorn with the registration ticket. Food, drinks and snacks will be available to purchase during lunch. VIP Guest and new members of the Commission will receive lunch and a free Commemorative CWCRC T-shirt. CWCRC commemorative Reparations T-shirt will be available to buy for $20.00.
Doors will open promptly at 10:00 am. You should be in your seat no later than 10:15 am. We will begin programming promptly at 10:30 pm CST. The meeting is anticipated to last no later than 1 h 15 m.
Seating is provided on a first come first served basis. Seating is limited; therefore, it is suggested that you purchase your tickets in advance.
Check-In. A Guest list will be available upon arrival for this event. If you are not able to attend and want to transfer your ticket(s) a physical ticket must be in presented. Guest will not be permitted to attend the screening without a registered ticket. Please keep your tickets in a safe place.
Social Distancing is optional and strongly encouraged. If you are under the weather, we ask that you be courteous and please email us at info@CWCRC.org so that we may send you link to livestream the event from the comfort of your home. Proof of Vaccination does not need to be presented.
Donations to the Conrad Worrill Community Reparations Commission help fuel reparations initiatives for the community not only in Chicago but throughout Illinois. CWCRC is an educational fundraiser hosted by a 501C3 organization. Please consult your tax advisor for tax deduction information. All sales are final. No refunds will be provided.
"Thank you everyone for your cooperation and support! We look forward to seeing you at the event."
FOR MORE INFORMATION
Call: La Kisha at (312) 415-1689 for VIP Information or if you are interested in donating or becoming a sponsor.
Get Involved: If you are interested in volunteering for or becoming a member of the commission, please Sign Up Now.
Email Us: info@CWCRC.org
Visit Our Website: https://www.CWCRC.org/
Like and Follow Us on:
Facebook: Chicago Reparations
#CWCRC #ChicagoReparations #BlackHistory #DiversityEquityInclusion #JohnLewis #DawnPorter #WhoWeAre #DrWillieWilson #ConradWorrill #NCOBRA #AFewGreatWomen #ChathamEmagine