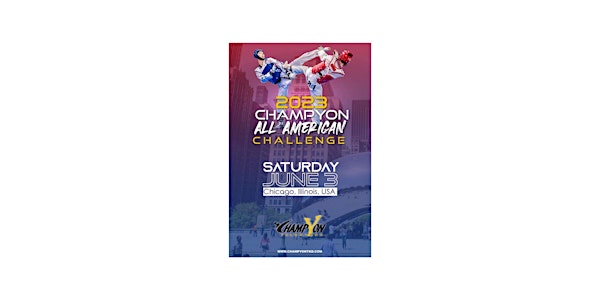 2023 ChampYon All American Challenge
On behalf of ChampYon Taekwondo USA, it is with great honor that we invite you to the 2023 USA CHAMPYON INTERNATIONAL TAEKWONDO CHAMPIONSHIP
Date and time
Saturday, June 3 · 9am - 6pm CDT
Location
Oak Lawn Pavilion 9401 South Oak Park Avenue Oak Lawn, IL 60453
About this event
On behalf of ChampYon Taekwondo USA, it is with great honor that we invite you to the 2023 USA CHAMPYON INTERNATIONAL TAEKWONDO CHAMPIONSHIPS
We envision this tournament will be a prestigious event, drawing competitors from all over the United States and international athletes. It promises to be a highly competitive and exciting event, showcasing the best in Taekwondo.
We will be using modified USAT and WTF sparring rules. All divisions will use Daedo electronic chest protectors, black belts 12-32 will use electronic head gear and double elimination. All athletes must have their own socks. Socks will be available for sale at the tournament site.
Please reserve Saturday, June 03, on your calendar for this auspicious event.
It will be held at the Oak Lawn Pavilion 9401 S. Oak Park Av. Oak Lawn, IL.60453 located 25 minutes from downtown Chicago.
Thank you for your generosity.
For more information, please contact: GM Luciano Medina, champyon1030@gmail.com
ChampYon Taekwondo USA
3657 E. 112th Street Chicago, IL. 60617
Tel. (773) 375-5330