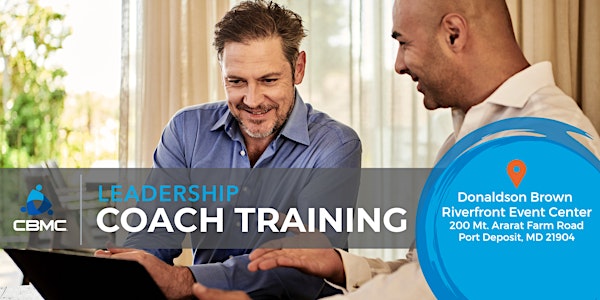 2023 CBMC East Region Leadership Coach Training
One day of interactive classroom training on Saturday, March 11th - Registration begins @ 8:30 AM, Training begins @ 9 AM & ends @ 4:30 PM
When and where
Location
Donaldson Brown Center 200 Mount Ararat Farm Road Port Deposit, MD 21904
About this event
Presented 'Live' by program creator Dr. Roger Erdvig

Leadership Coach Training is a workshop focused on the intentional development of coaching skills in Christian leaders. It is a one-day interactive training plus eight weeks of peer-to-peer training exercises (via conference call or in person), resulting in your certification as a Leadership Coach.
>>>>>>>> <<<<<<<<
Click here for a short video endorsement of the impact of CBMC Leadership Coach Training
If you would like a preview of the coach training, click HERE for the recorded CBMC Coach Training Discovery Session (56 min.).
>>>>>>>> <<<<<<<<
WHAT YOU CAN EXPECT FROM THIS TRAINING?
One full-day workshop, based on professional coaching standards, facilitated by a certified coach trainer, complete with breakout sessions and practical application, including these topics:
The Art of Leadership Coaching
What is Coaching - What it isn't
Coaching Values - Living them out
The Practice of Leadership Coaching
Intuitive Listening
Powerful Questions
Goal Setting and action steps
Sustainable Change
Establishing a coaching culture
Followed by eight weeks (via conference call) of peer-to-peer coaching practice.
You will have the opportunity to practice the coaching principles with a peer in the program. You will also have the opportunity to listen in on coaching conversations and experience coaching conducted by a certified CBMC Leadership Coach.
COSTS
First-time students pay $249, which includes your textbook, workbook, continental breakfast, and lunch on Saturday.
Returning coaches pay only $89 for the in-person training, as they will re-use the textbook and workbook.
Participating Coach Trainer - no charge. We would like to honor our volunteer trainers by providing the meals and facility charges. If trainers would like to help fund this cost, a contribution, in the form of a sponsorship, would be welcomed.
Donations are accepted to provide scholarships awarded. Please direct scholarship requests to your Area Director.
EVENT CONTACTS
Scott Newcomer - 610-304-1493, snewcomer@cbmc.com
Chuck Whitmore - 410-403-6643, cwhitmore@cbmc.com
Paul Schomburg - 410-661-5665, pschomburg@cbmc.com