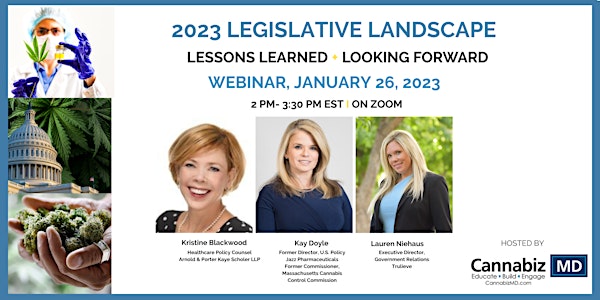 2023 Cannabis Legislative Landscape: Lessons Learned + Looking Forward
U.S. cannabis policy experts discuss lessons learned in 2022 and what's ahead in 2023 federal and state cannabis policies.
About this event
Hosted by CannabizMD Founder/CEO Jacquie Cohen Roth, MS, "2023 Legislative Landscape: Lessons Learned + Looking Forward" is a webinar for all cannabis industry professionals and healthcare providers. A distinguished panel of industry policy and law professionals will discuss recent federal cannabis legislation - what passed and failed in 2022 - and what's best for new state medical and adult use programs.
Per the Marijuana Policy Project, polls show that 68% of Americans support making cannabis use legal and around 90% support allowing medical cannabis, but lawmakers lag far behind the public. 2022 saw the first stand-alone federal cannabis legislation for cannabis research made into law but the SAFE Banking Act failed. 2022 also saw several new medical cannabis programs and new adult use markets. What's working and what's not?
Missouri and Maryland passed adult use in 2022. What's the impact on the respective medical programs? Which states are likely to pass adult use in 2023?
Following the discussion, there will be a Q + A session with webinar attendees and panel members.
Cannabis Law + Policy Expert Panel Members
Kristine Blackwood has held leadership positions at the US Department of Health and Human Services, the US Department of Justice, and House and Senate Committees with healthcare jurisdiction. She devises and implements comprehensive advocacy campaigns to advance legislative and regulatory goals on Capitol Hill and with the Executive Branch.
Ms. Blackwood served as Deputy Director for Congressional Oversight and Investigations in the Office of the Secretary for Health and Human Services, where she was responsible for developing strategic responses to Congressional oversight and investigations on Affordable Care Act implementation; public health agencies' preparedness for disease outbreaks and malicious attacks; the FDA's food, drug and device approval programs; procurement policy; care and placement of unaccompanied children; and other HHS programs. Prior to that, she served as Chief Counsel for the Senate Special Committee on Aging, and Investigative Counsel at the House Committee on Energy and Commerce, focusing on healthcare issues. Ms. Blackwood also spent over twelve years as a career professional with the DOJ, serving as Attorney-Advisor in DOJ's Office of Legislative Affairs; National Healthcare Fraud Coordinator for the nation's 94 US Attorneys' Offices; and before that, as an Assistant US Attorney for the Central District of California investigating and prosecuting complex health care fraud cases.
Ms. Blackwood co-chairs The Council for Federal Regulation (CFCR) Public Policy Committee which is primarily responsible for interacting with legislators and regulators and formulating policy recommendations for CFCR.
Kay Doyle played a major role in standing up the Massachusetts cannabis industry. An attorney, she previously worked as general counsel for the Massachusetts Department of Public Health, where she advised DPH on setting up the state's medical marijuana program. In that role, she became Massachusetts's first full-time public employee to be paid solely from marijuana revenues. Ms. Doyle was then appointed to be one of the inaugural Massachusetts Cannabis Control Commissioners, overseeing both the adult use and medical use cannabis industries in the first state on the Eastern seaboard to legalize cannabis for adult use. She took the lead on crafting the commission's environmental and energy standards for growers, which are some of the strictest in the country in requiring cannabis growers to make their facilities energy efficient. She pushed for a policy of prioritizing licensing reviews for outdoor growers and of women, minority, and veteran-owned businesses. Ms. Doyle crafted the state's cap on cultivation, which limits the amount of marijuana any single company can grow.
Most recently, she served as Director of U.S. Public Policy & Public Affairs at Jazz Pharmaceuticals. Jazz Pharmaceuticals manufactures Epidiolex, a pharmaceutical formulation of highly-purified cannabidiol (CBD), is the first prescription, plant-derived cannabis-based medicine approved by the U.S. Food and Drug Administration (FDA).
Lauren Niehaus is Executive Director of Government Relations at Trulieve, an industry-leading, vertically integrated cannabis company and multi-state operator in the U.S. operating in 11 states, with leading market positions in Arizona, Florida, and Pennsylvania. Ms. Niehaus fosters and maintains relationships with key regulators and elected officials in local, state, and federal governments. She monitors, analyzes, and lobbies local, state, and federal regulatory and legislative agencies while providing analysis and insight as to ballot initiatives and industry social trends. She provides internal strategic guidance related to external affairs and implements policies and procedures that align with the passage of new rules and legislation.
Prior to her role with Trulieve, Ms. Niehaus was the Deputy Director for the Conference of Western Attorneys General (CWAG) Alliance Partnership. She facilitated strategic planning and project management to enhance organizational growth and cultivate valuable relationships with internal and external stakeholders. Ms. Niehaus furthered the larger goals of the organization while promoting efficient processes and procedures that allowed for the expansion of existing programs.
Proceeds of CannabizMD programs support the non-profit Tea Pad Foundation and The Tea Pad Fellowship Program which is focused on advancing women and people of color in cannabis STEM (science, technology, engineering, and medicine).
CannabizMD Refund Policy: Refunds will only be made in the event of a CannabizMD cancellation without prior notice to ticket purchaser(s).