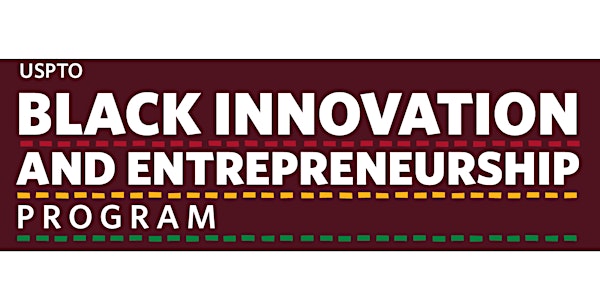 2023 Black Innovation and Entrepreneurship, part two, virtual
Attend in person or online to learn how intellectual property protection help successful entrepreneurs and inventors.
About this event
Join us for the second session of the 2023 Black Innovation and Entrepreneurship Program:
Hear special guests' conversations about the importance of inclusivity in STEM education.
Learn best practices for mentorships and inspiring the next generation of innovators.
Learn how educational programs are engines of opportunity for invention and entrepreneurship.
This event will also feature a sneak preview of the upcoming documentary short "America's Ingenuity," created in partnership with the National Inventors Hall of Fame. The film focuses on Richard F. America, one of the youngest Black inventors on "Baker's list," the first repository of African American patent holders compiled by lawyer, assistant patent examiner, and civil rights activist Henry E. Baker (1857 – 1928).
Register today to attend online or in person at the Morgan State University Earl G. Graves School of Business and Management.
And don't forget the rest of the series:
The event agenda will be posted soon. If you want to be alerted when it is available, email BlackInnovation@uspto.gov .
To see recordings of previous Black Innovation and Entrepreneurship programs, visit the event series page and select the event you want to watch.
The United States Patent and Trademark Office (USPTO) offers inspirational and educational events, open to all, that feature successful innovators from a wide variety of backgrounds. Come learn about IP, innovation, and valuable resources available to independent inventors, small businesses, entrepreneurs, and underrepresented or underserved populations. Find out more at www.uspto.gov/innovationforall.
The Black Innovation and Entrepreneurship Program is presented by the Office of Innovation Outreach. For more information, please contact BlackInnovation@uspto.gov.
The content and opinions shared by our guest speakers during this program are not those of the USPTO, nor an endorsement of any persons, products, programs, or policies mentioned therein.
If you are an individual with a disability and would like to request a reasonable accommodation, please submit your request to the contact information listed above.