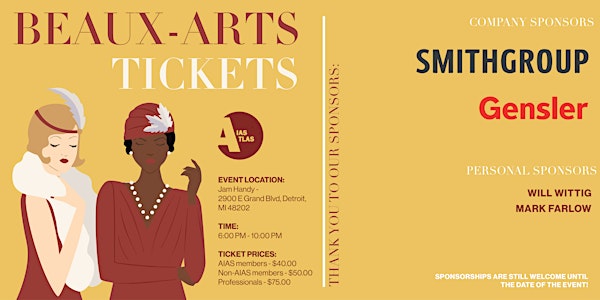 2023 Beaux Arts Gala
AIAS-Atlas UDM & AIAS LTU are excited to invite you back to the 1920s for a night of music and dancing lavish enough to impress Gatsby!
By AIAS Atlas UDM & AIAS LTU
When and where
Date and time
Saturday, April 1 · 6 - 10pm EDT
Location
Jam Handy 2900 East Grand Boulevard Detroit, MI 48202
Refund Policy
Contact the organizer to request a refund.
Eventbrite's fee is nonrefundable.
About this event
The annual Beaux Arts Gala is a celebration of the academic and professional architecture practice. The gala provides students a break from thinking about their renders and instead indulge in some music and dance. It provides professionals a distraction from the piles of CDs that loom over their desks. We're looking to have some fun and we're hoping that you are as well! So kick back and enjoy a drink as we get this party started! The Beaux Arts Gala is co-hosted this year by AIAS - Atlas UDM & AIAS LTU and we're excited to see you there!
Event Information
Location: Jam Handy - 2900 E Grand Blvd, Detroit MI, 48202
Time: 6:00 -10:00 pm
Ticket Information:
AIAS Atlas ( $40): These tickets are limited to paying members of AIAS - Atlas UDM. Do not select these tickets unless you're a paying member at the University of Detroit Mercy.
Non-AIAS ($50): Refers to all students that are non-paying AIAS - Atlas UDM members. This extends to Detroit Mercy, Lawrence Tech, and other schools attending. Guests of students will pay the Non-AIAS rate as well. People partaking in full-time Co-Op or are on a gap year at Detroit Mercy will pay the Non-AIAS rate as well.
Professional ($75): Refers to all participants that are not current students and are not the guest of an AIAS - ATLAS or Non-AIAS ticketholder.
All tickets include food and drinks
FAQs & Contact Information
What is the Dress code? Formal attire is the expected dress code for this event.
Can I get alcoholic drinks if I'm under 21 years old? No.
Will there be an open bar? Yes.
What kind of food will be served? Hors D'oeuvre.
Will there be parking? Parking is available alongside Grand Blvd. and the lot owned by Jam Handy.
Is this the time to do some job scouting? Probably not, enjoy the night and go to a career fair at a later date.
Should I bring my portfolio? Absolutely not.
What should I bring? A good attitude, a killer outfit, some crazy dance moves, and possibly a willing date.
What if I can't dance? Give it a try or talk to other people who can't dance.
How do I ask someone to be my date? Be casual about it and ask confidently. Remember you're not asking them to marry you it's only a dance. Don't take rejection personally if it happens and move on, ask someone else possibly. I recommend staying away from public proposals unless you're in a committed relationship, even then they can be troublesome. Public proposals hold the potential to be embarrassing for both parties.
For any further questions please email jaigirta@udmercy.edu