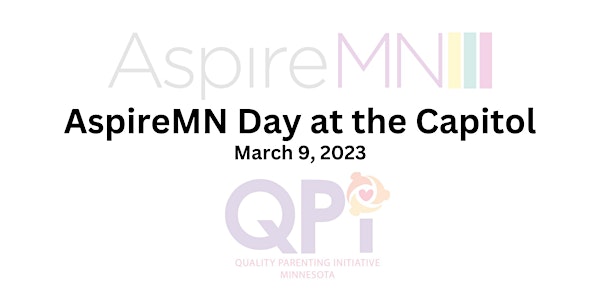 2023 AspireMN Advocacy Day at the Capitol
Join the AspireMN Community for Mental Health Day at the Capitol on March 9, 2023!
When and where
Location
Minnesota State Capitol 75 Rev Dr Martin Luther King Junior Boulevard. Saint Paul, MN 55155
About this event
Join AspireMN as we raise our voices to advocate for Children's Mental Health and Child Welfare for all Minnesotans!
Join with MNHL to voice our solidarity for Mental Health across Minnesota
Every year the Mental Health Legislative Network holds Mental Health Day on the Hill when mental heal advocate come to lear the key issues, rall in the Capitol Rotunda and lobby their legislators.
AspireMN will join Mental Health Legislative Network for the first part of the day. In the afternoon, AspireMN will gather to discuss our advocacy priorities before we meet with legislators.
Follow our time at the Capitol, AspireMN will gather to discuss the day, decompress and network at The Radisson at the Capitol.
Agenda for the Day:
9:30 am MHLN Briefin at Christ Lutheran Church, 105 University Ave W., St. Paul, MN
Legislative meetings
11:00 am Rally in the Rotunda
Legislative meetings and/or lunch
1:00 pm AspireMN Member Training focusing on Child Wellbeing --Press Conference Room B971 at State of Minnesota (Interior Spaces)
2-3:30 pm Legislative Meetings
3:30 - 5 pm Networking & Discussion Time at Radisson at The Capitol, Room Capitol Hall East
Agenda
9:30 AM - 10:30 AM
Training at Christ Church Lutheran
10:45 AM - 11:00 AM
Legislative Meetings
11:00 AM - 11:30 AM
Mental Health Day on the Hill Rally
11:30 AM - 1:00 PM
Legislative Meetings and Lunch
1:00 PM - 1:30 PM
AspireMN Children's Mental Health and Child Welfare
1:30 PM - 3:30 PM
Legislative Meetings
3:30 PM - 5:00 PM
AspireMN Networking and Discussion Time
Frequently asked questions
Where do I get my informationa?
How do I find my legislator?
Can AspireMN schedule an appointment(s) for me?