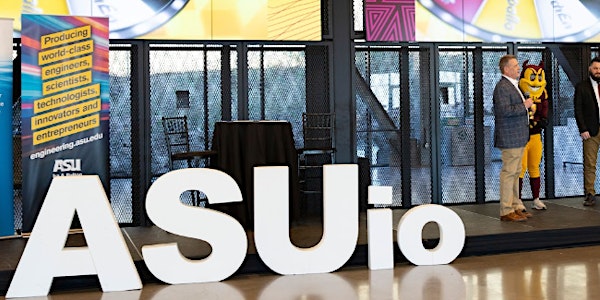 2023 Arizona State University Innovation Open
Meet student entrepreneurs who will change the world and compete for more than $200,000 in funding.
When and where
Location
Walton Center For Planetary Health 777 East University Drive Tempe, AZ 85281
About this event
The top 25 entrepreneurial-minded student teams from around the world will pitch their ventures for a chance to win the 2023 ASU Innovation Open (ASUio).
During the ASUio Finals, winners will be awarded more than $200,000, with the top venture earning grand prizes of $100,000!
Get inspired to change the world.
SCHEDULE
LIVE STREAM: www.asu.io
(Note: All times are MST/ AZ Time; so please adjust your calendar reminders accordingly)
1: 00 p.m. Show Begins
1:10 p.m. Welcome Address
1:15 p.m. Between Two Founders Interview (Jonathon Barkl, AirGarage, and Alicia Chong, Bloomer Tech); Former ASUio finalists discuss the trials and tribulations of starting a business
1:35 p.m. Live Pitch - Casey Grage (Hubly Surgical) pitches to investors with live commentary
1:55 p.m. ASUio Keynote - Joy Seitz, CEO of American Solar & Roofing
AWARDS PRESENTATION
2:15 p.m. SOURCE Global Technology for Social Equity Prize (Presented by Cody Friesen)
2:25 p.m. Avnet Connectivity Prize (Presented by Scott Tippin)
2:35 p.m. Intel Prize (Presented by Dave Montero)
2:45 p.m. eSeed Pay it Forward Prize (Presented by Tom Prescott)
2:55 p.m. Closing Remarks
3:00 p.m. Venture Showcase Booths & Networking
4:00 p.m. Adjourn