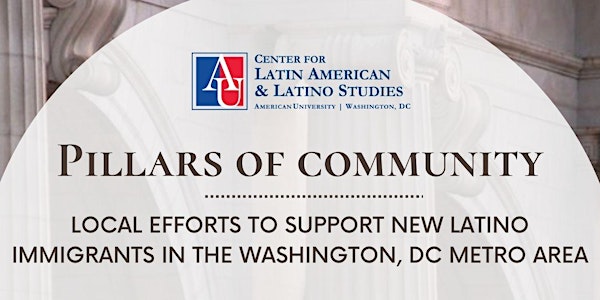 2023 Annual Latino Public Affairs Forum
Pillars of Community: Local Efforts to Support New Latino Immigrants in the Washington, DC Metro Area
By Center for Latin American & Latino Studies at American University
Date and time
April 27 · 9am - April 28 · 5pm EDT
Location
Spring Valley Building, American University 4801 Massachusetts Avenue Northwest Washington, DC 20016
Agenda
9:00 AM - 9:30 AM
Day 1: Arrival with light breakfast
9:30 AM - 10:00 AM
Welcome Remarks from Dr. Ernesto Castañeda
10:00 AM - 11:30 AM
Panel 1: Education Access and Quality for English Language Learners
---
Speakers include Jacqueline Fernandez-Romero, Principal, LAYC Career Academy; three students from LAYC Career Academy; and Terence Ngwa, Director of the Antiracist Administration, Supervision, & Lead...

11:30 AM - 11:45 AM
Break
11:45 AM - 1:15 PM
Panel 2: Community Health and Emergency Service Providers
---
Speakers include Abel Nuñez, Executive Director, CARECEN; Andrea Gallegos-Montilla, Managing Director, SAMU First Response; Kellilynn Frias, Assistant Professor, Kogod School of Business, American Un...

1:15 PM - 2:15 PM
Lunch
---
Lunch will be provided.
2:15 PM - 3:45 PM
Panel 3: Local and Federal Immigration Policies Shaping the DMV
---
Speakers include Julia Gelatt, Senior Policy Analyst, Migration Policy Institute; Janice A. Iwama, Assistant Professor, Department of Justice, Law & Criminology, School of Public Affairs, American Un...

3:45 PM - 4:00 PM
Day 1: Concluding Remarks with Rob Albro
9:00 AM - 9:30 AM
Day 2: Arrival with light breakfast
9:30 AM - 11:00 AM
Panel 4: Legal Services and Judicial Obstacles Faced by New Immigrants
---
Speakers include Saba Ahmed, Staff Attorney, Immigrant Justice Clinic, Washington College of Law; Austin Kocher, Research Assistant Professor, Transactional Records Access Clearinghouse, Syracuse Uni...

11:00 AM - 11:15 AM
Break
11:15 AM - 12:45 PM
Panel 5: Affordable Housing, Ethnic Entrepreneurship, and Economic Inclusion
---
Speakers include Soledad Espinoza, Annie E. Casey Foundation; Fadrique Iglesias, Community Planner, Town of Herndon, Virginia; Nicole Quiroga, President and CEO, Greater Washington Hispanic Chamber o...

11:45 AM - 12:45 PM
Lunch
---
Lunch will be provided.
1:45 PM - 3:15 PM
Panel 6: Regional Migration Patterns and Integration Processes
---
Speakers include Katharine Donato, Donald G. Herzberg Professor of International Migration, Institute for the Study of International Migration, Georgetown University; Michelle Dromgold-Sermen, Assist...

3:15 PM - 4:45 PM
Panel 7: Comparative Analysis of DC and other Immigrant-Receiving Destinations
---
Speakers include María Caballero, Assistant Professor, Department of Economics, College of Arts & Sciences, American University; Luciana Gandini, Research Fellow, Center for Latin American & Latino S...

4:45 PM - 5:00 PM
Day 2: Concluding Remarks with Dr. Ernesto Castañeda
About this event
April 27, 9:00am - 4:00pm | April 28, 9:00am - 5:00pm | Spring Valley Building Room 401 | American University
Since March 2021, 9,400 migrants who recently crossed the southern border into the United States and requested consideration of claims for asylum and other forms of immigration relief have arrived in the Washington, DC Metro area. Government agencies and local organizations at both the DC and Metropolitan County levels have stepped in with innovative strategies for meeting the needs of this vulnerable population that is mostly comprised of people from Venezuela, Honduras, Colombia, Cuba, Peru, Haiti, and Nicaragua.
This year's in-person Forum will convene researchers, advocates, and AU faculty to discuss the ways that public and private organizations can support new Latino immigrants who have arrived in the DMV from the border states of Texas and Arizona. The Forum will also explore pathways through which stakeholders may effectively aid them with citizenship, health, housing, employment, and integration services and fill crucial gaps while they await resolution of their applications for documented status.
This event is co-sponsored by The Institute for Humane Studies, SAMU First Response, AU Metropolitan Research Center, AU Immigration Lab, and the Changing Aid Signature Research Initiative.
Panels will feature discussions on:
Legal services & judicial obstacles for new immigrants
Education access & quality for English language learners
Local & federal immigration policies
Affordable housing, ethnic entrepreneurship, & economic inclusion
Frequently asked questions
Where is Spring Valley Building located?
Is there on-site parking?
Should I bring or purchase a breakfast or lunch?
What is American University's COVID-19 policy for visitors?
About the organizer
The Center for Latin American and Latino Studies (CLALS) at American University in Washington, DC engages scholars and practitioners to promote cutting-edge research to enrich understanding of Latin America and of Latino communities in the U.S.