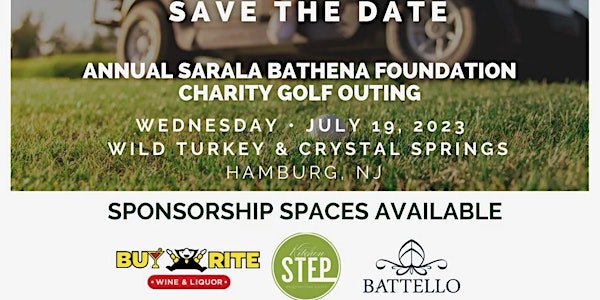 2023 Annual Charity Golf Outing in Support of The
Good food, good drinks, good people, and good times on a beautiful course.
Date and time
Wednesday, July 19 · 10am - 5pm EDT
Location
Crystal Springs Resort 1 Wild Turkey Way Hamburg, NJ 07419
Refund Policy
Refunds up to 30 days before event
Eventbrite's fee is nonrefundable.
About this event
Dear Friends,
Battello Restaurant and the entire Buy-Rite family is very excited to announce the date of our Annual Charity Golf Outing, in support of the Sarala Bathena Foundation. The date this year will be on Wednesday, July 19, 2023.  We are going back to Crystal Springs since we have so much demand and it is one of the few places where we can take over 2 golf courses. We will be using the Crystal Springs and Wild Turkey courses this year. As in years past, all proceeds will be donated to the Sarala Bathena Foundation.
Those of you who have attended this event in the past know that it is worthy of its reputation as the outing of the year.  That reputation, combined with the fact that we have been able to raise hundreds of thousands for this very worthy cause, is a direct result of your generosity via the time and financial contributions you've made in years past.  It is truly a team effort that makes this possible and as such, it is our sincere hope that we can count on you to participate this year.  If you have not been able to participate in the past, we urge you to please do so this year.  You will not be disappointed, and you will also be responsible for helping to provide a better tomorrow for those truly in need.  Your past support has allowed us to donate funds to help cancer patients at Robert Wood Johnson Hospital and the Red Cross Cancer Hospital in India and the Foundation has also served thousands of meals to people in need.
Please consider participating as a sponsor or a player and all contributions, net of the cost of golf and food, are tax deductible.  Participation levels can be found in the other attachment. Payment can be made with a CREDIT CARD via Eventbrite.com because this is much easier than keeping track of checks. If you cannot use Eventbrite for some reason, we can certainly deal with this on a one-on-one basis.
We sincerely appreciate your consideration and support in helping us bring a little sunshine into people's lives.  Please contact Cory or Adithya at the emails below with any questions.  You will be hearing from us shortly.
Wishing you all a better tomorrow,
Cory Checket                                                                                                           Adithya BathenaBattello Restaurant, Jersey City                                                                 Buy-Rite Liquorscory@battellojc.com adithya@buyritecorp.com
Platinum "Event" Sponsor - $10,000 (1 available)- Golf for eight (8) in the tournament and premium starting position
- Tee Box Signage on one (1) hole
- Company banner displayed at tournament
- Logo recognition on event signage
- Logo recognition on one (1) flag
- Logo recognition on e-announcements
- Verbal recognition during tournament and reception
- Opportunity to feature new products to golfers
- Opportunity to put logoed items in gift bag
Gold "Cocktail and Dinner" Sponsor - $6,000 (2 Available)
- Golf for four (4) in the tournament
- Tee Box Signage on one (1) hole
- Company banner displayed at dinner
- Logo recognition on event signage
- Logo recognition on one (1) flag
- Logo recognition on e-announcements
- Verbal recognition during tournament and reception
- Opportunity to feature new products to golfers
- Opportunity to put logoed items in gift bag
"Cart" Sponsor - $6,000 (1 Available)
- Golf for four (4) in the tournament
- Exclusive logo signage on golf cart(s)
- Verbal recognition during tournament and reception
- Opportunity to put logoed items in gift bag
Driving Range Sponsor - $5,000 (1 Available)
- Golf for four (4) in the tournament
- Verbal recognition during tournament and reception
- Opportunity to put logoed items in gift bag
- Exclusive Signage on Driving range
Beverage Cart Sponsor - $5,000 (1 Available)
- Golf for four (4) in the tournament
- Verbal recognition during tournament and reception
- Opportunity to put logoed items in gift bag
- Exclusive products in beverage cart
Flag Sponsor - $500 (15 Available)
Tee Sponsor - $300
Personal Foursome - $1,500 
Corporate Foursome - $1,800  (Includes a Tee Sign)
Individual Player - $395
Liquor Station - $500