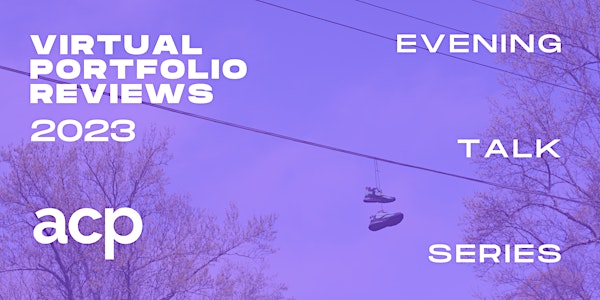 Multiple dates
2023 ACP Portfolio Review Talks: Daniel George and TK Smith
Daniel George of Lenscratch and TK Smith of the Barnes Foundation will bookend this year's Portfolio Review with two dynamic talks!
By Atlanta Celebrates Photography
Date and time
April 13 · 3:30pm - April 15 · 5pm PDT
Refund Policy
Contact the organizer to request a refund.
About this event
Thursday April 13, 2023 6:30 - 7:30pm
Insights from an Editor with Daniel George of Lenscratch
For the past five years, Daniel George has served as the Submissions Editor for Lenscratch, an online platform dedicated to supporting and celebrating the photographic arts and photographic artists through exposure, discussion, community collaboration, and education. In this talk, Daniel will discuss insights he has gained from his experience reviewing portfolios on artists' websites and selecting projects for publication on Lenscratch. A majority of time will be spent considering best practices for presenting works online.
About: Daniel George is a photographic artist whose work is rooted in the medium's documentary tradition and explores the interconnection of place and culture as it relates to communal and personal identity. Having lived as a transplant in various locations throughout his adult life, he uses the camera to study defining characteristics of the communities within which he resides. The resulting photographs are his attempt to visualize and understand the idiosyncrasies of human activity in these local cultures. Daniel's work has been exhibited in solo and group exhibitions across the United States, and has been published internationally in both print and online publications. He is currently based out of Vineyard, UT and teaches photography at Brigham Young University.
Currently, Smith is a doctoral candidate in the History of American Civilization program at the University of Delaware, where he researches art, material culture, and the built environment. He received his Master of Arts in American Studies and his Bachelor of Arts in English and African American Studies, with a certificate in Creative Writing from Saint Louis University.
Saturday, April 15, 2023 6:30 - 7:30pm
Call and Response with TK Smith of the Barnes Foundation
This talk offers a historical and cultural lens to approach the making of contemporary art. Referencing literature, history, and philosophy, the fundamental questions of human expression will be explored. What does it mean to express oneself and what is at stake? What does art mean in the context of the society and environment we've inherited? Who is our art for and who has the capacity to hold it? Together we will explore these questions and the shaping of our future cultural landscape.
About: TK Smith is the Assistant Curator: Art of the African Diaspora at the Barnes Foundation in Philadelphia. His curatorial projects include Roland Ayers: Calligraphy of Dreams at the Woodmere Museum of Art, the 2021 Atlanta Biennial exhibition Virtual Remains at the Atlanta Contemporary, and Zipporah Camille Thompson: Looming Chaos at the Zuckerman Museum of Art.
Smith's writing has been published in Art in America, the Brooklyn Rail, and ART PAPERS, where he is a contributing editor. In 2021, he was invited to be the inaugural writer-in-residence at the Vashon Artist Residency. In 2022, he was a recipient of an Andy Warhol Writers Grant. Most recently, he was invited to be the 2022-2023 Monument Lab writer-in-residence.
Image Credit: TK Smith, Dex's Tennis Shoes on Telephone Wire, Corner of Lawton St. and Westview Dr., 2020
Agenda
6:30 PM - 7:30 PM
Insights from an Editor with Daniel George of Lenscratch
---
Thursday April 13, 2023
6:30 PM - 7:30 PM
Call and Response with TK Smith of the Barnes Foundation
---
Saturday April 15, 2023
Frequently asked questions
Is registration for the talks separate from registering for the Portoflio Reviews?
How do I sign up for the Portfolio Reviews?
How do I sign up for both talks?
About the organizer
Atlanta Celebrates Photography (ACP) is a non-profit arts organization dedicated to cultivating the photographic arts and enriching Atlanta's cultural community. We provide meaningful opportunities for artists to create, support underserved lens-based artists, and design dynamic platforms for audiences to connect through diverse programs and public art initiatives.
Email: acp@acpinfo.org