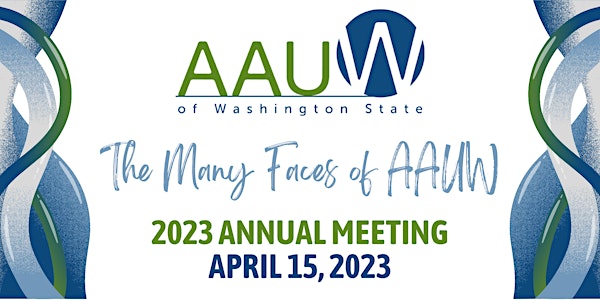 2023 AAUW-WA Annual Meeting
Join us on April 15th for the 2023 AAUW-WA Annual Meeting!
Date and time
Saturday, April 15 · 8:30am - 5:30pm PDT
About this event
You won't want to miss out on our April 15th Annual Meeting, so mark your calendars now! Our morning will be presentation oriented starting with networking at 8:15. The meeting will keep all of us informed and energized about the good work being done on many fronts.
Our afternoon Business Meeting will start at 12:30pm. For those newer members of AAUW, the business meeting will help you understand the workings of the state organization.
Registration:
$35 - AAUW Members
$20 - Students
$20 - First Time Annual Meeting Attendee
Event Details:
Date: Saturday, April 15, 2023
Morning Annual Meeting | 8:30am -12:00pm
Full Agenda Coming Soon!
Afternoon Session [separate (FREE!) registration required]
1:00pm Annual Business Meeting
We hope you will participate in our entire program, but will understand if you can only join us for part of the day. Please feel free to attend whichever sessions you can. We think you will find all of the information presented to be of value.
Optional: Add a donation with your registration!
Note: AAUW-WA is a 501c4, therefore donations are not recognized by the IRS.