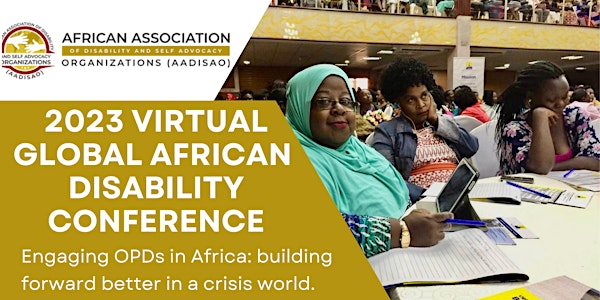 2023 AADISAO Virtual Annual Disability Conference - Engaging OPDs in Africa
This conference highlights strategies for engaging and building partnerships with organizations of persons with disabilities in Africa.
About this event
Disability remains a taboo subject in many parts of Africa. People with intellectual and developmental disabilities continues to live in the shadows. Families often hide young children and teens with disabilities. Organizations of Persons with Disabilities (OPDs) are working to advance disability rights by raising awareness locally and advocating for the equal rights of people with disabilities as citizens. Through research, education and training, policy advocacy, outreach and engagement, people with disabilities can live more independently in their communities. They can have paid jobs, go to school, play, have friends and relationships, get married, have their own families, and become important members of their communities. Discussions will focus on disability identity development, livelihood and social protections for people with disabilities, disability inclusion strategies and best practices, early intervention programs for children with autism and other neurodevelopmental disabilities, current trends in disability research in Africa. Participants will have the opportunity to share their work in their respective regions and network with other attendees. Awards will be presented to people and organizations advancing disability rights and inclusion in Africa.