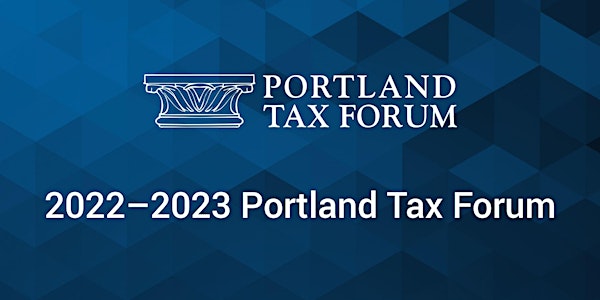 2022–2023 Portland Tax Forum
We are pleased to announce new topics for the 2022–2023 Portland Tax Forum season, beginning September 15, 2022.
Refund Policy
Contact the organizer to request a refund.
Eventbrite's fee is nonrefundable.
About this event
This year we offer six stimulating lectures from nationally recognized speakers, all conducted online. CPE, CLE, and CFP CE credit is still available and all programs can be transferred to others in your firm.
Agenda
7:30–7:45am Short Program
7:45–9:00am Featured Speaker
Please visit www.pdxtaxforum.org for detailed information about each speaker.
Students please use the promo code STUDENT when adding tickets.


SEPTEMBER 15, 2022
Internal Revenue Code Section 1202 and Qualified Small Business Stock
with Matthew Rappaport & Steve Klein
Matthew E. Rappaport, Esq., LL.M., Vice Managing Partner, Falcon Rappaport & Berkman
Steven I. Klein, Member, Sher Garner Cahill Richter Klein & Hilbert


OCTOBER 20, 2022
Qualified Opportunity Zones & Internal Revenue Code Section 1031
with Leila Vaughn
Counsel, Royer Cooper Cohen Braunfeld


NOVEMBER 3, 2022
Estate Planning
with René Morency
Attorney, Sandberg Phoenix


APRIL 2023
Installment Sales
Speaker and date to be confirmed.


MAY 2023
Partnership Tax
with Elizabeth Norman
Attorney, Touchstone Strategic
Date to be confirmed.


JUNE 8, 2023
State & Local Tax
with Darien Shanske
Professor of Law, UC Davis School of Law

Thank you to our Sponsors!