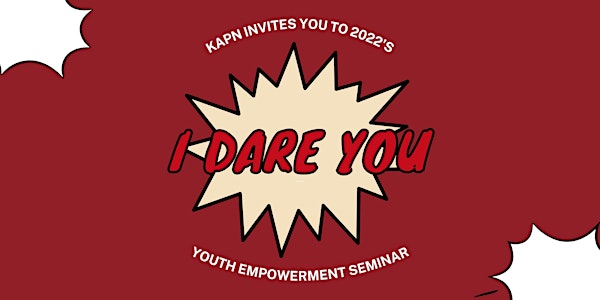 2022 Youth Empowerment Seminar: I Dare You!
Hosted by KAPN, a nonprofit in the Dallas area, we invite you to join us for the 14th annual Youth Empowerment Seminar (YES)!
When and where
Location
Sandman Signature Plano-Frisco Hotel 8451 Parkwood Blvd Plano, TX 75024
About this event
SPECIAL PROMOTION!
For a limited time, we are offering FREE tickets and admission, so you and your friends can come without worrying about a penny!
Food and t-shirts will be included with the special.
About the Event:
Connecting Asian American youth (grades 6 to 12) in the DFW area since 2009, YES is a great way to have fun, explore your potential, and challenge yourself!
The 14th annual Youth Empowerment Seminar is here, and we've agreed that if anything, what we need is to be bold and take initiative for your future.
So, join us on August 13th for a day packed with guest speakers, exciting activities and icebreakers, and multiple raffles with prizes worth up to $50.
Attendees have a chance to win these prizes and more in our raffles. All attendees get free food, a T-Shirt, and a chance to win prizes.
Although discouraged, a parent may come if they wish. However, we encourage parents to allow their children to attend the seminar independently, as it will allow them the most opportunity to learn, grow, and foster friendships.
http://www.kapn.org/
Instagram: @kapnetwork
Facebook: KAPN - Korean American Professional Network
Notes:
Tickets will be on sale until July 15th.
The event is open to 6th-12th graders.
A light breakfast spread and lunch will be provided.
If you have any allergies or dietary restrictions, please let us know when you register or specify your name and any dietary restrictions via email to Kamen Wong kamenwong1@gmail.com.
Guest Speakers:
Stephanie Drenka is a Korean adoptee writer and co-founder of the Dallas Asian American Historical Society (featured on the front cover of the Dallas Morning News), whose mission is to research, preserve, and amplify the legacy of Asian Americans in the Dallas area. She also founded VISIBLE Magazine, an online publication that actively privileges the work of those whose voices have been historically excluded from traditional media outlets. Stephanie's photography and writing have been featured in Washington Post, Huffington Post, USA Today, and Newsweek. She was a 2019-21 Public Voices Fellow of The OpEd Project.
As a storyteller, collaborator and people connector with more than two decades of experience, Miya King has led communications efforts across a broad range of industries – including construction, architecture, education and nonprofit. She's a second-generation Korean-American single mom to an incredible, multi-ethnic tween son. Miya holds a Bachelor of Science in Management from the Georgia Institute of Technology.
Kayli Tran is an Asian American actress originally from Nashville, TN. With the successful release of Snapchat TV's Dead of Night, Kayli was listed on the 2020 Emmy Primetime Nominations ballot for "Outstanding Actress In A Short Form Comedy Or Drama Series," competing against major actresses such as Sophie Turner and Anna Kendrick. As one of Hollywood's fast rising stars, Kayli has also worked alongside industry heavy hitters including Oscar nominated Jake Gyllenhaal in Michael Bay's highly anticipated action thriller Ambulance and Ryan Phillippe in USA Network's hit show Shooter. Kayli has even expanded into voiceover for commercial and animation as well as motion capture in the video gaming world including Activision's "Call of Duty" and Sony's "The Last of Us".
Questions? Visit the 2022 FAQ