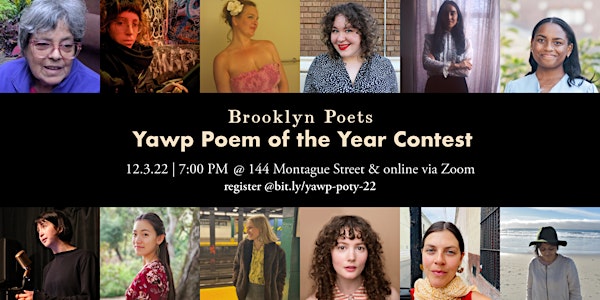 2022 Yawp Poem of the Year Contest
Featuring the 12 Yawp Poem of the Month winners over the past year
When and where
Location
Brooklyn Poets 144 Montague Street #2nd Floor Brooklyn, NY 11201
Refund Policy
Refunds up to 1 day before event
Eventbrite's fee is nonrefundable.
About this event
Join us on Saturday, December 3, at 7 PM for the 2022 Yawp Poem of the Year Contest, featuring readings by the twelve winners of Yawp Poem of the Month over the past year contending for our Yawp Poem of the Year Award—decided by audience vote! Guests can purchase tickets to attend the event in person at 144 Montague or virtually via Zoom. Both in-person and virtual guests will be able to cast a vote.
Advance online ticket sales will end at 4 PM on the day of the event. After that, tickets for in-person attendance can be purchased at the door until we reach capacity; tickets for virtual attendance will no longer be available. After 4 PM, a Zoom link will be emailed to virtual ticket holders. Participants are encouraged to purchase tickets in advance for in-person attendance, as the event usually sells out. All ticket sales will contribute to Brooklyn Poets' end-of-year fundraising campaign to establish a preliminary budget for operations at 144 Montague, programs and fellowships next year.
Finalists include Bonnie Billet, Morgan Boyle, Sharon DeYoung, Brigidh Duffey, Jessy Edwards, Cassidy Gabriel, Yumiko Gonzalez, Stephanie Niu, Preeti Shah, Lilly Perry, Madeline Phillips and Jasmine Pierik. The winner will read as part of our Awards Gala program on Sunday, December 11.
Note that by attending this event, you agree to abide by our code of conduct and COVID-19 policy below. All in-person attendees are currently required to wear masks. Brooklyn Poets reserves the right to dismiss from our programs any participant found to be in violation of these policies. Thank you for respecting our community.
2022 Yawp Poem of the Year Finalists
December (2021): Sharon DeYoung, "Red Falls"
January: Morgan Boyle, "i wrote you a poem about cockroaches and i am sorry that you are dead now"
February: Cassidy Gabriel, "Requiem"
March: Bonnie Billet, "Fall/Winter Diary"
April: Preeti Shah, "Silenced"
May: Jessy Edwards, "Self-Portrait in the School Art House, 2006"
June: Brigidh Duffey, "Pornography Tree"
July: Madeline Phillips, "The Night My Dog Mazy's Appetite Came Back"
August: Jasmine Pierik, "What I Will Remember About My Mother"
September: Stephanie Niu, "Garbage Boogie"
October: Lilly Perry, "Ode to Seventh Grade"
November: Yumiko Gonzalez, "Rui Asks How I Feel About the Body as Home"
Brooklyn Poets Code of Conduct
Brooklyn Poets will not tolerate any instances of discrimination, harassment or abuse in conjunction with any of our programs. Respect and consideration for others, both within and outside our programs, are core values to be upheld by all participants. Discrimination against and/or harassment of community members on the basis of race, ethnicity, sex, gender identity or expression, sexual orientation, disability, national origin, religion, age, marital status, veteran status or any other factor is unacceptable and will not be tolerated. Program participants are expected to adhere to all federal, state and local laws and regulations. Should a board or staff member, independent contractor, volunteer or program participant be found to violate any aspect of the organization's code of conduct, Brooklyn Poets reserves the right to dismiss them from the program. Consequences may include, but not be limited to, dismissal from the current activity, suspension, ineligibility for all future activities, and/or loss of payment or fees. If you have any issues to report, please do not hesitate to contact Board President Isaac Myers III (myersiii@brooklynpoets.org), Executive Director Jason Koo (koo@brooklynpoets.org) or Development Manager renée kay (kay@brooklynpoets.org), and they will get back to you as soon as possible.
COVID-19 Policy
We are dedicated to keeping up with the latest info on COVID-19 to inform the policies we use to keep each other safe. This means they may differ from local mandates. Below is our policy for in-person workshops, events and other gatherings hosted at our space at 144 Montague Street.
All in-person attendees are currently required to wear masks. Please stay home if you are experiencing symptoms, have a positive COVID test or someone close to you has recently tested positive.
These policies are based on the current transmission level of COVID-19 in the NYC area and will remain in effect until transmission returns to low. Our understanding of transmission levels comes from the NYC COVID-19 statistics site as well as the CDC, with the knowledge that these numbers are likely underestimated due to the recent reduction in testing infrastructure.
We understand that you may be tired of taking these precautions and appreciate you taking action to protect others in your community during this time. If you are unwilling to take these precautions in our physical space, we invite you to register for our online offerings and attend our events via livestream.
While we do our best, Brooklyn Poets cannot guarantee zero risk. A risk of exposure to COVID-19 exists in all public settings. By entering the building, students, teachers and other attendees accept the risk of exposure and knowingly waive and release Brooklyn Poets from any liability related to COVID-19.