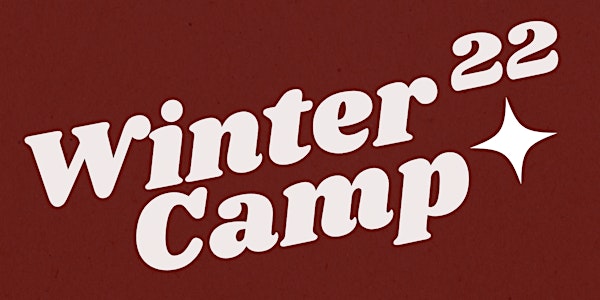 2022 WVCOC Winter Camp
A winter camp for 7th Grade and Up, hosted by the West Visalia Church of Christ at beautiful Yosemite Bible Camp on December 28th -31st
When and where
Location
Yosemite Bible Camp 50869 Road 632 Oakhurst, CA 93644
Refund Policy
Contact the organizer to request a refund.
Eventbrite's fee is nonrefundable.
About this event
2 days 19 hours

Mobile eTicket
2022 WINTER CAMP INFO
(FREE HOODIE SWEATSHIRT IF YOU REGISTER BEFORE NOVEMBER 28TH)
When is it?
Expedition Winter Camp starts at 3:00pm on December 28th and ends at 10:00am on December 31st. It will be a great time of fellowship, learning, growing, and having fun!
Theme: Counter Culture
Who is it for?
Winter Camp is for those 7th grade and above as well as College Age and Adults who are interested in serving as staff. Most of the activites are designed for both teens and adults. Those adults who are serving as staff may bring younger children with them, but understand there are no activites for them (you are responsible for their supervision).
What Do I need to Bring
Appropriate Winter clothing for four days. Winter bedding (campers will be in cabins with heaters and sleeping on bunks – don't rely on the heaters to keep you warm!)
Toiletries (yes, we expect you to take showers). A Bible, notebook, pen and a great attitude.
We prefer you NOT to have a cellphone at camp. They are only to be used to take pictures, and for Bible Study. No texting or internet access allowed. Winter Camp is NOT for sitting by yourself playing a game on your phone, online or listening to music with earbuds in. Camp is a time to connect to others in person….not online.
Bring anything (within reason) you want to use for skits at the nightly campfires! You may also bring any games or outdoor equipment you would want to use. (Possibly a sled if it snows). Obviously don't bring anything that would get you sent home immediately from camp, like weapons, anything inappropriate, cigarettes, vapes, alcohol or drugs (all medication is to be turned into the Nurse at registration).
Money to purchase snack shack cards if you did not prepay (lots of goodies available for purchase).
(All adults on site while camp is in session must go through a criminal background check and child safety training. All staff is subject to the approval of WVCOC)
2022 Winter Camp Schedule of Events
Monday, December 28th.
Staff and their Families Can Arrive Anytime after 12pm
3:00pm Check-In, Registration and Health Screening
4:30pm Opening Devotional
4:45 Ice-Breaker Activity
6:00pm - 7:15pm (Dinner)
7:15pm - (Worship and Keynote)
8:00pm - 8:30pm (Free Time and Snack Shack)
8:30pm - 9:30pm (Campfire)
9:30pm - "Small Talk" (Devotional)
10:00pm - 10:30pm (Cookies and Hot Chocolate)
10:30pm (Go to Cabins)
11:00pm (Lights Out)
Tuesday and Wednesday, December 29th and 30th
8:00am (Wake-Up and Get Ready)
9:00am - 10:10am (Breakfast)
10:10am - 10:30am (Cabin, Bathroom and Cafeteria Clean-Up)
10:30am - 10:45am (Singing, Praying, Discussion Introduction
10:45am - 11:15am (Discussion Groups Session #1)
Group #1 - Cafeteria
Group #2 - Arts and Crafts
11:15am - 11:30am (Break)
11:30am - 12:00pm (Discussion Groups Session #2)
Group #2 - Cafeteria
Group #1 - Arts and Crafts
12:00pm - 12:30pm (Break)
12:30pm- 1:45pm (Lunch)
1:45pm - 2:15pm (Cabin Prayers, Discussion and Meditation)
2:15pm- 5:45pm (Free Time)
2:30pm - 3:30pm (Group Games)
3:30pm - 4:00pm (Snack Shack)
5:45pm - 6:00pm (Clean-Up and Dinner Prep)
6:00pm - 7:00pm (Dinner)
7:00pm - 7:15pm (Cafeteria Clean-Up and Class Prep)
7:15pm (Singing)
7:30pm - 8:00pm (Digging Deeper Bible Class)
8:00pm - 8:30pm (Free Time and Snack Shack)
9:30pm - "Small Talk" (Devotional)
10:00pm - 10:30pm (Cookies and Hot Chocolate)
10:30pm (Go to Cabins)
11:00pm (Lights Out)
Thursday, December 31st.
7:00am (Wake-Up and Get Ready - Start Packing)
8:00am 9:00am (Breakfast)
9:00am - 9:15am (Prayer, Praise and Final Comments)
9:15am - 10:00am (Cabin Clean-Up)
10:00am (Go Home!)