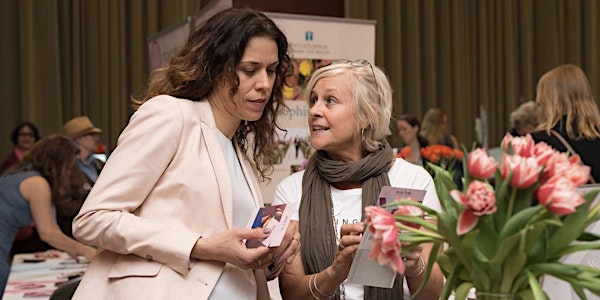 2022 Women's Expo Switzerland
We give women in Switzerland an opportunity to connect with new people and acquire new knowledge. Why don't you join us on the 25th of Sep?
When and where
Location
Park Hyatt Zurich 21 Beethoven-Strasse 8002 Zurich Switzerland
About this event
At Switzerland's only exhibition for women, we promise that you'll find something new, meet new people and acquire new knowledge!
We exist to help you easily find and discover new products and services for your personal and professional needs, acquire new knowledge that will help you push boundaries as well as find collaboration partners - under one roof!
We provide you with a warm and supportive environment to network, exchange knowledge and share experiences. You'll find that our friendly atmosphere is not only conducive to building new relationships but also allows you to enjoy a unique and enriching experience. 
Our exhibition offers plenty of one-day-only special offers! It allows you to engage with inspiring women who have pushed their own boundaries and now own and run their own successful businesses. Attending our exhibition gives you an opportunity to find unique products and services designed for women under one roof. 
Our workshops sponsored by Verband Frauenunternehmen held throughout the day will equip you with valuable knowledge that will help them to further develop their businesses and careers, allowing them to strategically and confidently push boundaries.
Here are the workshops you can attend:
- 5 Schritte zur erfolgreichen Vermarktung deiner Expertise. Warum Marketing alleine nicht genügt!
- Königreich Unterbewusstsein – Schätze aus der Tiefe – von der Selbstsabotage zum Erfolg!
- Pensionskassen-Lösung leicht gemacht – dank VFU. So geht BVG- Vorsorge für Unternehmerinnen
- Newsletter-Marketing für dein KMU
- So schreiben Sie E-Mails – passend zu Ihnen und Ihrem Brand
- 5 Geheimnisse für deinen wirkungsvollen Auftritt auf deiner Webpage & LinkedIn
- Biografische Filme – Lebensgeschichten festhalten, bevor es zu spät ist
Who can attend?
Professional career women attend so you can:
– meet like-minded women and expand their network
– acquire new knowledge from our insightful workshops
– connect with organisations that are looking to recruit female talent
Established business owners attend so you can:
– exchange experiences and expertise with other business owners
– discover new products and services to help develop your businesses
– find collaboration partners and acquire knowledge from our workshops
Women thinking of starting their own business attend so you can:
– gain new knowledge to help you further develop your ideas
– find new products and services to use in building your business
– find mentors and inspiration from already established business owners
Mothers thinking of returning to work after a break attend so you can:
– acquire new knowledge that can help in job searches
– gain inspiration and build new relationships with other women
– discover and learn about career opportunities that suit your needs.
We look forward to seeing you there! Bring a friend or a colleague.