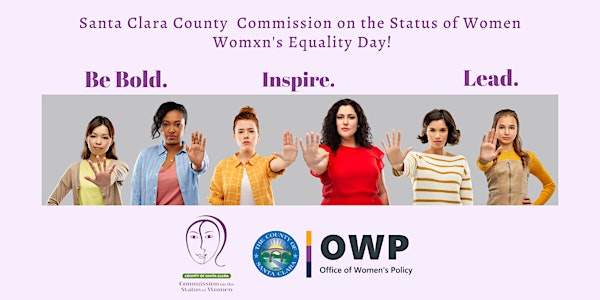 2022 Women's Equality Day Event: Be Bold. Inspire. Lead. - Womxn in Action
SCC Commission on the Status of Women proudly presents 2022 Women's Equality Day Event: Be Bold. Inspire. Lead. Womxn in Action
About this event
County of Santa Clara Commission on the Status of Women is proud to host - Be Bold. Inspire. Lead. Womxn in Action – an engaging and inspiring virtual 2022 Women's Equality Day Event.
Please join us for a fireside chat with leading experts to discuss key issues -- womxn's health and reproductive rights & equal pay and wages -- impacting womxn and learn how you can take action right now in your community. Our Fireside Chat with leading experts and special guests is sure to be an informative and inspiring discussion that will leave you empowered to take action! We will honor the Santa Clara County Re-Entry Program for their tireless efforts to provide services and support to womxn re-entering our community after incarceration. Together we can all stand up for womxn's rights and create the community we all wish to see in the world!
Program snapshot:
Welcome & Introductions
Opening remarks by Supervisor Cindy Chavez
Fireside Chat with Leading Womxn Experts on Key Issues - Speakers:
Lauren Babb, Vice President of Public Affairs, Planned Parenthood Mar Monte and Chair of the California Commission on the Status of Women and Girls
Ruth Silver Taube, Supervising Attorney, Workers' Rights Clinic at Santa Clara University School of Law; Founding Member of the Bay Area Equal Pay Collaborative; Coordinator of the SCC Wage Theft Coalition
Remarks by Assemblymember Rebecca Bauer-Kahan
Presentation of 2022 Community Honoree Award : SCC Re-Entry Program
Call to Action and Closing Remarks
The Commission on the Status of Women, as an advisory body to the Board of Supervisors, strives to advocate and support programming, policies, and legislation impacting the lives of girls and women in Santa Clara County.
We are counting on you to join us as allies in our effort of empowering and uplifting the women and girls of Santa Clara County by attending the event and being our valued sponsors. Please visit the event sponsorship page on the Sponsorship Package-2022.
Thank You!
Questions? Please email - csw@ceo.sccgov.org