Women of Drummer is an inclusive commUNITY event celebrating badass leatherwomen!
About this event
Women of Drummer is an inclusive commUNITY event celebrating badass Leatherwomen!
Women of Drummer Weekend 2022 will include music, the arts, play spaces, fun and our 2021 WOD contest during the last weekend of September, 2022 in Darlington, Maryland! This event is inclusive and created for all folks to enjoy and celebrate the badass Leatherwomen in our community!
Come join us on this 160 acre site! Weekend price includes registration, cabin space, and 6 meals on site (Friday-Sunday). We've listened to your feedback and added Friday 10 am entrance and a noon lunch to the inclusive weekend package.
Early bird tickets available from now to January 1, 2022 for $249. January 1 to August 1 $299 and after August 1 $349. Group rates for 5 or more individuals are $259 per person and available January 1, 2022 until July 1, 2022. You will need to identify the group you will be with during the weekend on the registration form.
If interested in volunteering for four hours in exchange and coming in on Thursday, we''ve added two additional meals (Thursday dinner and Friday breakfast) and one extra night of camping for $299, please email us at womenofdrummer@gmail.com before May 1, 2022.
If you want to come in Thursday and NOT volunteer, the cost is $349 until August 1 and $399 after August 1, 2022. The Thursday-Sunday package includes 3 cabin nights and 8 meals starting with dinner Thursday, breakfast, lunch and dinner on Friday and Saturday, and breakfast on Sunday.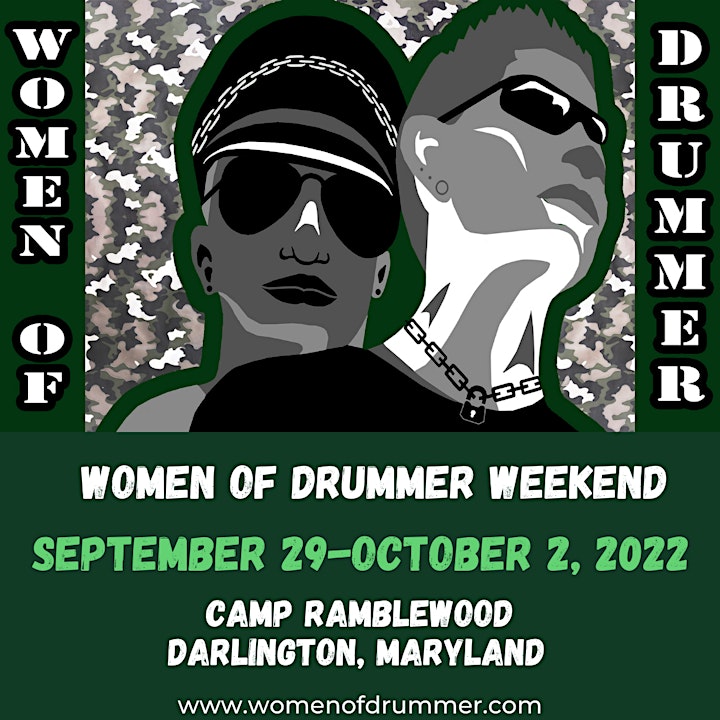 Organizer of 2022 Women of Drummer Contest Weekend
Women of Drummer are fierce, sexy, playful, leather, self-identified female, sexual outlaws who come together to share ideas, collaborate and celebrate who we are. This is not another conference, this is an opportunity to connect with one another. This is not another contest, this is a chance to encourage our sisters to represent our playful way of life. We celebrate our love for all leather folks, but this is our movement. We speak with our own voices, walk our own path fiercely with grace and dignity, and enjoy ourselves in our leather. We dance to the rhythm of our own drum. Welcome to the #womenofdrummer movement!