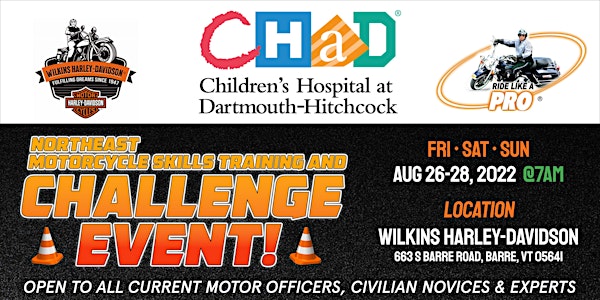 2022 Wilkins Harley Davidson Motorcycle Skills, Training, & Challenge
Location
Wilkins Harley Davidson
663 S Barre Rd
Barre, VT 05641
2022 Northeast Motorcycle Skills Training and Challenge
About this event
2022 Northeast Motorcycle Skills Training and Challenge
This Motorcycle Skills Challenge will bring together Law Enforcement and Experienced Civilian Riders on all types of street legal motorcycles in a competitive environment to navigate through various cone patterns. Competitors will attempt to ride through these challenging cone patterns without knocking over or touching cones. These courses are designed to test the limits of every motorcycle rider's capabilities.
This event will be limited to the first 35 to register. Registration will be done online only through EventBrite.com   The entry fee will be $70.00 per rider plus the $5.89 EventBrite fee which both are non-refundable.
This skills challenge will require each participant to complete (3) different courses which are listed below:
Skills Challenge Course #1 (One Continuous Course)
Skills Challenge Course #2 (Precision Course)
Slow Race
Awards will be presented at the end of the competition for individual division winners. Civilian Riders will be in a separate Division
Divisions will be:
Professional     Law Enforcement Motors
Civilian  Advanced
Civilian  Novice
Eligibility: Competition is open to Civilian Riders and Law Enforcement Motor Officers. All riders are encouraged to attend.
Mandatory Competitor Attire: Civilian Competitors must wear long pants and boots that support the ankles. Civilian Riders Riders will not wear clothing that is offensive or sexually explicit.
Law Enforcement Motor Officers will comply with department policy.
Protective Gear: All competitors must wear an approved D.O.T helmet with either a face shield or some type of eye protection. Helmets will be properly fastened at all times while on the course.
Organizer: Ride Like A Pro Palm Beach
Our goal is to promote motorcycle safety to riders of all levels of riding experience, we currently do this through a advanced motorcycle course and a precision motorcycle training course.
We want to help riders demonstrate safe motorcycle riding techniques by negotiating commonly found street riding situations in a controlled and skillful manner.
ALL PROCEEDS RAISED from this event will support CHAD. CHAD is the Children's Hospital at Dartmouth.