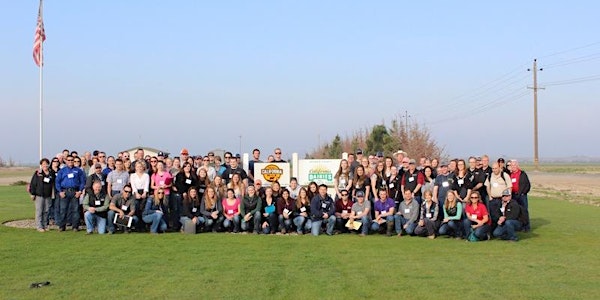 2022 Western Regional Dairy Challenge Volunteer Registration
Location
Wyndham Garden Fresno Yosemite Airport
5090 East Clinton Way
Fresno, CA 93727
Sales Have Ended
Registrations are closed
Thank you for your interest in Dairy Challenge. Be watching the web site for information about the 2020 National Contest & Academy, planned for March 26-28, 2020 in Green Bay, Wisconsin. Go to http://www.dairychallenge.org/national_contest.php for the latest information.
Providing education, communication and networking among students, dairy producers, and agribusiness and university personnel.
About this event
17th Western Regional Dairy Challenge
Hosted by the Western Regional Committee
Fresno, California
Thursday, February 24 – Saturday, February 26, 2022
On behalf of the Western Regional committee of the North American Intercollegiate Dairy Challenge, it is our privilege to invite you to participate in the 17th Annual Western Regional Dairy Challenge. The event will be held in Fresno, California February 24-26, co-hosted by the Western Region. We thank you for your continued support of the Western Regional Dairy Challenge. After months of online programming and events, the Western committee is excited to return to meeting in person.
Sponsor Participation: We are building our list of volunteers to help with the event on Thursday evening thru Saturday afternoon. Being involved and working directly with the students gives you a firsthand view of the students in action, plus a large volunteer pool helps the contest run smoothly.
Schedule: A listing of the scheduled events for this year's contest will be posted on the Western Dairy Challenge web page at http://www.dairychallenge.org/contests
Sponsor Volunteer Registration: Please submit information for each volunteer from your company using this online form. Forms are due Wednesday, February 9, 2022.
Hotel: We will be at the Wyndham Garden Fresno Yosemite Airport Hotel in Fresno. A block of rooms is held under the Western Regional Dairy Challenge Volunteers until Wednesday, February 9, 2022. Please call the hotel directly to make appropriate reservations. All volunteers (sponsors, judges, mentors) are responsible for making their own reservations.
Wyndham Garden Fresno Yosemite Airport 5090 East Clinton Way Fresno, CA 93727 Call (559) 252-3611 to make a reservation in the Western Regional Dairy Challenge Volunteer block. Room Rate: $116 plus tax (includes breakfast) Reservation Deadline: Wednesday, February 9, 2022
Meals: We are kindly asking for a suggested donation for each meal you are planning to attend to help us cover this major cost of the event. Please indicate on the registration form which meals you will be attending, and thank you for your additional support.
Sponsor Display: You are invited to set up a complimentary company display at the Wyndham on Saturday morning, February 26, 2022. Please indicate your desire to reserve a display spot using the online registration form. Electricity will be available, but you will need to supply your own electrical cords. All sponsors are encouraged to interact with students and University coaches and view student presentations on Saturday. Remember because of the number of teams, presentations will be going simultaneously.
There are several other areas where assistance is needed including Manager Interviews on Friday, February 25, and presentation room and debriefing volunteers on Saturday, February 26. Please indicate your plans on the volunteer registration form. We kindly ask each volunteer from your company register separately using this online volunteer registration site.
Dairy Challenge T-Shirt: show your support by purchasing a Dairy Challenge shirt. Shirts are $15. Shirts can be ordered when registering as a volunteer and will be distributed onsite during the Western Regional event.
For your safety NAIDC has adopted the following COVID statement:
NAIDC is committed to providing a safe and healthy environment for all participants. NAIDC has developed the following COVID-19 plan, which includes policies and procedures to minimize the risk of transmission of COVID-19. As the success of our event relies on teamwork, networking, and interaction, we are requesting all participants be fully vaccinated or have a negative PCR test within 72 hours of arrival. We will cooperate fully with our hotels and host facilities to follow their safety guidelines. We will closely monitor the CDC guidelines including mandates and policies in the areas where our events are being hosted and will be prepared to adjust our policy and/or our event if necessary.
We are implementing a series of changes to encourage safe meeting:• Participants should bring masks for wearing indoors when safe distancing is not available• NAIDC will have an isolation room available should anyone develop symptoms during the trip
To Register: We kindly ask each individual attending from your company register using this form. Forms are due back Wednesday, February 9, 2022. Go to the Western Contest Page at http://www.dairychallenge.org/contests
If you have questions about volunteering your company's time at the event, please communicate with Volunteer Coordinators Jen Gisler Lane, Jennifer_Gisler@cargill.com, PH (559) 469-7219; Stacy Tsang, Stacy.Tsang@PAHC.com, PH (661) 312-6280 or Grace Cun gcun@landolakes.com, PH: 951-972-7771.
On behalf of the steering committee, we thank you for your time, energy and commitment to the Dairy Challenge!