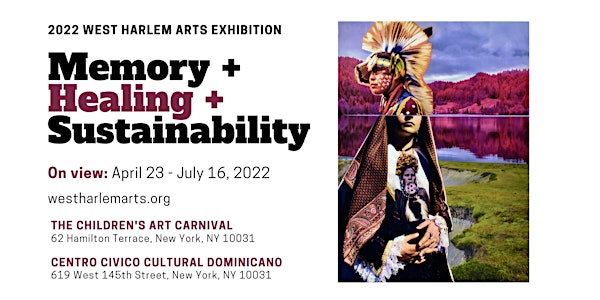 2022 West Harlem Arts Exhibition: Meet The Artists
Meet and learn more about the exhibiting artists of Memory + Healing + Sustainability
When and where
Location
Children's Art Carnival 62 Hamilton Terrace New York, NY 10031
About this event
West Harlem Arts – a collaborative initiative of The Children's Art Carnival and Centro Civico Cultural Dominicano – is pleased to present MEMORY + HEALING + SUSTAINABILITY, a new exhibition in dialogue with Afrofuturism philosophy and aesthetics.
MEMORY + HEALING + SUSTAINABILITY addresses the questions: how do you heal when memory is both prescient and present? How do you save the world and yourself and exist as a complete being when the world has torn you apart? Through paintings, collage, mixed-media, photography, and other media, the 18 exhibiting artists seek both to be free in the presence of a post-pandemic world that has divided itself once again while seeking to find roots in this fragile reality where distance outweighs desire.
The exhibition features works by Ayling Dominguez, Candace Leslie , Cecilia Ines Tavarez, Dionis Ortiz, Elan Cadiz , Gayle Davis, Gia Shakur, Isabel Varela , Janelis Germosen, Jimmy James Greene, Jirair Tcholakian, Jonas St. Juste , Kimberly Cabán, Maria Fernandez, Steven Mckenzie, Uniqua Simmons, Wilhelmina Grant-Cooper, Yasuyo Tanaka
Please join us for our In-Person Artist Meet and Greet Reception at The Children's Art Carnival on Sunday, June 26 at 3:00pm.
West Harlem Arts: MEMORY + HEALING + SUSTAINABILITY is made possible with funding from West Harlem Development Corporation.
To learn more about The Children's Art Carnival: Click here
To view the West Harlem Arts Exhibition: Click here