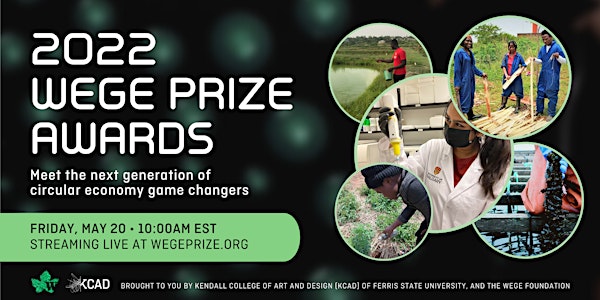 2022 Wege Prize Awards
Join us for the livestream of the Wege Prize Awards and meet the next generation of circular economy game changers.
About this event
Hear from the 2022 Wege Prize Finalist teams as they present their circular design projects for a more sustainable future and compete for $65k in cash prizes. Listen as the judges -- seasoned professionals from around the world -- provide feedback, ask questions, and ultimately determine who will be our winning teams.
The 5 finalist teams are as follows:
AquaPro, a super-efficient aquaponics system to grow fish, vegetables and duckweed.
Neocycle, a plan to recycle valuable rare-earth elements from electronics waste.
ROBUST, a method for transforming banana fiber waste into textiles and paper bags.
SCUP Aquaculture, an ocean platform concept benefiting fish biodiversity and allied industries.
Green Promoters, a team creating an organic pesticide fertilizer to replace chemical products.
Read more about the finalists on our website: www.wegeprize.org/news/2022-five-finalist-teams.
To stay connected to Wege Prize, including updates on the finalists and future competition dates, sign up for our newsletter at www.wegeprize.org/connect.
Schedule for the Day
10:00 AM – 12:30 PM: Finalist Presentations
12:30 PM – 1:30 PM: Judges' Deliberation & Lunch Break
1:30 PM – 2:00 PM: Presentation of Awards
2:30 PM – 3:30 PM: Judges' Forum
About Wege Prize
Wege Prize, a West Michigan-born concept developed by Kendall College of Art and Design of Ferris State University's (KCAD's) Wege Center for Sustainable Design with the support of The Wege Foundation, is an annual competition that ignites games-changing solutions for the future by inspiring college students around the world to collaborate across institutional, disciplinary, and cultural boundaries and redesign the way economies work. To learn more, go to wegeprize.org.