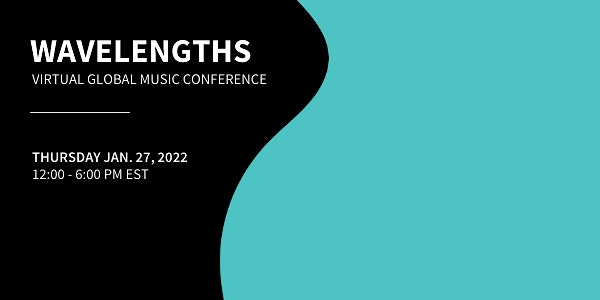 2022 Wavelengths: Global Music Conference
globalFEST's annual Wavelengths Conference is one of the largest gatherings of world music professionals in North America.
Refund Policy
Refunds up to 7 days before event
Eventbrite's fee is nonrefundable.
About this event
This year's annual Wavelengths: Global Music Conference will take place virtually over Zoom.
As the performing arts field continues to navigate its way through the grey areas of either a post-pandemic world or learning to live with the pandemic long-term, we hope to address how to look holistically at the performing arts field, finding ways to support each other in our best and most difficult times.
Here's what we've been thinking about: Navigating the seemingly endless pandemic whether it's job and financial insecurity, the fatigue of constantly assessing multiple risks, caring for children and family members while working from home or the many other challenges that can cause strain and burnout. Ways that presenters are thinking once again of planning, producing, programming despite ever-present health, safety, political and legal challenges. What are revenue streams that artists, agents and managers are considering and practicing while live performance ebbs and flows?
As we imagine a new future, how do we support and listen to artists' stories, and recognize that many artists contend with innumerable challenges in order to perform, run a cultural center, speak truth to power, keep traditions alive and build the next generation of cultural leaders? And, we will recognize extraordinary leaders in the field and celebrate their work, passion, and vision through the gF Awards ceremony.
We hope these insightful Wavelengths panelists and awardees answers some of these questions, and that by the end the day we can take a deep collective breath with new tools, new friends and renewed strength and strategies - knowing there is a lot of work ahead but that we can make it through this, and that together we are stronger than ever and that arts and music are power!
To make this year's conference happen, we have added a small fee to attend — however, no one will be turned away. Suggested value for the conference is $20, but please select the ticket tier that's most comfortable for you and your financial circumstances in this moment:
I Can Pay $20 - Suggested value, for those whose financial circumstances have not been negatively impacted by the pandemic or whose employers are able to cover the cost of attendance
I'll Pay What I Can - From $1 to $100, you tell us what's comfortable — we understand cost may be a barrier this year for some while others are able to pay it forward!
Donating to the globalFEST Membership Drive at the Professional level grants you access to all Wavelengths programming. You can still sign up for a Professional membership here, and we will provide your Professional Member access code via email. Message ian@globalfest.org for more info.
Check out the day at a glance: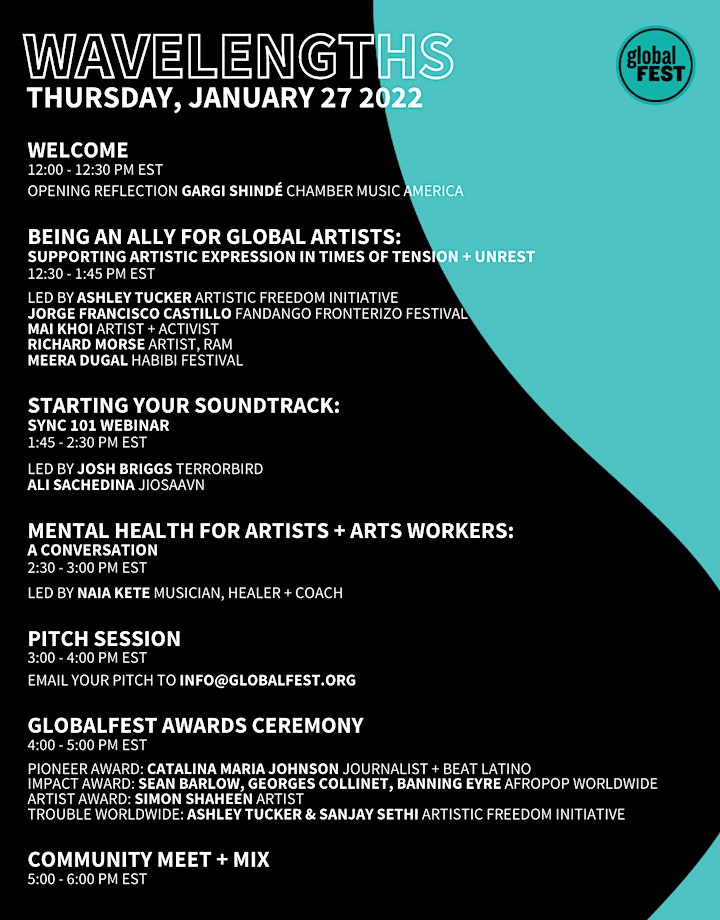 THURSDAY, JANUARY 27:
12:00-12:30 | Welcome + Keynote Reflection
Gargi Shindé, Director of Grant Programs, Chamber Music America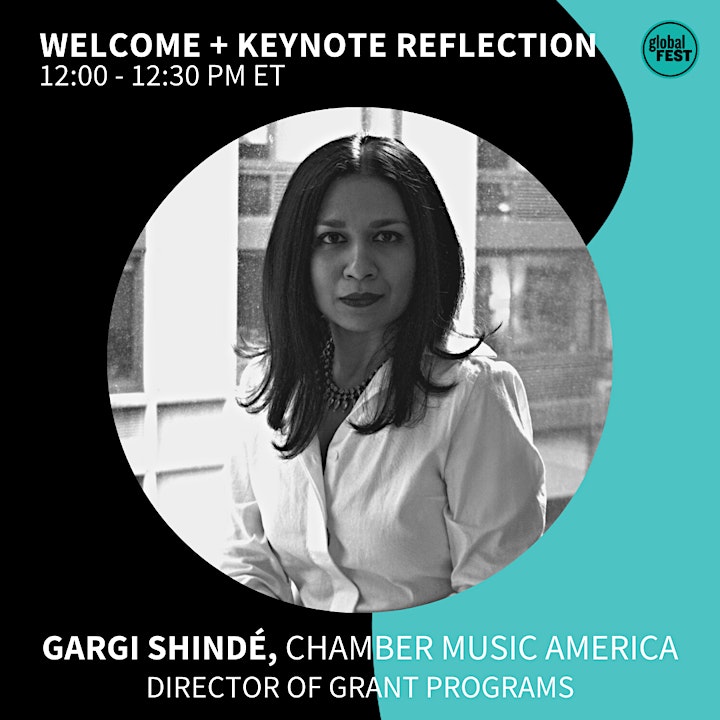 12:30- 1:45 PM EST | Being an ally for global artists: Supporting artistic expression in times of tension and unrest
We probably agree that global cultural exchange is a necessary antidote to rhetoric that has become increasingly xenophobic and isolationist; in this work, artists are essential workers and ambassadors. In conversation with Ashley Tucker from Artistic Freedom Initiative, musicians Mai Khoi and Richard Morse along with Jorge Francisco Castillo (Fandango Fronterizo Festival) and Meera Dugal (Habibi Festival) share their experiences and discuss ways to listen and understand what some artists contend with to make art and keep culture alive. The panel will also discuss strategies – from tackling legal hurdles, leveraging combined resources, and responsible risk sharing – to move from understanding to active allyship.
Panelists: Ashley Tucker (Co-Executive Director, Artistic Freedom Initiative), Mai Khoi (Artist and Activist); Richard Morse (Artist, RAM); Jorge Francisco Castillo (Fandango Fronterizo Festival); Meera Dugal (Co-Founder, Habibi Festival)

1:45 - 2:30 PM EST | Starting Your Soundtrack: Sync 101 Webinar
At last January's Soundtrack: How to get your music in TV + Film panel, we saw many of you had questions about how to practically start getting your music or artist in front of the right ears for TV, movies and ads. This year, we'll follow up by taking a step back and slowing it down with Josh Briggs (Terrorbird) and Ali Sachedina (JioSaavn) who will talk us through Music Publishing and Sync 101. What are the first steps to get your music ready for licensing? How do you find the right library? What should you look for before consenting to terms and agreements or negotiating deals? Come ready with your questions as we explore how to get started with this potential outreach strategy and monetary stream.
Speakers: Josh Briggs (Head of Publishing + General Manager, Terrorbird) and Ali Sachedina (VP, General Counsel & Business Affairs, JioSaavn)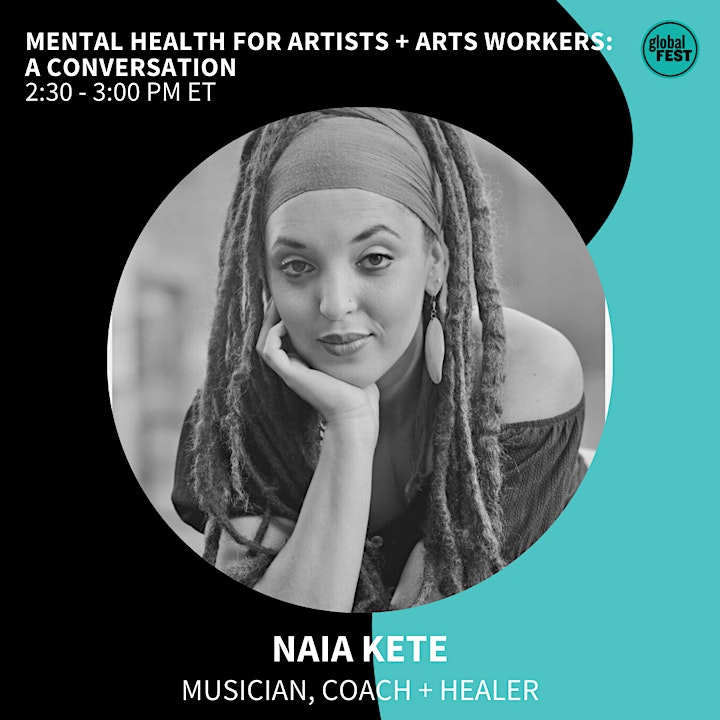 2:30-3:00 PM EST | Mental Health for Artists + Arts Workers: A Conversation
The ongoing pandemic has had a significant impact on the mental health and well-being of artists and those within the performing arts industry. In this 30-minute session we will hear from musician, coach and healer Naia Kete on tending to your mental health amid such instability, stress and unpredictability.
Speaker: Naia Kete (Musician, Coach + Healer)
3:00- 4:00 PM EST | Pitch Sessions
After we discuss strategies and ideas on how we can best support artists in these uncertain times, we'll hear from a variety of colleagues about what they are working on and the new projects we can look forward to in upcoming seasons. Artists, agents, presenters, producers: to be considered, please email your pitch to info@globalfest.org.

4:00 - 5:00 PM EST | globalFEST Awards Ceremony:
Join us in celebrating this year's globalFEST Awards recipients and recognizing our peers in the field who have done exemplary work.
Hosted by Isabel Soffer (Live Sounds)
Pioneer Award: Catalina María Johnson (Journalist / Beat Latino)
Impact Award: Sean Barlow, Georges Collinet, Banning Eyre (Afropop Worldwide)
Artist Award: Simon Shaheen (Artist)
Trouble Worldwide: Ashley Tucker & Sanjay Sethi (Artistic Freedom Initiative )
5:00-6:00 PM EST | Wavelengths Community Meet + Mix
Whether this is your first conference or you've never missed a year, dive into the Wavelengths community! Opt in to be mixed and matched for quick one-on-one video meetings or spend time in smaller lobbies catching up or making new connections. We promise it will be fun and the next best thing to being together! (Please indicate your interest in joining when you register via Eventbrite.)