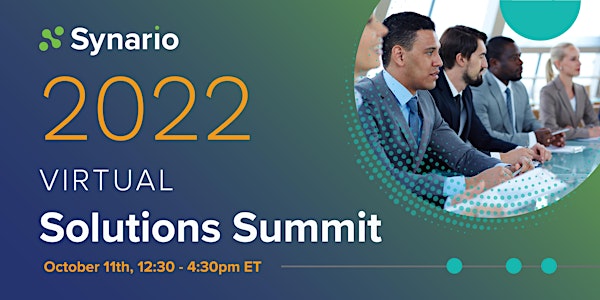 2022 Virtual Solutions Summit
Join us for Synario's 2022 Virtual Solutions Summit for financial decision makers.
About this event
Learn from peer Synario modelers and subject matter experts as they share their insights and best practices for making strategic long-term decisions, mitigating risk, and ensuring financial sustainability.
Gain 3 CPE Credits for attendance.
Event Objectives:
- Develop solutions to overcome your toughest financial modeling challenges
- Dive into interactive content and strategic conversations
- Virtually network and share experiences with other forecasters and decision-makers
AGENDA:
12:30 - 1:15 - Ding Happens! Avish Parashar (Keynote and Motivational Speaker)
The world is changing faster than ever, and people often get "stuck in the past," resisting and complaining about change instead of embracing it and moving forward. This session gives attendees the tools and motivation to embrace, rather than fear and resist change and gives leaders the skills to manage and help their teams improvise, adapt, and innovate in an ever-changing world.
1:15 - 1:20 - Break
1:20 - 2:05 - Financial Modeling for Sacramento Utilities - Dean Fujimoto (Long-Range Financial Planning Manager) and Tyler Stratton (Capital Finance & Grants Manager) - Financial Modeling for Sacramento Utilities
Does your Agency want to be able to run funding scenarios during meetings with real time results and charts, and project out for future years (e.g., 10 years, 15 year, 20 years, etc.)? If the answer is yes, prepare your decision makers to make educated financial decisions by attending this presentation and learn how the City of Sacramento, Department of Utilities (DOU) has modernized long-range financial planning with the Synario Software system. Learn how to utilize Synario for utility rate modeling to develop funding strategies for large capital projects that include a mix of utility rates, bonds, low-interest loans, and grants.
Attendees will see a demonstration of the Synario Rate Model software system, including base cash flow summaries, key metrics, alternative scenarios, and initiatives. The base cash flow summaries reflect the beginning fund balances, revenues, expenditures, debt services, capital investments, and ending fund balances. The key metrics are targets configured into the system, updated in real time as alternative scenarios, and initiatives are toggled for what-if scenarios. These tools are valuable resources for decision makers about long range financial planning initiatives.
2:05 - 2:15 - Break
2:15 - 3:00 - Maximizing Scenario Analysis in the Real Estate Space - Sarah Mazur (Senior Manager of Financial Planning and Analyses) Sabra Healthcare REIT
Sabra leverages financial modeling to analyze the impact of property acquisitions and dispositions. Learn how they create multiple versions of their future to empower leadership with the tools they need to make informed decisions.
3:00 - 3:05 - Break
3:05 - 3:50 - Be Proactive, Not Reactive: How Agile Planning Can Lead to Financial Sustainability - Jim Quinn - (Director of Financial Planning & Analytics) Lehigh University
In 2021, Lehigh University underwent a reevaluation of their identity to become more selective in their admissions process and elevate their prestige to pre-pandemic levels. To do this, leadership contemplated freezing enrollment for five years. Learn how Lehigh's Director of Financial Planning and Budget Director prepared a portfolio of options in line with the University's goal and empowered leadership to choose the most sustainable path forward
3:50 - 3:55 - Break
3:55 - 4:20 -Expanding Your Financial Plan to Leverage Federal Funding Opportunities - PFM - Darren Hodge (Director)
In the last year, historic federal infrastructure bills have been signed into law providing municipal entities significant funding opportunities for their capital project needs. Lisa Lawrence and Darren Hodge from PFM's Financial Advisory practice will summarize the funding available, explore key themes of IIJA and discuss the importance of financial planning in identifying, applying/competing for and leveraging these federal funds.