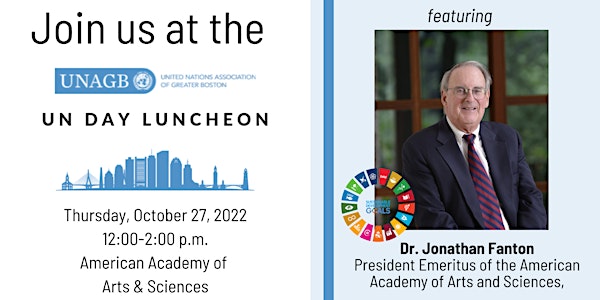 2022 UN Day Luncheon
Join UNAGB in celebrating and elevating the work and mission of the United Nations at this year's UN Day Luncheon in October.
When and where
Location
American Academy of Arts & Sciences 136 Irving Street Cambridge, MA 02138
About this event
United Nations Day 2022:
United Nations Day marks the anniversary of the entry into force of the UN Charter in 1945. It is celebrated around the world, including here in Boston, where for over 25 years, the United Nations Association of Greater Boston has gathered leaders in the business, education, diplomatic, and civic community to elevate the role of the UN in global affairs and reaffirm the importance of peace, prosperity, human rights, and justice for all.
At the time of its founding in 1945, the United Nations was a unifying symbol of what was possible through shared vision and collaboration. The events of 2022 have challenged all of us to imagine the ways we can work together for a better future and re-envision the significance of the United Nations in the 21st century.
Dr. Jonathan Fanton, President Emeritus of the American Academy of Arts and Sciences, 3rd President of the MacArthur Foundation, and 6th President of the New School of Social Research is our featured guest speaker.
The American Academy of Arts and Sciences:
Located in the heart of Cambridge and footsteps from Harvard Square lies the "best-kept-secret" of the Norton's Woods Conference Center, home of the American Academy of Arts & Sciences.
The Academy was founded in 1780 by John Adams, John Hancock, and other patriots with the mission to "honor excellence and convene leaders from every field of human endeavor to examine new ideas, address issues of importance to the nation and the world, and work together."
Every year since 1790, the Academy welcomes another class of fellows and the acceptance letters of prestigious fellows hang throughout the building. There will be ample time for guests to read through these inspiring pieces of living history.
Interested in sponsoring UN Day 2022?
As a small but mighty non-profit organization, every dollar helps make our mission and programming a possibility. Interested in sponsoring this year's UN Day Luncheon? Contact Alex Bostian, Director of Development, at alex.bostian@unagb.org or at 617-651-0180.