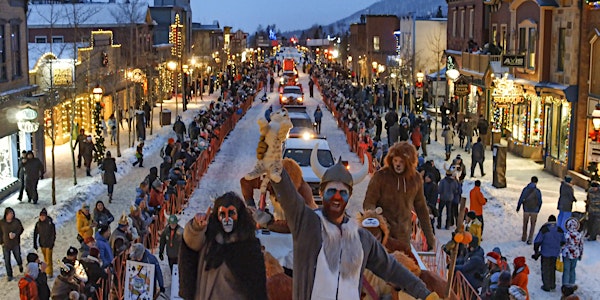 2022 Ullr Parade Registration
Come celebrate Ullr by participating in the Ullr Parade.
When and where
Location
N. Main St. and French St. N. Main St. Breckenridge, CO 80424
About this event
Register your float for Breckenridge's Ullr Parade.
Registration Deadline: Floats must be registered by 12:00pm on December 6, 2022.
No late registrations or walk-ups will be allowed.
PARADE RULES
Breckenridge Police Officers and the Parade Officials will be monitoring these guidelines throughout the parade.
Failure to comply will result in your removal from the parade.
1 Registration per float / group
Parade staging will be from 3:00pm - 4:00 pm at the (300) block of North Main St. (Access from North Main St, onto 300 N block)
All floats are required to register for parade by 12:00pm on December 6, 2022.
NO late entries will be permitted.
NO Confetti
NO alcohol on the float
NO replica handguns
NO fireworks
In the best interest of safety, please indicate if your float will have loud noises or live animals in the parade.
Floats Only; no vehicles unless part of float
No Car clubs
Each float must be driven by a courteous, sober and friendly driver
Floats cannot be higher than 17 feet
Shooting water guns, throwing water balloons, or snow into the crowd is PROHIBITED ON FLOATS!
The throwing of candy or other items from parade units is PROHIBITED. You may still distribute these items to the crowd as long as you have people walking along the barricade handing items out. The policy for candy distribution is "HAND TO HAND."
$1000.00 for 1st place, $750.00 for 2nd place and $500.00 for 3rd place