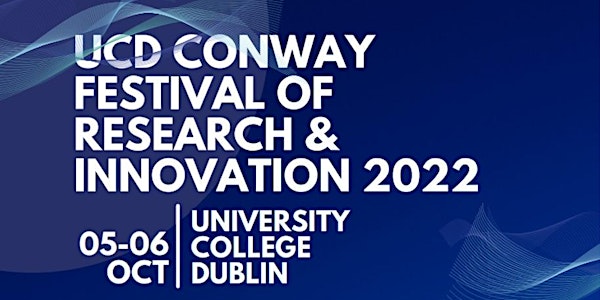 2022 UCD Conway Festival of Research & Innovation
The latest in health and wellbeing research and innovation from leading scientists including panel discussions and poster exhibitions.
When and where
Location
UCD Conway Institute (building 19) University College Dublin Belfield 4 Dublin Ireland
About this event
This annual showcase of research and innovation from Institute scientists features national and international guest speakers; scientific research poster sessions; a facilitated discussion forum on writing successful grant funding proposals; and a trade exhibition by suppliers of laboratory equipment and consumables.
Plenary Speakers:
Professor Sarah Walmsley, Chair of Respiratory Medicine, Centre for Inflammation Research, The University of Edinburgh
'Peripheral and central programming of neutrophil responses'
Professor John Cryan, Dept. of Anatomy & Neuroscience, University College Cork
'Gut Microbiota: Fellow Travellers that Regulate Brain & Behaviour across the Lifespan'
Invited Speakers:
Professor Eoin Casey, UCD School of Chemical and Bioprocess Engineering
'Interdisciplinary approaches to the study of bacterial biofilms'
Professor Niamh Nowlan, UCD School of Mechanical and Materials Engineering
'How collective cell behaviours determine prenatal joint growth and morphogenesis'
Professor David MacHugh, Full Professor of Functional Genomics, UCD School of Agriculture and Food Science.
'Multi-omics approaches for understanding host-pathogen interaction in tuberculosis disease'
Associate Professor David O'Connell, UCD School of Biomolecular & Biomedical Science
'SXkmer Drug Discovery Platform (SDDP) - selection of novel peptide inhibitors for therapeutic development with phage display'
Dr Oleksii Ruklenko, Systems Biology Ireland, UCD
'Controlling cell state transitions'
'In Conversation': 'Secrets of successful grant writing for careers in academia'
The format is a series of short pitches from guest panelists in which they outline their experience and opinion on the topic followed by a facilitated Q&A session with the audience.
Dr Roisín Cheshire, Head of Individual Led Programmes, Science Foundation Ireland
Dr Aoife Cahill, Programme Manager, Investigator-led grants, Health Research Board
Dr Chiara Loda, Horizon Europe Cluster 2 and ERC (SSH) National Contact Point, Irish Universities Association
Ms Aine Moore, UCD EU Research Office Manager
Dr Mario Manresa, Ad Astra Fellow, UCD School of Biomolecular and Biomedical Science; SFI/IRC Pathway Fellow
Professor Walter Kolch, Director, Systems Biology Ireland; Director, Precision Oncology Ireland; Fellow, UCD Conway Institute
Scientific Poster Exhibition
24 research projects have been shortlisted by the 2022 UCD Conway Festival committee for moderated poster sessions. An additional 92 research projects are being exhibited in review sessions. All posters will be reviewed by senior research scientists.
Trade Exhibition
Laboratory equipment and consumable companies will be in attendance during Thursday, 06 October to discuss products and special offers.
Platinum sponsors of the 2022 UCD Conway Festival: Cruinn Diagnostics, Bio-Sciences Ltd