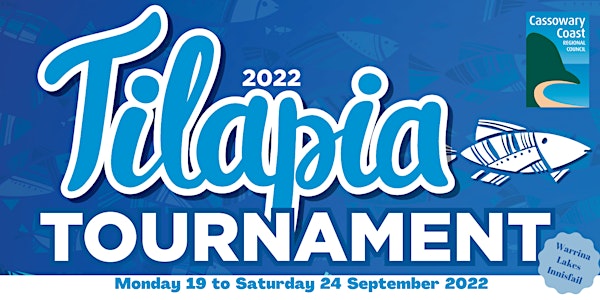 2022 Tilapia Tournament
Tilapia Fishing Competition
When and where
Location
Warrina Lakes Botanical Garden 35 Emily Street Innisfail, QLD 4860 Australia
About this event
2022 Tilapia Tournament
presented by Cassowary Coast Regional Council
<º))))>< <º))))>< <º))))><
Tilapia are often called the "cane toads" of our waterways. Let's catch some pesky fish, and win some prizes for it!
Participants must observe COVID-19 social distancing guidelines, and bring:
Hat
Sunscreen
Refillable water bottle
Fishing Rod or Hand line
Bucket
Fishing Gear (long shanked barbless hooks are best)
Consider bringing some food and use one of the public BBQ's
Prizes!
5 years and under.
6 years to 12 years old.
13 years to 18 years old.
Tilapia Tamer (overall winner across all age groups).
Tilapia Tackler (Saturday standalone event).
Please be advised:
Warrina Lakes is also home to turtles, eels and other fish. Should you accidentally catch anything other than a Tilapia we ask you to return it as safely as possible.
Children under 12 are to be supervised by a responsible adult at all times.
Only those wishing to fish need to register.
Warrina Lakes is only open for fishing during the Tilapia Tournament (8am to 3pm Monday to Friday and 8am to 10am Saturday).
Fish must be weighed by 3pm each day to qualify.
ONLINE registration is a must in order to gain permission to fish in the lakes.
No dogs, alcohol or inappropriate behaviour
No spearguns or nets allowed
Fishing hooks and other waste should be disposed of appropriately
Captured Tilapia must be measured and recorded before disposing in the bins provided. No fish are to leave the premises.
Fish carcasses will be relocated for use as compost/fertiliser.