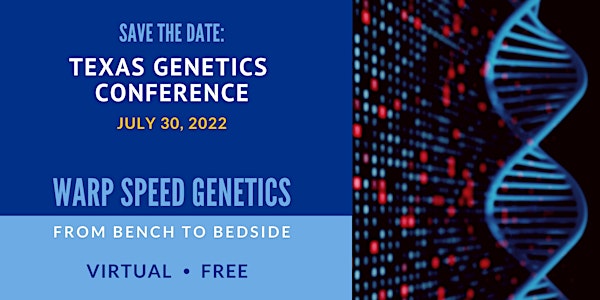 2022 Texas Genetics Conference - Warp Speed Genetics: From Bench to Bedside
2022 Texas Genetics Conference - WARP SPEED GENETICS: From Bench to Bedside
About this event
Fasten your seatbelts for a warp speed tour of the evolving genetic landscape that is informing clinical practice in 2022. This conference will lay the foundation for genetic care across the lifespan, from non-invasive prenatal screening to ethical issues in newborn screening, and from cutting-edge gene therapies to cancer genetic predisposition testing "in the trenches". We will also be exploring the interface between research and clinical applications for advanced genetic testing, while recognizing the imperative to engage and include diverse populations in both clinical genetic care and research endeavors.
REGISTER today for this FREE conference to discover more about Warp Speed Genetics: From Bench to Bedside.
Continuing education for multiple disciplines will be provided for this event.