Join college campuses from across Tennessee as we explore unique perspectives on student voting and civic literacy.
About this event
The nonpartisan Tennessee Campus Civic Summit is a platform for students and staff to reaffirm the best practices that foster civic capacity in the next generation of Tennessee citizens.
Gold Sponsors: Campus Vote Project, Students Learn Students Vote,
Silver Sponsors: Student PIRGs
The main summit event will be on Friday, February 25th, 2022. This student-led event features a keynote speaker, a leadership luncheon with civic leaders and elected officials, collaborative campus roundtables, and presentations on the latest civic engagement strategies. Participants engage in discussions, share resources, and engage with a community of civic and campus leaders. The students create and launch civic engagement plans that will be carried out through institutional frameworks impacting civic capacity and civic literacy.
To remove attendance barriers, the 2022 Summit will introduce a virtual hybrid model. The main sessions will be virtual, while each school will host its own in-person mini-Summit led by a student/faculty leader that includes; a leadership luncheon and a collaborative campus action planning session. Before the Summit, each participating campus team will receive pre-reading, leadership training, and an on-site Summit Toolkit.
This year we are introducing the Campus Civic Summit Social Saturday. On Saturday, February 26th there will be an optional three hour event dedicated to connecting and networking with students and staff across the state, networking with local and national civic leaders as well as a session for statewide goal setting.
Pre-register now to help TCDN staff prepare to support your campus in our first year with this virtual hybrid model.
Keynote Speaker Aarian Forman
Aarian J. Forman is rapidly becoming an influential voice for change in Tennessee and the southeastern region of the United States. A graduate of Tennessee State University, he served as President of SGA. He has played an integral role in state house campaigns as well as advising initiatives to push the agenda of those who are often marginalized. Aarian is Founder and Creative Director of AJ Media Solutions and is the Co-Founder of Xceleader.
Xceleader is a nonprofit organization focused on cultivating the next generation of student leaders at historically black colleges and universities (HBCU). Their mission is to develop communities of student leaders dedicated to driving positive social change within HBCU campuses across the country.
Members of the planning committee include:
Austin Peay State State University
Belmont University
Cleveland State Community College
Columbia State Community College
Daymar College
East Tennessee State University
Howard H. Baker Jr. Center for Public Policy
Lane College
Maryville College
Middle Tennessee State University
Pellissippi State
Tennessee State University
Tusculum University
University of Memphis
University of Tennessee, Knoxville
Vanderbilt University
All in Challenge
The Andrew Goodman Foundation
Campus Vote Project
Students Learn Students Vote
Student Organizing Inc
Student PIRGs
Tennessee Campus Democracy Network
FYI :
This event will be held across the state for participants in both Central and Eastern time zones, so keep a close eye on the times for each session!
We are also offering all-day virtual sessions for campuses that are not hosting on-site sessions. We'll be in touch after you register to update you on your campus.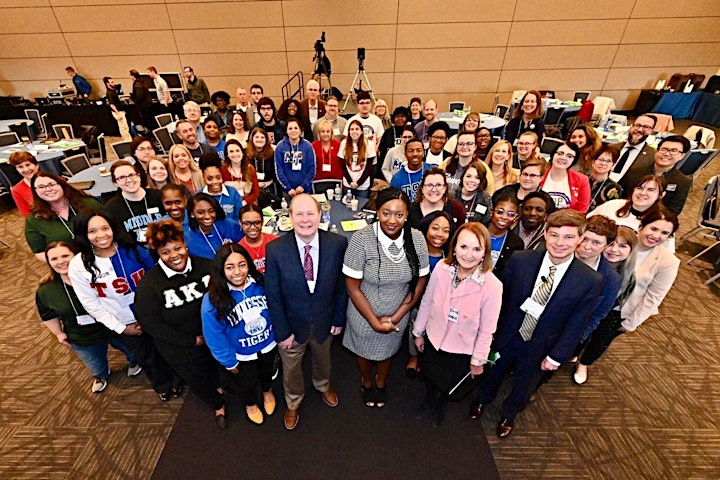 DAY ONE - Friday, February 25th
9:30-3:30 PM CST (10:30-4:30 EST)
9:30 - 10:20 CST (10:30-11:20 EST) Summit Kick-Off and Welcome - Session One
Welcome and Keynote Speakers Aarian Forman from Xceleader
10:20 - 11:00 CST (11:20- 12:00 EST) Breakout Workshops Groups - Session Two
Breakout 1: Campus Organizing 101 and Campus Voting Barriers
Breakout 2: Diversity, Equity, and Inclusion - How to Build a Campus Coalition with Representation
Breakout 3: History of Youth Voter Activism in the Volunteer State
11:00 - 12:20 CST (12:00-1:20 EST) In-person Intimate Lunch with Local Leaders - Session Three
12:20 - 1:00 CST (1:20 - 2:00 EST) Tennessee Student Panel - Session Four
Student leader panel sharing insights, things they have done that were successful, lessons learned
"How Do We Engage Student Non-Voters?" - " Building Your Advocacy Toolbox to Prepare for 2022" - "What's worked in TN"
1:00 - 1:15 CST (2:00 - 2:15 EST) Virtual Votes and Ballots Introduction - Session Five
Join virtually as Students Learn Students Vote facilitator. welcomes everyone back and introduces Votes and Ballots Activity
1:15-3:15 CST (2:15 - 4:15 EST) In-person Collaborative work on Campus Action Plan - Session Six
3:15 - 3:30 CST (4:15 - 4:30 EST) Virtual Closing - Session Seven
Join virtually for closing
Day TWO - Saturday State Social - Optional for Attendees
11:00-2:00 CST (12:00-3:00 EST)
Network Breakouts and State Goal Setting
11:00-11:15 CST (12:00 - 12:15 EST) Welcome - Session 1
Welcome back, introductions, and review the schedule for the day.
11:15-11:45 CST (12:14 - 12:45 EST) Saturday Interschool Social - Session 2
Students will be grouped into pods of 8-10. Faculty and staff will separately be grouped into pods of 8-10. Pods will get to know each other, exchange contact information, and discuss goals, tips, and tricks for campus civic engagement.
11:45 -12:30 CST (12:45 -1:30 EST) Civic Leader Speed Friending - Session 3
Groups of 3-5 Students & faculty network with national partners and local leaders for 5 minutes at a time. Students can learn about fellowship and career opportunities, and National Partners will promote their programs. Leaders will share what they do and any opportunities for student civic leaders.
12:30-1:45 CST (1:30 - 2:45 EST) Statewide Goal-setting - Session 4
Collaborative action-planning to set goals for colleges and universities across the state of Tennessee, using virtual Votes & Ballots Mural tool. Facilitated by Students Learn Students Vote. Feel free to eat at your computer while we goal set!
1:45-2:00 CST (2:45 - 3:00 EST) Closing - Session 5