Your FAVORITE event is BACK + bigger than ever. Save the date for the Taliah Waajid World Natural Hair + Healthy Lifestyle Event!
About this event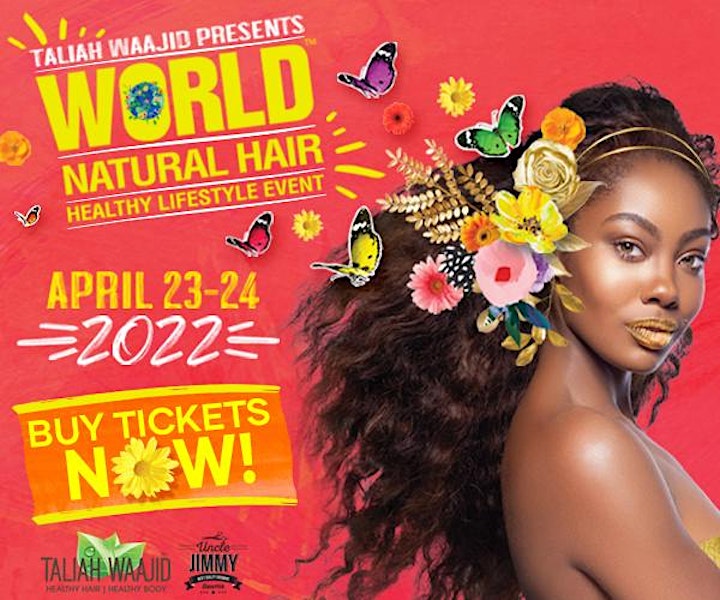 We're back and better than EVER. We can't WAIT to see all of you at the first, the largest and the BEST hair, health and beauty event!
Check out What's New and Save the Dates! April 23-24, 2022 in ATLANTA, GA
--------------Important Updates--------------
COVID-19
We project that the country --- and the world, will be back to as close to "normal" as possible in 2022. However, we will still take precautions by asking that staff, attendees and vendors wear masks and social distance. We will also ensure that frequently touched areas/surfaces will be sanitized/cleaned vigorously throughout the duration of the show. Hand sanitizer will also be available at every Taliah Waajid Brand booth or station for patrons to use.
CREDITS
If you are an attendee holding a credit, please DO NOT purchase additional tickets unless you need/want them. 2022 will be the last year that the Taliah Waajid Brand will honor credits from 2020 registrations. There is nothing for you to do. Eventbrite will email you with an updated event ticket/barcode.
If you disputed your 2020 ticket purchase with your bank, unfortunately, your credit has been forfeited since your funds were awarded back to you. You will need to purchase more tickets to attend the 2022 WNH&HLE.
REFUNDS
As always, tickets are non-refundable. If you are unable to attend for any reason -or- if the event is postponed, credits [for the next event] will be issued for your ticket purchase. If you would like to transfer your ticket to another person, that is allowed. Our refund policy is firm.
VENDORS/EXHIBITORS
If you are a vendor holding a credit, please note that your credits will be rolled over. There is nothing for you to do. A show team representative will reach out to you with an updated receipt and booth confirmation reflecting your credit balance. 2022 will be the last year that the Taliah Waajid Brand will honor credits from 2020 registrations.
If you are a company that is interesting in exhibiting, please email showadmin@naturalhair.org with your company name, phone number and link to your website or Instagram page.
WANT TO PARTICIPATE?
Volunteers/Staff - If you are interested in working the show, please email tjoyner@naturalhair.org with a recent photo, resume and two (2) business references.
Workshop Instructors/Educators - Submissions are now open for workshop instructor slots. Please click the following link to apply. https://bit.ly/2022TWEDU
Performers - Sing? Rap? Dance? Live Artist or Painter? If you wish to showcase your talents on the main stage, please stay tuned for a link to submit yourself for consideration.
Visit www.naturalhairshow.org for more details
Organizer of 2022 Taliah Waajid World Natural Hair & Healthy Lifestyle Event
Taliah Waajid began her Natural Hair care start up business at the age of 14.  She has always been at the core of the natural hair movement and has inspired many others to follow in her footsteps.  
Taliah Waajid was the first to offer a complete line of natural, chemical-free hair care products.  The products were formulated for consumers that chose not to use chemicals on their hair.  The Taliah Waajid Brand now offers 4 collections of healthy hair product lines that range from Natural Hair Care, Curly Hair Care, Protective Styling and Children's Hair Care.
In 2018, she launched her men's line, Uncle Jimmy Products, which is named after her favorite uncle. T he line consist of natural products for total grooming for all men.The Uncle Jimmy Brand includes products for hair, beard and body care.
Taliah Waajid is also the founder and presenter of the Taliah Waajid Natural Hair & Healthy Lifestyle Event which is now in it's 23rd year.  The event brings in over 30 thousand attendees over the two day weekend.  It is the first, the largest and the best event that celebrates natural beauty and healthy living.   The show weekend also offers music, entertainment, over 300 vendors, over 35 consumer hair, business, DIY, fitness and health workshops and more.
Taliah is dedicated, hard working and passionate about being a positive inspiration to the next generation.  Her business is mostly family operated.   Her family members and her staff both play a huge part in the success of her business.  She knows that it takes a team.  No one is successful on their own. 
In 2019 Taliah invested in a local female start up business and has grown that business over 200%.  Taliah is passionate about family and community.   She believes that given the right opportunity and tools, anyone that really wants to succeed, will succeed.   
Taliah is a strong believer in open communication about mental health issues in our community.  She is excited about working with Grady Hospital on their new Mental Health Pavillion. 
I'm thankful for everyday that I awake and have the opportunity to make a positive difference in my life and in others.