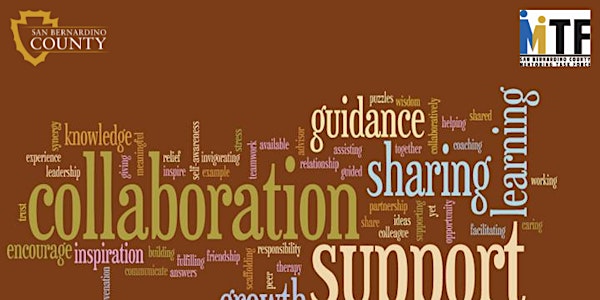 2022 State of Mentoring in San Bernardino County Stakeholder Meetings
Join San Bernardino County and our partnering stakeholders in regional needs assessments around mentoring and community services for youth!
About this event
San Bernardino County Children's Network and Mentoring Task Force invite you to join us as we conduct our Annual Stakeholder Needs Assessments.
These sessions will cover four regions throughout the county. All community- and faith-based organizations, schools, mental health organizations, government departments, youth- serving and mentoring- programs are welcome.
The sessions will address gaps and overlaps in services and develop action plans to meet the youth mentoring needs of each region.
Zoom Virtual Meeting Dates:
High Desert Partnership for Kids, Aug. 1, 9 – 11 a.m.
East Valley Community Collaborative, Aug. 3, 2 – 4 p.m.
Focus West Advisory Council, Aug. 3, 9 – 11 a.m.
Bear Valley Community Collaborative, Aug. 15, 2:30 – 4:30 p.m.
Register by clicking on the Select a Date button on this page. Once registered you will receive your Zoom link with your confirmation email.
For questions, interpretation services, or requests for disability-related accommodations, free of charge, call (909) 383-9677 (dial 7-1-1 for TTY users). Please request accommodations at least 72 hours prior to the event.
Services are provided in collaboration with the San Bernardino County Department of Behavioral Health and funded by the Mental Health Services Act (Proposition 63).
Para obtener esta informacion en Espanol llame el (909) 383-9677.