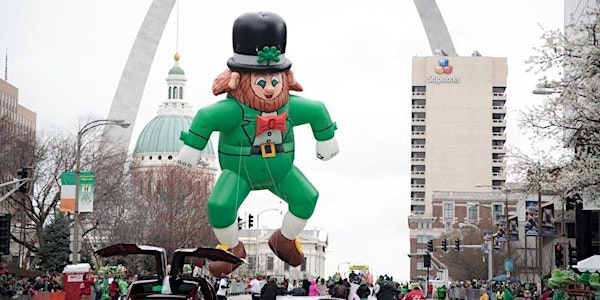 2022 St Patrick's Day Parade & Run Volunteer Sign-up
Sales Have Ended
Registrations are closed
Thank you so much for registering to volunteer, you will receive more information from Volunteer Coordinator Amanda Laumeyer at volunteers@irishparade.org in the next few days. Volunteers meetings are held downtown St. Louis on Saturday mornings: January 15 February 12 March 5
Event Information
Location
Hilton St. Louis at the Ballpark
1 South Broadway
St. Louis, MO 63102
Sales Have Ended
Registrations are closed
Thank you so much for registering to volunteer, you will receive more information from Volunteer Coordinator Amanda Laumeyer at volunteers@irishparade.org in the next few days. Volunteers meetings are held downtown St. Louis on Saturday mornings: January 15 February 12 March 5
We're looking for volunteers to assist with the 2022 St. Patrick's Day Parade & Run in downtown St. Louis. Individuals or groups welcome!
About this event
Volunteers are needed, whether individually or in groups, to assist with the 2022 St. Patrick's Day Parade and Run. Please read the information below to find out how you can help downtown St. Louis's largest event and one of the top events in the country.
You must be age 18 or over to be parade marshals, there are other positions available for those under 18 on a limited basis.
Parade marshals should be present on parade day from 8:00 am through 2:00 pm. Some positions including helping with the run require earlier or different arrival times.
Volunteer meetings are held one Saturday a month in January, February and March to prepare and plan for the parade & run. We invite you to join us at each meeting and once signed up will send you those details.
That morning, volunteers will check in at the parade Headquarters, located in the Lindbergh Room at the Hilton St. Louis at the Ballpark. This is where you'll get your assignment to an area along the run and parade route. We'll provide transportation to your assigned area, should it be farther than walking distance. Block captains oversee each area, to help address questions and other issues that arise throughout the day.
Volunteers will be provided a St. Patrick's Day t-shirt, complimentary parking and invited to the Post Parade Party. After all your hard work be our guest and enjoy complimentary beer, wine, soda and food while we celebrate!
Date and time
Location
Hilton St. Louis at the Ballpark
1 South Broadway
St. Louis, MO 63102