Location
William Woollett Jr. Aquatics Center
4601 Walnut Avenue
Irvine, CA 92604
2022 Speedo Junior National Championships
About this event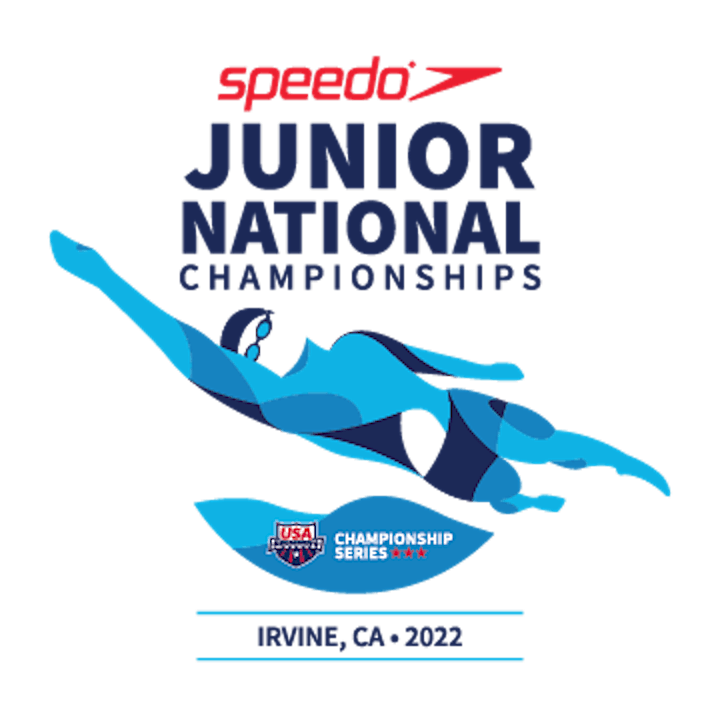 The long course meters (LCM) meet will be hosted in Irvine, California. The Speedo Junior National Championships' event schedule will consist of 38 events, including both freestyle and medley relay races.
Dates: Monday, August 1 - Friday, August 5
Ticket Sales Policy: All sessions and single day ticket prices will increase $10.00 after July 22, 2021 at 11:30PM.
Daily events "HEAT SHEET" can be purchased on each day of the championship for $2.00 (CASH ONLY) during CHECK-IN.
Refund Policy: NO refunds, exchanges or credit. All ticket sales are final.
Concessions
Concessions will be available for spectators to the left of the entrance to the lifeguard office. Breakfast, lunch, dinner, snacks, candy and drinks are offered.
Directions to Pool from Airport
From John Wayne (SNA) Airport
Start out going SOUTHWEST on DEPARTING FLIGHTS ACC toward AIRPORT EXIT. Turn SLIGHT LEFT onto AIRPORT DEPARTURES. AIRPORT DEPARTURES becomes AIRPORT WAY. Stay STRAIGHT to go onto AIR?PORT EXIT/AIRPORT WAY. Turn LEFT onto MACARTHUR BLVD. Merge onto I-405 S toward SAN DIEGO. Take the CULVER DR exit. Turn LEFT onto CULVER DR. Turn RIGHT onto WALNUT AVE.
From Los Angeles International (LAX) Airport
Start out going SOUTHEAST on ramp. Stay STRAIGHT to go onto ramp. Merge onto S SEPULVEDA BLVD/CA?1 S. Take the I-105 E/IMPERIAL HWY WEST ramp toward IMPERIAL TERMINAL. Merge onto I-105 E toward NORWALK. Merge onto I-405 S toward LONG BEACH. Take CA-22 E toward GARDEN GROVE. Merge onto I-5 S toward SAN DIEGO. Take the CULVER DR exit. Turn RIGHT onto CULVER DR. Turn LEFT onto WALNUT AVE.
Parking
Limited parking for handicap, officials and admins will be available in the front of the Aquatics Center. Parking is available for spectators, coaches, teams and officials on the north side of Irvine High School accessed via Escolar and on the East side of the Aquatics Center adjacent to Heritage Park.
Hotels
Marriott Bonvoy is a proud sponsor of USA Swimming. USA Swimming has partnered with Team Travel Source to provide attendees/groups with the best available rates. Hotels have been carefully selected to ensure quality and are within close proximity to the venue. Rooms will book up quickly so please book well in advance.
FAQs
Can I purchase tickets at the entrance on the day of the event?
Yes, ONLY CASH is accepted at the event or you can still purchase tickets online using your mobile device.
Do I need to create an Eventbrite account to purchase tickets online or mobile device?
Yes, you need to create an Eventbrite account and enter proper payment information. Every order requires a name and email address. A Visa Card, MasterCard, AMEX or Discover Card payment information is also required to purchase tickets.
Can I purchase tickets for other attendee(s)?
Yes, you can enter the attendee's name and email address on each ticket purchase. Your attendee(s) will receive an email confirmation of your prepaid ticket purchase.
If you do not plan on checking-in together with your attendee(s) on the day(s) of the event, you have the following options:
You can email a copy of your attendee's tickets to them, and have them printout their tickets for event check-in.
Your attendee(s) can retrieve their tickets by creating an Eventbrite account using the link provided in the email confirmation they received.
What is your refund policy?
NO refunds, exchanges or credit. All ticket sales are final.
Do you provide group discounts for group purchases?
No.
Do you provide discounts for seniors and young children?
No.
Do you have assigned seating?
No.
Are awnings, roofed or shade seating available in the grandstand?
No. You will need to bring your own sun hat or personal umbrella for protection from the sun. No tents, canopies or large umbrellas will be allowed.
What if I want to buy more than 10 tickets for this event?
Submit another order.
ASSUMPTION OF RISK: We have taken enhanced health and safety measures for all attendees. Swimmers must follow all posted instructions. An inherent risk of exposure to COVID-19 exists in any public place where people are present. COVID-19 is an extremely contagious disease that can lead to severe illness and death. According to the Centers for Disease Control and Prevention, senior citizens and guests with underlying medical conditions are especially vulnerable. By visiting the venue for this event, you voluntarily assume all risks related to exposure to COVID-19.
COVID-19: USA Swimming, Inc., cannot prevent participants from becoming exposed to, contracting, or spreading COVID-19 while participating in USA Swimming sanctioned events. It is not possible to prevent against the presence of the disease. Therefore, if you choose to participate in a USA Swimming sanctioned event, you may be exposing yourself to and/or increasing your risk of contracting or spreading COVID-19.
COVID-19: BY ATTENDING OR PARTICIPATING IN THIS COMPETITION, YOU VOLUNTARILY ASSUME ALL RISKS ASSOCIATED WITH EXPOSURE TO COVID-19 AND FOREVER RELEASE AND HOLD HARMLESS USA SWIMMING AND SOUTHERN CALIFORNIA SWIMMING AND EACH OF THEIR OFFICERS, DIRECTORS, AGENTS, EMPLOYEES OR OTHER REPRESENTATIVES FROM ANY LIABILITY OR CLAIMS INCLUDING FOR PERSONAL INJURIES, DEATH, DISEASE OR PROPERTY LOSSES, OR ANY OTHER LOSS, INCLUDING BUT NOT LIMITED TO CLAIMS OF NEGLIGENCE AND GIVE UP ANY CLAIMS YOU MAY HAVE TO SEEK DAMAGES, WHETHER KNOWN OR UNKNOWN, FORSEEN OR UNFORESEEN, IN CONNECTION WITH EXPOSURE, INFECTION, AND/OR SPREAD OF COVID-19 RELATED TO PARTICIPATION IN THIS MEET.
Information/Lost & Found
An Information/Lost & Found booth will be available at the lifeguard office.
Medical Assistance
Medical assistance will be provided at the facility.
About the Facility
William Woollett Jr. Aquatics Center was completed as a major renovation of the original Heritage Park Aquatics Complex – site of the 1980 USA National Championships and the 1990 Junior Nationals West Championships. The newly renovated Center was completed in September of 2004. The center is an outdoors facility consisting of one constant depth (7 feet) competition pool (50 meter by 25 yard) and variable depth warm-up pool (50 meter x 25 yard). In addition, a 25 yard by 25 meter teaching pool is available if necessary for additional warm-up space. Expansive locker room facilities for both men and women are adjacent to the warm-up pool.
This facility was the site of the 2005, 2006, 2010, 2014, and 2018 National Championships, the 2005, 2006, 2010, and 2013 Speedo Junior Nationals, and the 2005 Mutual of Omaha Duel in the Pool. It was also the site for the 2010 Pan Pacific Championships.