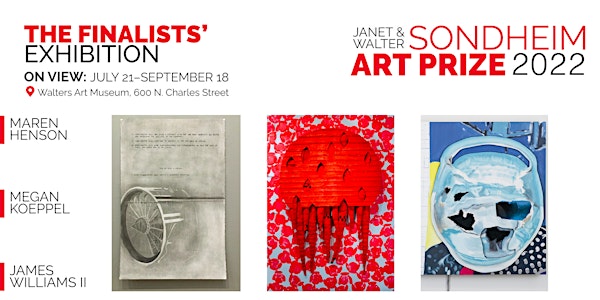 2022 Sondheim Art Prize Opening Reception & Awards Ceremony
RSVP on the Walters website here: https://thewalters.org/event/sondheim-awards-2022/
When and where
Location
The Walters Art Museum 600 North Charles Street Baltimore, MD 21201
About this event
The Baltimore Office of Promotion & The Arts (BOPA) announces the finalists' exhibition for for the 17th annual Janet & Walter Sondheim Art Prize, presented by M&T Bank with the generous support of the Maryland State Arts Council. The work of Maren Henson, Megan Koeppel, and James Williams II will be on view at the Walters Art Museum, 600 N. Charles Street, from July 21–September 18, 2022.
The panel of jurors — Catherine Morris, Jean Shin, and Kambui Olujimi — will conduct a final interview with each artist in their exhibition space before determining the $30,000 prize winner. The winner of the 2022 Sondheim Art Prize will be announced at the awards ceremony and opening reception on Thursday, July 28, 2022.
Please join us from 6:00–8:00 p.m. to celebrate these brilliant Baltimore artists and find out the winner of the 2022 Sondheim Art Prize.
To RSVP, go to: https://thewalters.org/event/sondheim-awards-2022/
Meet The Finalists
Born in Milwaukee, Wisconsin, Megan Koeppel is a fiber artist currently living in Baltimore. She earned her BFA from MICA in 2018, where she studied fine art and curatorial practices. Recently, her work has been exhibited locally as well as in her home state, in spaces such as Var Gallery (Milwaukee), The Museum of Quilts and Fiber Arts (Cedarburg, Wisconsin), Material Gallery + Studio (Milwaukee), VisArts (Rockville, Maryland), Monochrome Art Fair (Washington, DC), and at Creative Alliance (Baltimore). Koeppel currently works as the Exhibition Programming Coordinator at VisArts in Rockville.
As the concealed artifacts behind historical conspiracies become public information, Maren Henson reexamines the role of conspiracy and how it has shaped American culture. Her videos, drawings, and sound installations examine how cultural narratives are manipulated and controlled. She received her MFA degree in the Mount Royal School of Art at the Maryland Institute College of Art (MICA) in 2017. She has exhibited work in New York, Boston, LA, Puerto Rico, Maryland, and Texas. Henson currently resides in Baltimore.
James Williams II is a curator and interdisciplinary artist whose work centers on topics of social and cultural identity in the United States. His most recent project was curating the show, "Future Planets," at Longwood Center for the Visual Arts — an exhibition featuring the creativity of young artists ages 3–15 years alongside their creative and established parents. Williams is the recipient of the MFA Joan Mitchell Foundation award, the Bromo Seltzer Fellowship, and served as artist-in-residence at School 33 in Baltimore. Williams, originally from Upstate New York, received his master's degree from the Mount Royal School of Art program at MICA, where he currently teaches.
Map and Directions