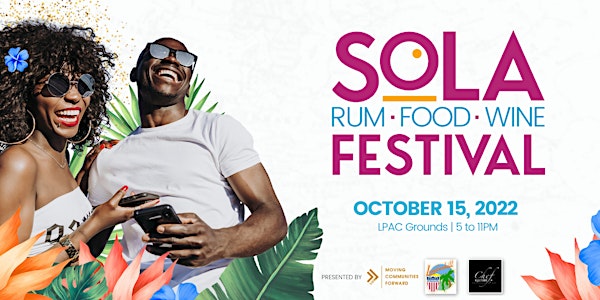 2022 SOLA RUM FOOD & WINE FESTIVAL
JOIN US ON OCTOBER 15, 2022 AND SIP, TASTE & STROLL UNDER THE STARS. Enjoy rum and wine samples, food, live entertainment, culture & vibes!
When and where
Location
Lauderhill Performing Arts Grounds 3800 NW 11th Place Lauderhill, FL 33311
About this event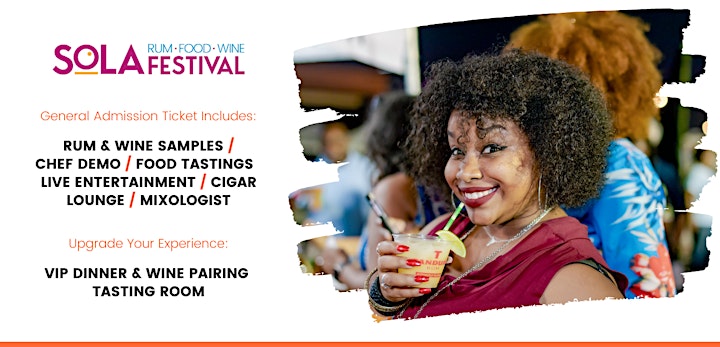 The Sola Rum, Food & Wine Festival showcases the soul of the Floribbean lifestyle in a beautiful outdoor vibe. Enjoy an evening of live entertainment, chef demonstrations and food samples in the Sola Tasting Pavilion presented by Chef Kulture, VIP dinner and wine pairing hosted by Hue Society and Chef Sheron Chin, cultural experiences, and of course samples of savory rums and wines.
SIP, TASTE, & STROLL UNDER THE STARS at #SolaFest22
Learn more at www.SolaRumFoodWineFest.com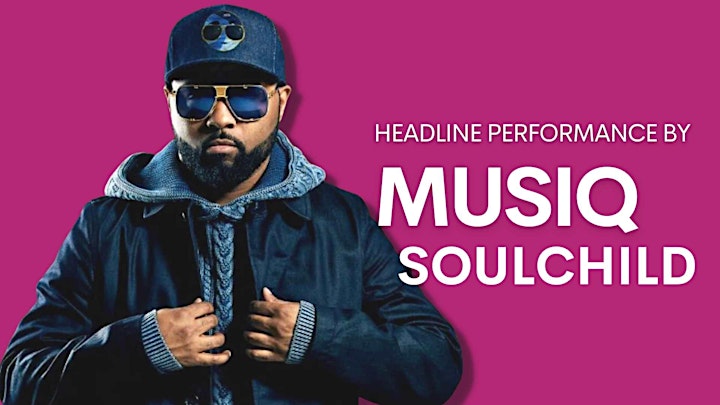 SOLA ENTERTAINMENT
Enjoy your evening under the stars with the sounds of Sola.
Headline performance by Musiq Soulchild
Grammy-nominated, neo-soul artist from Philadelphia. Responsible for hit singles: Teachme, B.u.d.d.y, Love, Justfriends, So Beautiful, Half-crazy.
Live entertainment provided by Deep Fried Funk
Check out our Sounds of Sola Playlist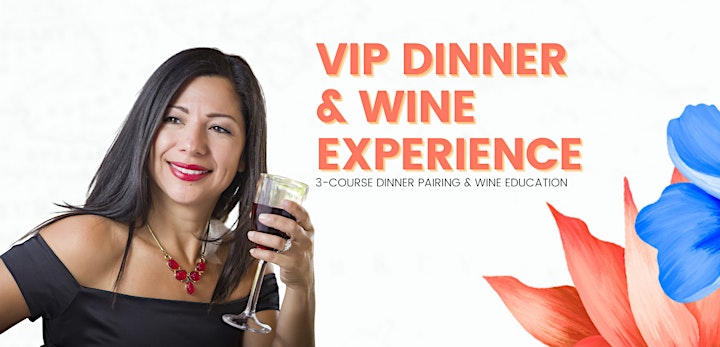 VIP DINNER & WINE PAIRING EXPERIENCE (5:00 PM - 9:00 PM)
An upscale and chic 3-course dinner and wine pairing experience. Led by Chef Sheron Chin and sommelier and wine culturalist Tahiirah Habibi of Hue Society
Includes a cocktail reception, dinner pairing and swag bag
SEATING IS LIMITED AND SURE TO SELL OUT
VIP EXPERIENCE SCHEDULE:
5PM - 6PM | Cocktail Hour
6PM - 6:30PM | Wine Pairing Panel hosted by Hue Society
7PM - 9PM | VIP Dinner Experience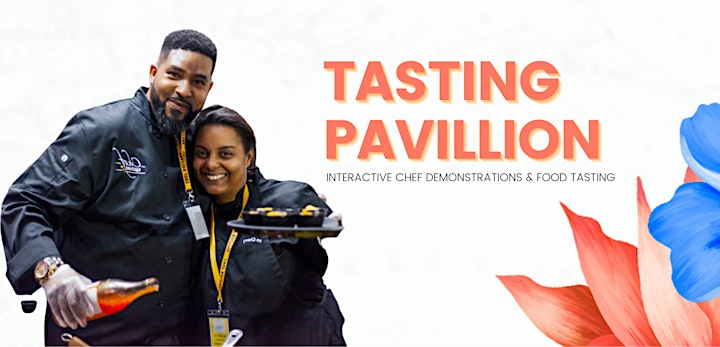 SOLA CHEF TASTING PAVILION (Included with All Ticket Types)
Open session cooking demonstrations and food tasting from the hottest chefs in the game. Come taste something new and savory.
Presented by: Chef Kulture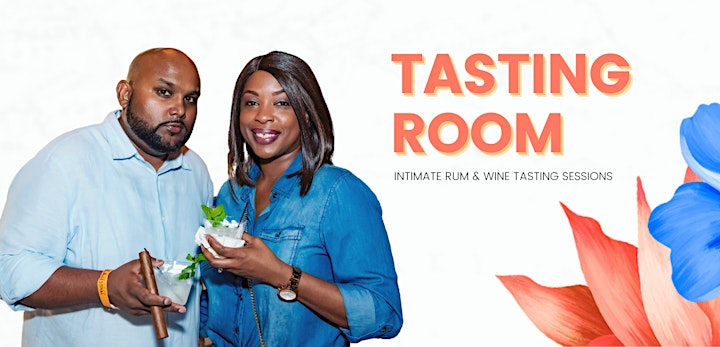 SOLA TASTING ROOM (Add-on Ticket)
Upgrade your festival with an intimate specialty tasting session in our Sola lounge. Hosted by Ray Sholes.
Select your session. Arrive 10 minutes before the start time for seating.
SESSION 1 | 6:00PM - 6:30PM
SESSION 2 | 6:45PM - 7:15PM
SESSION 3 | 7:30PM - 8:00PM
SESSION 4 | 8:15PM - 8:45PM
*Ticket Add-on Required. Session Seating is Limited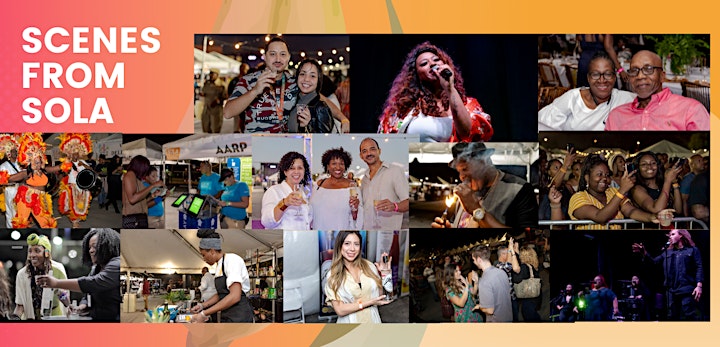 TICKET PRICES MAY DIFFER AT THE DOOR | PAID PARKING ONSITE PAY
MUST BE 21 YEARS OLD TO ATTEND & PRESENT ID AT THE ENTRANCE. The organizers, establishments, sponsors, and volunteers of this event are not responsible for any injury, loss or damage of any kind sustained by any person while participating in the SoLa Rum, Food & Wine Festival, including injury, loss or damage which might be caused by the action, inaction, or negligence of others. I hereby for myself, my heirs, executors, administrators or anyone else who might claim in my behalf, covenant not to sue, and waive, release and discharge the event organizers, Moving Communities Forward, the establishments, sponsors, and volunteers of any and all claims of liability for death, personal injury or property damage of any kind or nature whatsoever arising out of, or in the course of my participation in this event. This Release and Waiver extends to all claims of every kind or nature whatsoever, foreseen or unforeseen, known or unknown.
__________________________________________________
#festival #thingstodo #lauderhill #ftlauderdale #music #livemusic #dancing #miamiblogger #broward #southflorida #soflaevents #miamievent #305 #954 #sunrise #plantation #ftl #mia #miamimedia #wpb #musiqsoulchild #liveband #southfloridablogger #foodie #miafoodie #winelovers #rumlovers #wine #rum #musicfestival #foodfestival #rumfestival #winefestival #winefestivals #foodandwinefestival #foodandwinefestival2022 #travelnoire #blacktravelers #blackwine #blackfoodie #girlstrip #southfloridafoodandwinefestival #fall #miamifoodandwinefestival #foodie #foodies #foodiegram #foodiesofinstagram #instafoodie #southfloridafoodie #foodielife #foodblog #miamiblogger #soflo #miamifoodie #veganfoodie #igfoodie #foodiefeature #eastcoastfoodies #wpbfoodie #chef #food #cheflife #cooking #instafood #dinner #delicious #restaurant #chamber #yummy #eat #foodgasm #cook #love #instagood #foodblogger #foodstagram #tasty #foodlover #chefsofinstagram #yum #truecooks #healthyfood #catering #rum #cocktails #drinks #cocktail #bar #craftcocktails #happyhour #mixology #rhum #bartender #drink #food #alcohol #wine #fun #caribbean #wine #winetasting #winelover #winery #travel #vino #winestagram #winetime #redwine #winelovers #instawine #bar #instagood #wineoclock #divinenine #huesociety