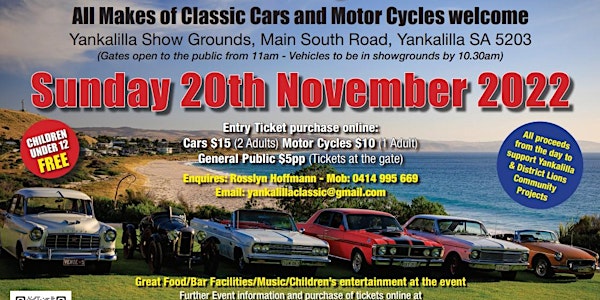 2022 Shannons QMT Yankalilla Classic Motor Show
The rumble of classic cars will return to Yankalilla for the Second Yankalilla Classic Motor Show for a family friendly day.
When and where
Location
Yankalilla Showgrounds 1 Jervois Road Yankalilla, SA 5203 Australia
About this event
Want to find out more about our beautiful District, view the attractions in the area and work out where to eat and stay - Check out the Yankalilla Visitors centre
Contact Fleurieu Accommodation if you would like to view and book holiday rentals for the weekend.
This year we are providing the option for our participants to have breakfast at the Myponga Community Club. For $17/person you will get a bacon, egg and cheese roll, tea/coffee or flavoured milk, yoghurt or fruit. Breakfast will be available from 8.30 - 9.30am. Tickets must be purchased with your vehicle registration via Eventbrite.
Entry for registered vehicles onto the Yankalilla Showgrounds will be from 9.00am - 10.30am with the General Public permitted from 11.00am.
If you have issues making a booking ring us on 0414 995 669
or email us yankalillaclassic@gmail.com
Yankalilla Classic Motor Show
Entrant Regulations
FAILURE TO COMPLY WITH THESE REGULATIONS MAY RESULT IN ENTRY TO THE EVENT BEING REFUSED OR REMOVAL FROM THE EVENT, SO MAKE SURE YOU READ THEM CAREFULLY!
1. Entry Fee
a) In the event that Yankalilla Classic Motor Show (YCMS) organisers reject your application to attend the event, your entry fee will be refunded in full.
b) If a total fire ban (Extreme or Catastrophic) is issued, or if Covid 19 restrictions are imposed by the State Government, we will either reschedule the event and transfer your registration or cancel the event with refunds of participants' entry fees.
c)In all other circumstances, your entry fee is non-refundable.
d) All entry fees must be paid prior to the day of the event.
2. Vehicle
a) The vehicle displayed at the event must be the same vehicle listed on the application. Attempts to switch cars without the knowledge of the YCMS organisers will result in refusal of entry and forfeiture of entry fee.
b) Vehicles built before December 31st, 1992, are eligible to take part.
c) Vehicles driven on trade plates must have their plates displayed whenever the vehicle is moving including on the event grounds.
d) Vehicles must be free of sharp or dangerous items that may injure spectators.
e) If it is suspected that vehicles may cause damage to the event grounds (through dropped oil or hot exhausts etc), the owner(s) must take steps to prevent this occurring or they may be held liable for any damage caused.
f) Vehicles on trailers: Fifteen minutes is allowed for unloading, after which time the tow vehicle and trailer must either exit the Showgrounds or be parked in the designated area where they are to remain until 2.30pm
YCMS organisers reserve the right to remove tow vehicles, trailers and their respective display vehicles from the event at the owner's expense if the tow vehicle or trailer is left unattended outside of the designated area.
3. Vehicle Display and Signage
a) Placement and location of vehicles on the event grounds is entirely at the organiser's discretion and all directions given by YCMS marshals must be followed by entrants.
b) Fencing or other material/ objects separating spectators from vehicles is prohibited.
c) Vehicles must have their entrant ticket displayed on the passenger side of their front windscreen at all times.
d) Any additional vehicle information supplied by the owner, e.g. regarding the history or modifications, must be displayed either inside or on the vehicle itself.
e) Stickers on vehicles promoting businesses or other entities are permitted.
f) Flyers promoting businesses or other entities are permitted, but only with the express prior permission of organisers, and must only be placed under windscreen wipers of the vehicle entered so that spectators can take one if they choose to do so.
g) All other forms of promotion are prohibited and unauthorised promotional activities will result in instant removal of the vehicles and personnel from the event.
4. Entrant/Driver Behaviour
a) The Showgrounds is a dry zone. Consumption of alcohol on the grounds is strictly prohibited except in the bar area.
b) Vehicles must travel at walking pace while on the event grounds. Please be mindful of spectators particularly children when moving about the venue.
c) Once vehicles are in place and on display, entrants/drivers may not start or move their vehicles nor use in-car audio equipment without the express permission of YCMS staff.
d) Any entrant/driver behaviour which endangers the life or safety of any person at the event or on the Showground will result in instant removal from the event, and where necessary, police will be notified.
e) Damage to the event grounds or damage or breakage of any other property will result in entrants/drivers being liable for any repair or replacement costs, including reimbursement of the bond or part thereof for event hire to YCMS organisers, if it is forfeited.
5. Event Timing
a) Gates for entrants and their vehicles to enter the event grounds will open at 9:00am and will be closed at 10:30am sharp.
b) Unless arranged prior with YCMS staff, failure to arrive by 10:30am will result in refusal of entry and forfeiture of entry fee.
c) Vehicles MUST remain on the grounds between 10:30 am and 2:30pm. This is for spectator safety and insurance reasons. Do not ask to leave early – you will be refused.
This is a car show, not a car park. If you want to leave whenever you feel like, park on the street.
d) Gates will be re-opened at 2:30pm with all vehicles to vacate the grounds by 4.00pm.
6. Indemnity
All entrants, owners, and drivers and passengers enter and participate in this event at their own risk. In consideration of acceptance of your entry to attend the Yankalilla Classic Motor Show, the entrant releases the organisers and the organizing clubs of any and all liability for loss, damage, or injury to the applicant, their party, and/or their vehicle. The entrant, by participating in this event, and the passengers, by taking part, shall waive the right or action at law against the organisers, the committee, associated organisers, their representatives, or agents for loss, damage, or injuries arising from attendance at the event.
The Privacy Act 1988 and National Privacy Principles
The Yankalilla Classic Motor Show Committee ('the Committee') collects the personal information entrants provide, and stores it in a database to enable communication with you before the Event. Entrants' consent for the Committee to keep details is implied, unless the Committee is notified in writing that your consent is withdrawn. Entrant's name/driver's name and vehicle details (make, model, and entry number) and your vehicle club will appear in a printed program available on the day. Your details may have been included on a past entrant's database. If you do not enter next year's event, your details will remain on our database. If you would like your details removed, please provide this request in writing to the Committee. Under NO circumstances will your information be sold or given to any external agencies for any purpose. By signing the postal entry form or submitting the online entry form, I acknowledge that I have read and understood the information provided to me by the Yankalilla Classic Motor Show Committee and have advised my passengers (if any) of the terms of the disclaimer and agree to the terms.