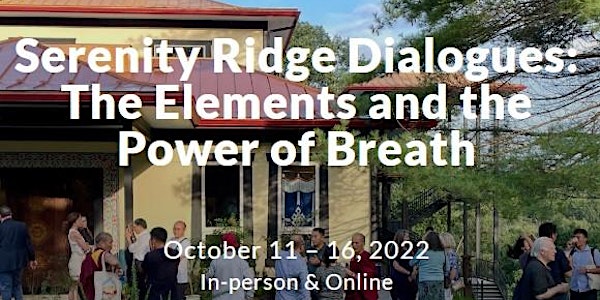 2022 Serenity Ridge Dialogues
With Tenzin Wangyal Rinpoche, YongDong Losar, Menpa Phuntsog Wangmo, Alejandro Chaoul, Lonny Jarrett, Sat-Bir Singh Khalsa, & Marcy Vaughn
About this event
Beginning on Tuesday evening, October 11, and in the afternoons from October 12-16, Tenzin Wangyal Rinpoche will be joined by researchers and healthcare practitioners of both Eastern and Western medicine. Collectively they will present research, knowledge and their own experiences regarding how connecting to the elements, to the breath, awareness and the body can help us to connect more fully to the joy of life, to heal injury and trauma, and to be more present to each moment.
Tenzin Wangyal Rinpoche
Founder and spiritual director of Ligmincha International, Geshe Tenzin Wangyal Rinpoche is a respected and beloved teacher and meditation master in the Bön Buddhist tradition of Tibet. He has students in more than 25 countries, teaches around the world and reaches thousands of students through his online programs.
Trained as a Bön monk, Rinpoche now lives as a householder, allowing him to more fully relate to the needs and concerns of his students. Known for the depth of his wisdom and his unshakeable commitment to helping students recognize their true nature, he is the author of many books and online courses.
For more information on Tenzin Wangyal Rinpoche's worldwide teaching schedule or about the Bön tradition: www.ligmincha.org
Our special guests include: 
Geshe YongDong Losar is the youngest monk ever awarded the Geshe degree at Nangzhig Bön Monastery. Following his graduation in the spring of 1992, Geshe YongDong escaped Tibet. In India he studied at both Menri and Sera Monasteries. In the fall of 1999, Geshe YongDong moved to British Columbia, Canada. Living on Vancouver Island, he founded Sherab Chamma Ling, the first Tibetan Bön Buddhist Center in Canada. He is the Resident Spiritual Director and continues to teach regularly at his center today.
Menpa Phuntsok Wangmo is director of the Shang Shung Institute School of Tibetan Medicine. Menpa Wangmo organized and instructed the first full-length, traditional Tibetan Medicine training program offered in the Western World. Menpa Wangmo teaches Tibetan Medicine programs around the world. 
Lonny Jarrett is recognized worldwide as a leading practitioner, author, scholar and teacher of East Asian medicine. Lonny has been practicing Acupuncture and Herbology in Stockbridge, Massachusetts since 1986. He holds Master's Degrees in Neurobiology (University of Michigan) and Acupuncture (Traditional Acupuncture Institute) and  studied Contemporary Pulse Diagnosis with Dr. Leon Hammer for 10 years. 
Sat-Bir Singh Khalsa is a researcher in the field of body mind medicine, specializing in yoga therapy. Originally from Toronto, he earned his Ph.D. at the University of Toronto, where he also began his practice of Kundalini Yoga under the tutelage of Yogi Bhajan.
This event will have translations available in Hungarian, Polish, Portuguese, Russian, and Spanish
Schedule (New York Time) - More Details Coming Soon!
Tuesday, October 11
7:00 p.m.–8:30 p.m. Dialogue
Wednesday–Saturday, October 12–15
3:00 p.m.–4:30 p.m. Dialogue
4:30 p.m.–5:00 p.m. Break
5:00 p.m.–5:45 p.m. Guided Practice with Dialogue Presenters
5:45 p.m.–7:00 p.m. Break
7:00 p.m.–8:00 p.m. Evening Talk with Dialogue Presenters
Sunday, October 16
11:15 a.m.–12:30 p.m. Capstone Conversations with Dialogue Presenters
For any questions regarding registration, please contact Johannah at sr.registration@ligmincha.org