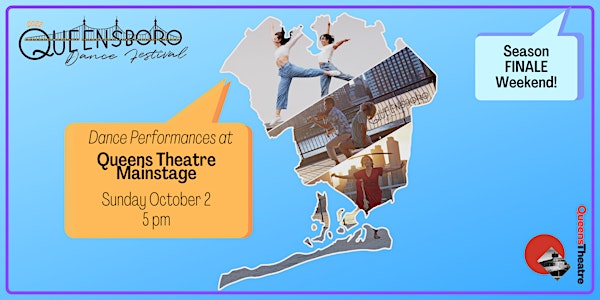 2022 Season Finale Night 3
A 3-night finale at Queens Theatre to end our 2022 summer tour season!
When and where
Location
Queens Theatre 14 United Nations Avenue South Queens, NY 11368
About this event
Come see us under the bright lights on the big stage! Queens Theatre is home to the Season Finale of the Queensboro Dance Festival, which has been on tour all summer throughout Queens outdoor spaces.
The festival's culminating weekend at Queens Theatre is September 30-Oct 2. Each evening is a different lineup of Queens dance companies. Attend all 3 nights to see the dance companies that toured with the festival this season!
General tickets are $20-25, or get a 3-night pass for $60 and see all 26 dance groups-- a slice of the World's Boro through dance!
10% discount students (proof of ID) and seniors
Please note performances at Queens Theatre will not be livestreamed.
TICKETS MUST BE PURCHASED DIRECTLY FROM THE QUEENS THEATRE WEBSITE LINK HERE (https://queenstheatre.org/event/queensboro-dance-festival-2022/)
Night 3
October 2, 2022 at 5:00 PM
Featuring performances by:
Chieh & Yoyo
Cole Collective
Greek American Folklore Society
NK&D / a movement company
sarAika movement collective
The Kingdom Dance Company
Urvashie Kissoon
Rudanceny
Read Queens Theatre's COVID policy here. (https://queenstheatre.org/covid-protocol/)
Nearest ADA-accessible bus station: Q23, Q58 at 108 Street & Martense Avenue
Image description: 1 dancer in an arabesque with a violinist playing with his arm around dancer's shoulder