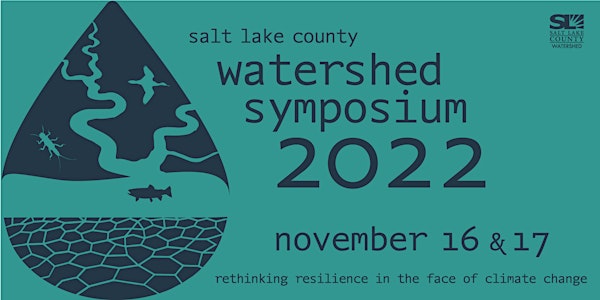 2022 Salt Lake County Watershed Symposium
Join us for the 16th Annual Salt Lake County Watershed Symposium, November 16-17, 2022!
When and where
Location
Utah Cultural Celebration Center 1355 West 3100 South West Valley City, UT 84119
About this event
The Watershed Symposium is back in-person! Join us for the 16th Annual Salt Lake County Watershed Symposium, November 16-17, 2022. Free and open to all, this annual conference is one of the best opportunities to network and build relationships toward supporting a healthier watershed.
Rethinking Resilience in the Face of Climate Change
Drought is the new normal. Pressures on our watersheds are mounting. Great Salt Lake is facing a crisis like never before. Climate change, development, water diversion, population growth, shrinking snowpack, loss of healthy ecosystems...they are all taking a toll. The Watershed Symposium provides a forum for varied perspectives on how to understand and address these issues. We welcome our community of water stewards and environmental advocates, including scholars, students, policymakers, organizations, and members of the general public. Together we will continue the important conversations on watershed issues in our region.
The 2022 Program
We are honored to have Erica Brown Gaddis kickoff the 16th annual Symposium with the keynote address. With her expertise in water resources, water quality, water policy, and administration, Erica brings a unique perspective to the water issues in our region. As Senior Policy Advisor for the Western States Water Council, Erica assists states with developing and analyzing water policies. From 2017-2022, she served as the Director of the Utah Division of Water Quality.
One of the highlights this year is a panel discussion featuring local journalists from the Great Salt Lake Collaborative who produced the recent At Water's Edge series, exploring how two California lakes offer warnings and solutions for the Great Salt Lake. The discussion will focus on how/if we can apply the lessons learned in California, what the obstacles might be, and the potential solutions as we grapple with the shrinking Great Salt Lake. Moderated by KUER's Doug Fabrizio, the panel includes Laura Briefer (SLC Public Utilities), Joel Ferry (DNR Director), Steven Clyde (ClydeSnow), Leia Larsen (Salt Lake Tribune), and Amy Joi O'Donoghue (Deseret News).
What People Love About the Watershed Symposium
"The Symposium is tremendously important to the future of all of Utah."
"I learned a lot, and came away energized and looking forward to doing what I can to help remediate/preserve our local watersheds."
"It's a wonderful gestalt of useful and insightful information about what's going on in the watershed, which is of course an important bottomline."
"I look forward to this every year, and you never disappoint!"
Hosted by Salt Lake County Watershed
The Watershed Symposium is hosted annually by Salt Lake County's Watershed Planning & Restoration Program. This conference fulfills an important part of our Program mission to engage the public and stakeholders on issues related to watershed health.
Visit the Symposium Archives to see past presentations and speakers.
COVID-19 Policy
If you test positive for, are exposed to, or have active symptoms of COVID-19 within five days of the Symposium, please avoid infecting others by staying home.
We will adhere to Salt Lake County Health Department Guidelines.