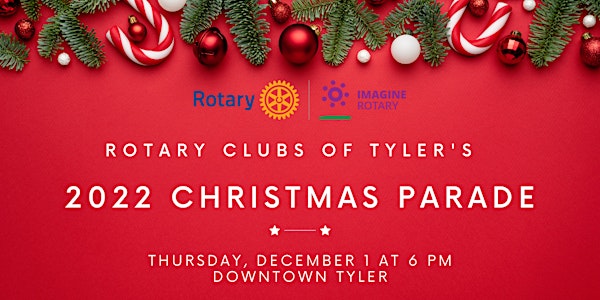 2022 Rotary Clubs of Tyler Christmas Parade
This event is organized and sponsored by the Rotary International Clubs of Tyler (South Tyler Rotary, Sunrise & The Rotary Club of Tyler).
When and where
Location
Downtown 110 N. College Avenue Tyler, TX 75702
About this event
2022 Rotary Clubs of Tyler Christmas Parade
This event is organized and sponsored by the Rotary International Clubs of Tyler (South Tyler Rotary, Sunrise Rotary, and The Rotary Club of Tyler), kickoff is at 6 p.m. in downtown Tyler and is followed by the 34th Annual Christmas Tree Lighting Ceremony at the T.B. Butler Fountain Plaza immediately after the parade. Santa Claus will be taking photos immediately following the Annual Christmas Tree Lighting Ceremony. Photos with Santa Claus will be limited to 30 minutes following the ceremony.
This year's parade theme is "Imagine Rotary". Winners will be selected from lined entries in six categories: 
Best Holiday Theme
Best Band
Brightest Entry
Spirit Award
Most Creative
Best Decorated Vehicle 
All entries must have public entertainment value and be consistent with the overall parade theme of "Imagine Rotary"
2022 Parade Route:
Parade will start on N Broadway Avenue, South of E Oakwood Street, 1 block North of E Line Street
Right on W Ferguson Street
Left on N Bois d'Arc Avenue
Left on W Erwin Street
Left on N Spring Avenue
Parade will Finish at E Oakwood Street (Safety Concerns: Parade will be paused in case of a train) 
PARADE RULES & REGULATIONS
IMPORTANT:
Participants in the parade will adhere to the following rules and regulations. Failure to do so will result in REMOVAL from the parade and possible exclusion from future parades.
Only organized and chartered entries/units will be considered by the Rotary Clubs of Tyler.
All entry information MUST be stated on application and approved in accordance with the rules set forth by the Rotary Clubs of Tyler.
There will only be ONE Santa in the Christmas Parade. All other Santa entries will be REMOVED onsite from the Parade.
The decision to remove an entry/unit will be at the sole discretion of parade officials onsite.
THE NUMBER OF ENTRIES IN THE PARADE WILL BE LIMITED TO 110 ENTRIES TOTAL. NO EXCEPTIONS.
Participation in the Rotary Clubs of Tyler's Christmas Parade is by invitation upon approval by the Rotary Clubs of Tyler, hereinafter referred to as "RCOT".
APPROVAL OF APPLICATIONS & ENTRIES
All applications submitted will be reviewed by the RCOT and those applications approved by the RCOT will be issued instructions to participate in the Rotary Clubs of Tyler's Christmas Parade by email.
All entries to the Christmas Parade:
must be approved by the RCOT.
must not be commercial or political in nature.
must complete the entry description and background on the entry form.
must be complete prior to consideration and final approval.
shall be at the sole and exclusive discretion of the RCOT. Exceptions or special requests must be approved by the RCOT.
Parade participants must:
Dress appropriate for your entry.
NOT distribute or display political literature to spectators along the parade route. Signage is to identify the vehicles and not political candidates. NO exceptions.  
NOT leave the parade route during the parade nor walk or drive into areas where the public is standing or sitting.
NOT stop during the parade route to perform maneuvers, yells, songs, cheers, skits, performances, etc.
NOT conduct any activities that endanger the public health or safety, such as use of fire, pyrotechnics, firearms, weapons, throwing objects, dangerous chemicals, use of lasers, etc.
NOT throw, handout or eject anything to spectators from parade units. NO CANDY, balloons, flowers, samples or anything whatsoever may be THROWN OR HANDED to the crowd.
NOT play inappropriate music with inappropriate language. Please keep the Christmas Spirit in mind when choosing music for your entry.
Stay in their assigned area and groups. DO NOT disturb other units by walking in or through other units during the parade.
MARCHING ENTRIES
Marching units will consist of bands, (military, high school, middle school, university or college) and adult civic marching groups.
Drill teams, cheerleaders and school mascot applications will not be accepted unless their respective school band is participating or approved by the RCOT and they must walk with their band.
 Animal Mascots may be in a vehicle or in a cage pulled by a vehicle, if in accordance with the rules and regulations for vehicles and floats. All vehicles require decoration and should contribute to the overall theme of "Imagine Rotary".
Invitations to schools and applications for bands, drill teams and cheerleaders are mailed to the attention of Band Director/Advisor.
WALKING ENTRIES
Each walking group shall have No Less Than 10 members.
All participants are required to walk the entire parade route at the appropriate pace or be subject to removal to ensure proper parade timing.
Walking group entries not associated with bands must have participants age six (6) years old and older; Children 5 years old or younger are NOT allowed to walk in the Christmas Parade and must be in vehicle, trailer or on a float.
Non-uniformed parents must leave the staging area after delivering group members and view the parade from the route. The child member can be picked up at the designated area when the group has finished walking in the parade.
 Clowns will NOT be permitted in the parade unless approved by the RCOT.
PARADE VEHICLES
Participants are allowed to have ONLY 4 vehicles per entry. All drivers operating vehicles must be at least 21 years of age and licensed drivers while operating a motor vehicle in the parade.
Floats and trailers will be limited to a maximum number of twenty-five persons depending on size.
Motorcycles, motorbike patrols or car clubs will be limited to six vehicles. Clubs, bike patrols, or motorcycle groups shall have the same uniform dress and machinery. 
Non-specialty automobiles in the parade will be limited. All vehicles must be decorated with lights in a Christmas, Holiday or winter theme.
Antique and Shrine club cars will be limited to classic, open touring cars, or roadsters (replicas). Drivers and/or passengers will not be identified by signage on the antique car. The number of antique cars will be determined by the RCOT.
INSURANCE
The Rotary Clubs of Tyler assumes no responsibility or liability for accidents by any participant. Certificates for Comprehensive General Liability, including automobile, will be required if requested by the Rotary Clubs of Tyler.
EXCEPTIONS & REMOVAL
Any exceptions to the above rules must be given in writing by the RCOT. The decision to remove any entry or portion of any entry will be at the sole discretion of Parade officials on site.