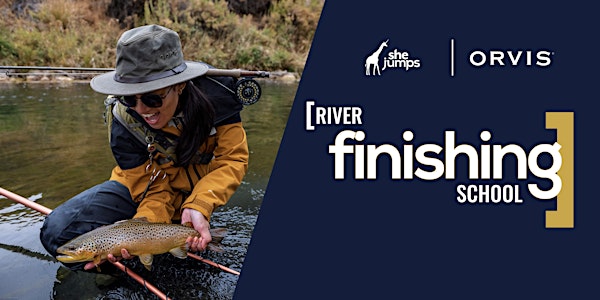 2022 River Finishing School | Wise River
Fly fishing course in the heart of Montana for anglers to advance their skills in an authentic, supportive environment.
When and where
Location
Big Hole Lodge 36894 Pioneer Mountains Scenic Wise River, MT 59762
About this event
Join the 2nd Annual SheJumps River Finishing School: An all-women's, next-level fly fishing and river skills course presented by Orvis and led by professional guides Hilary Hutcheson and Wade Fellin. Ages 21 & older.
This course is an opportunity for intermediate to advanced fly anglers to build on their fly fishing and river navigation skills in an authentic, encouraging environment. The River Finishing School is a program offered by the nonprofit SheJumps, a US public charity (68-0662227) dedicated to increasing the participation of women and girls in outdoor activities.
COURSE PRICE: $2,950. Includes a $500 non-refundable deposit is required to hold your space.
The River Finishing School is offered for only one session in 2022: October 12 - 15, 2022
Topics covered include river trip preparation, decision making, conservation, ethics, being comfortable in the outdoors, as well as some advanced fly fishing and river navigation techniques. Please note: This course will not cover basic casting, knots, entomology, or river etiquette. That skillset is a prerequisite to participating in RFS.
In step with the progression of your technical skills, this course nurtures a keen understanding of our pristine natural resources and the steps you can take to protect them. Knowing your role in conservation initiatives is key to building a responsible, sustainable fly fishing community.
Participants will stay at the Big Hole Lodge in Wise River, MT which features a spectacular view of the Rocky Mountains and plenty of space to unwind and connect with fellow course participants. The Big Hole Lodge offers world-renowned wild trout fishing, remarkable cuisine, and comfortable accommodations in a secluded mountain setting – truly one of the classic fly fishing lodge experiences in the American West. Guests stay in rustic, spacious cabins with modern conveniences, only a few steps away from the Wise River. Surrounded by Blue Ribbon trout streams, the Big Hole Lodge is the perfect location to nurture your love of fly fishing and outdoor pursuit.
​
A typical day starts with an early breakfast, team briefing, and gear preparation for a full day of hands-on skill building on the river. River Finishing School combines female-led instruction with professionally guided fly fishing, for a well rounded approach to improving and refining your skills to truly find your freedom in fly fishing.
COURSE PRICE: $2,950
Through a partnership with Brown Folks Fishing, we are offering scholarships for anglers who identify as Women of Color. Scholarship administration is managed by Brown Folks Fishing. Please email brownfolksfishing@gmail.com if you're interested in learning more about this scholarship opportunity.
A $500 non-refundable deposit is required to hold your space.
The total course cost of $2,950 includes your deposit (paid here through Eventbrite).
This price includes transportation to and from the lodge, all meals, guiding, course instruction, and lodging.
You will receive instructions on final payment and payment plans upon acceptance of your application.
Gratuity for the guides and house/caretakers is not included, please be sure to include the cost of gratuity in your budgeting. We will forward additional info on best practices and industry standards for guide gratuity.
We highly recommend purchasing trip insurance for your course.
Upon submitting your $500 deposit, you will be asked a series of questions pertaining to your fly angling abilities and river experience. We strive to ensure our course maintains a similar skill level for participants. First-time fly anglers should not apply for this course. You should have at least two prior seasons of fly fishing in order to get the most out of this course. But please don't let that scare you - feel free to read the FAQ or contact us if you have questions on skill level.
About the Guides:
Hilary Hutcheson, Guide/Owner: Lary's Fly and Supply
Hilary started her fly-fishing career as a teenage guide in West Glacier, Montana. She guided through college, then took her journalism degree to Portland, Oregon where she worked as a television news anchor and reporter. She eventually returned to Montana to co-own and operate Outside Media and Trout TV for nearly a decade. Today, she's still guiding on the Flathead River and the Middle Fork of the Salmon River and owns and runs a fly shop called Lary's Fly & Supply in her hometown of Columbia Falls, Montana. Hilary is a contributing editor at Fly Fisherman Magazine, specializing in conservation reporting. She has produced and/or been featured in a number of fly fishing films, television shows, podcasts, news articles and industry events. Hilary serves on Backcountry Hunters and Anglers North American board, the Northern Rockies River Council of American Rivers, the steering committee for FOAM's Guiding for the Future School and is an instructor at the School of Trout. She is a climate activist with Protect Our Winters. Hilary is an ambassador for Orvis, Patagonia, YETI, Scientific Anglers, Costa and Loon.
Wade Fellin, Guide/Owner: Big Hole Lodge
Wade is a fifth-generation Montanan deeply rooted in the Big Hole Valley. Wade has guided the rivers of Southwest Montana since 2006 and his deep conservation ethic stems from the same sources of clean, readily available water that attracted his ancestors to the Big Hole Valley, and later led him to study environmental and water law at the University of Montana. In addition to guiding and managing the Big Hole Lodge with his father, Wade is the program director of Upper Missouri Waterkeeper and chairman of the Big Hole River Foundation.
ITINERARY
Wednesday, October 12
12pm–4pm Check in
Optional casting clinics and gear demos at Big Hole Lodge
5pm Meet & Greet, Gear Check
6pm Orientation Presentation, Hilary Hutcheson
7pm Dinner
Post-Dinner Program: Future of Fly Fishing (or other conservation topic), Wade Fellin
Thursday, October 13
8am Breakfast
9am Meet guides at the lodge, and head to river for a full day of fishing
6pm Après Party at the lodge
7pm Dinner
Post-Dinner Program: It's All Home Water, Hilary Hutcheson, presented by Patagonia
Friday, October 14
8am Breakfast
9am Meet guides at the lodge, and head to river for a full day of fishing
6pm Après Party at the lodge
7pm Dinner
Saturday, October 15
Departure after breakfast
There is an option for participants to book one additional night and fish with Big Hole Lodge guides on Saturday, October 15. If you would like to extend your trip, please contact Big Hole Lodge directly.
FAQs
Where can I contact the organizer with any questions?
Email rgelfand@shejumps.org. Please expect 3-5 days before response.
If I have to cancel for some reason, do I get my deposit back?
No. Your deposit is non-refundable. The closer we get to the course, the harder it will be for us to fill your spot. We recommend looking into options for trip interruption/cancellation insurance.
If SheJumps or the lodge cancels the course, do I get my deposit back?
Yes, if the trip gets cancelled from our end, you would be refunded in full.
What does the tuition include?
The tuition covers a shuttle from the Butte, MT airport to the lodge, food, accommodation, and guiding/instruction. It does not cover your transportation to and from Montana, or food and accommodation for your travel to/from Montana. Tuition does not include guide gratuity.
How skilled an angler do I need to be to take this course?
You need to be able to fly fish in a variety of river conditions. For example, that doesn't mean you need to be double hauling 80 feet into a teacup, but you would need to be able to rig a rod, tie basic knots and have experience wading and/or floating diverse rivers and casting dry flies, nymphs and streamers.
How fit do I need to be?
You need to be able to hike on variable river terrain, wade class 1 rivers, stand to cast from a drift boat or raft, and be active with the group for a full day of fly fishing. If this amount of fishing pushes you to your limit, it will be difficult for you to focus on the learning objectives. If you are fit enough to be out all day but have a disability that lends to a necessary adjustment, we are happy to work it out.
How much fly fishing experience do I need to have?
Depending on how often you get out, you should have a minimum of 1-2 years. Try to be an honest judge of your skills and experience level when it comes to basic fly fishing objectives. If you are feeling maxed out most of the time, then you may benefit from another season of fly fishing before you come on the RFS.
How rad are we going to get?
Not quite un-barbed hook-in-the-eye rad, but we'll get plenty rad. This course is intended for intermediate to advanced anglers who are ready for next-level experiences and independent fishing exploration. As always, conditions will dictate where we can go, and to an extent, what we can do, but over the course of the program, you will experience challenging fly fishing scenarios like whitewater fly fishing, downstream safety, various mending and casting techniques and landing big fish on little flies.
What kind of gear do I need?
We will be fishing for trout on 5 and 6 weight rods, mostly with floating line. We will be nymphing, dry fly fishing and streamer fishing. We will provide all terminal tackle and flies. We recommend bringing your own 5 or 6 weight rod and reel – the more you know/use your own gear, the better! However, we can provide a rod and reel if needed. We will send you a full gear/equipment and packing list once your application has been accepted.
How much fishing can we expect to do in a day?
We will fish everyday, however some days will be more focused on critical skill building and advanced technique. We have a lot of course material to cover, some of which is in the classroom. We will schedule our classroom sessions to allow for maximum river time.
Is there a packing list?
Yes - the packing list can be viewed here: https://www.bigholelodge.com/fly-fishing/orvis-gear-list.
Do you have an itinerary for the week?
Although we do have a set course schedule for the week, we are also at the mercy of the weather/snow conditions, given fall in Montana. We might have glorious, sunny, fall days or we might have snow squalls. Regardless, you will have an authentic Montana angling experience. We might make changes to the schedule in order to maximize our optimum fishing conditions.
Is the week catered or are we expected to cook?
The week is fully catered by the Big Hole Lodge. Chefs Lanette and Naomi engineer a culinary experience second to none. Meal hours are scheduled according to fishing conditions and the daily schedule. Lunch is served streamside. It is important to let us know of any dietary restrictions, so the chefs can be prepared to accommodate you.
Do I need to bring a sleeping bag and pad?
No. The lodge has comfortable beds, and all linens are provided.
Can I get a private room?
No. Lodging is provided in shared cabins. Bring earplugs if you are a light sleeper.
Is there wifi at the lodge?
Yes, we use wifi at the lodge to check the weather and fishing reports. People are welcome to use the wifi but there are limits on bandwidth. Please be aware of not being "that person" who's glued to their phone while spending time on a blue ribbon trout stream in the middle of Montana.
When do I need to arrive?
We recommend flying into Butte, MT. Ground transportation from Butte is provided as part of the trip cost. Flying into Bozeman, MT is also an option, but that requires a longer shuttle which is not included in trip cost. Lodging in Butte or Bozeman before or after the program is not included in the price, but the group of attendees typically work together to find somewhere to stay together. Please plan flights late in the evening on the day you fly out to allow ample drive time to the airport, as well as unknown weather conditions.
More questions?
Contact Robyn Gelfand at rgelfand@shejumps.org
----
SheJumps increases the participation of women and girls in outdoor activities to foster confidence, leadership, and connection to nature and community through free and low-cost outdoor education.
We believe in increasing diversity in the outdoors and providing ALL women and girls with the spark that will lead to a lifetime of outdoor learning and empowerment. SheJumps is an inclusive organization. We welcome all women and girls—transgender and cisgender, as well as non-binary people.
Follow SheJumps: