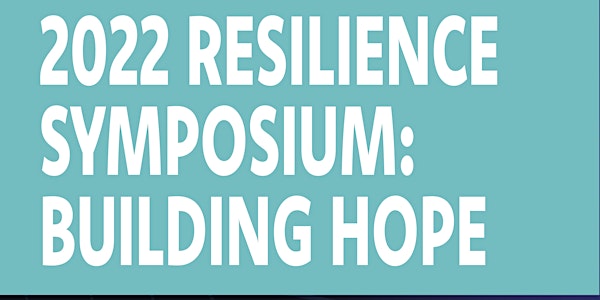 2022 Resilience Symposium: Building Hope
The 2022 Resilience Symposium will bring in experts in the field to share strategies to cultivate resiliency and build hope.
When and where
Location
New Bern Riverfront Convention Center 203 South Front Street New Bern, NC 28560
About this event
Title: 2022 Resilience Symposium: Building Hope
Where: New Bern Riverfront Convention Center located at 203 S Front Street New Bern, NC 28560
Note: This is an in-person event.
When: Friday, September 30, 2022
Time: 8am-5pm (Doors open at 7:30am)
Cost: $40 Includes Boxed Lunch and Snacks from Posh Nosh Catering
Boxed Lunch: Choice of organic grilled chicken and veggie kabobs, beef kabobs and kafta, or veggie kabobs over grilled pita bread and jasmine rice topped with a garlic sauce, served with a Mediterranean salad made with organic greens, cucumbers, tomatoes, green onions, pepperocini peppers, olives, and marinated cheese with an extra virgin olive oil, garlic, lemon, mint, and sea salt dressing. Complemented with warm peach and apple cobbler. Served with coffee, tea, and water.
Registration End Date EXTENDED: September 27, 2022
Maximum Attendees: 300 to maintain physical distancing
Description: The past two years have been stressful, even traumatic form many, helping us recognize the importance of connections and learning strategies to enhance our ability to bounce forward and thrive. Building on the momentum from the 2021 Resilience Symposium, this year's symposium will offer more strategies to cultivate resiliency, build hope, and create safe, stable environments to thrive in our work, lives, and communities. Please join us for an engaging day of speakers, trainers, and therapists on creating trauma-informed multidisciplinary teams, ways to use social and emotional learning as best practices in your work, the impact of adversity on relational health, developing resilience, overcoming burnout, building protective factors, how to recognize human trafficking, and how to recognize and reverse an overdose. There will also be sessions on self-care, including art therapy and EMDR, music therapy, restorative yoga, and more, as well as 10-minute chair massages throughout the day. Lastly, we will close the day with a motivating keynote on how to move from being trauma aware to being trauma informed. Come ready to engage and connect!
Contact hours will be awarded to all participants.
Payments will be due at registration.
Target Audience:
All Interested in Building Resilience
Behavior Health Professionals
Care Coordinators
Educators
Faith-Based Professionals
First Responders
Healthcare Professionals
Law Enforcement
Licensed Professional Counselors
Mental Health Practitioners
Marriage and Family Therapists
Nurses
Public Health Professionals
Psychologists
School-Based Personnel Including Administrators, Counselors, Nurses, Principals, Social Workers, and Resource Officers
Social Workers
Substance Use and Addiction Professionals
Speakers/Trainers/Therapist:
Becky Haas, International Trauma Informed Care Presenter, is an international advocate and trainer on using a trauma informed approach, the Adverse Childhood Experiences (ACEs) study and Positive Childhood Experiences (PCEs) study. She is a pioneer in creating trauma informed communities. The work she led while working for the Johnson City Police Department in Northeast Tennessee was recognized by SAMHSA in 2018 as a model for other cities to follow. In 2019 she co-authored the "Building a Trauma Informed System of Care" toolkit for the TN Department of Children's services detailing a blueprint for creating community resilience. This toolkit has been recommended as a "practical tool" in John's Hopkins, Progress in Community Health Partnerships: Research, Education, and Action. Becky is the author of several sector specific professional development trainings with two receiving statewide accreditation in Tennessee as evidence-based training. Among the diverse sectors of professionals, she has trained, she is uniquely distinguished for her work training police officers and others in the justice system to understand trauma. She has been certified by the SAMHSA Gains Center as a Trauma Informed Care Trainer, earned her professional certification in Trauma and Resilience from Florida State University while completing additional certifications from Texas Christian University, and Starr Commonwealth. In 2020, Becky co-founded the Global Resiliency Accelerator which meets quarterly and has grown to having participants from 14 countries. In March of 2022, she was honored to receive the Friends of Children award from the Tennessee Commission on Children and Youth for her work as a local, state, and national leader in implementation and support of trauma informed services and communities. Becky has a deep understanding of the importance for every professional sector to have intimate knowledge of healthy early childhood development and the potential for early adversity to disrupt that healthy development. She is a founding member of the East Tennessee State University Ballad Health Strong Brain Institute and serves as a member of the CTIPP National Trauma Campaign strategy team and as a Strategic Partner for the Pathways to Resilience Program.
Bonnie Jean Kuras, M.ED., Certified CRM Teacher, is currently a training specialist at TEDI BEAR Children's Advocacy Center (CAC), ECU Brody School of Medicine. She provides education in the recognition, prevention, and response to child sexual abuse, through Darkness2Light's Stewards of Children program. Bonnie Jean was selected by Darkness to Light as the Stewards of Children Facilitator of the Year for 2021. Bonnie Jean also provides trainings focused on highlighting the impact of Adverse Childhood Experiences (ACEs) and Positive Childhood Experiences, and the science of Resilience-as a Reconnect Educator and Community Resiliency Model (CRM) Teacher. Further, as a Circle of Security Parenting facilitator, she works with parents, community members, and various agencies in Eastern NC to emphasize the importance of early relational health and attachment in children. Prior to her move to N.C., she spent 30 years as an educator/adjunct college instructor, learning and language disabilities specialist, and building principal in elementary and middle school in the state of NH.
Cheryl Flanagan, RYT200, Certified Integrative Yoga Instructor, is dedicated to empower people to realize their full potential through the transformative wisdom and practice of yoga and meditation. She teaches private yoga and meditation classes with a focus on personal goals and needs (e.g., increase flexibility, strengthen and tone, balance, improve overall physical fitness). She offers tailored programs to meet health needs and limitations, and guided instruction for all levels of experience. She is trained in Hatha Yoga, Yin Yoga, Restorative Yoga, Chair Yoga, Yoga for Core & Strength, Pranayama, and Meditation.
Deborah Ashway, LCMHC, LCAS, is a graduate of East Carolina University's masters program for rehabilitation counseling with an undergraduate degree in architecture from the School of Design at the University of Florida. Her long standing interest and fascination with creativity and the healing process has led her to the practice of healing through alternative methods such as Expressive Art therapy and EMDR. She has worked in resolving trauma with children and adults in outpatient care, school settings, intensive outpatient care (Intensive Alternative Family Treatment) and with active duty military service members as a Military Family Life Counselor. Ashway founded and currently serves as a licensed clinician at Inner Source Therapy, PLLC, a local outpatient mental health facility that treats individuals, couples, families and groups who have experienced trauma or environmental struggles.
Deborah's fundamental focus is on treating the underlying and implicit emotions from deep trauma wounds that are at the root of so many mental health issues. Her appreciation for the importance of healing and processing traumatic experiences began in 2004 when she co-produced a PBS documentary on Domestic Violence. The documentary extensively interviewed the victim, the perpetrator, law enforcement, the judicial system, the medical team and protective services as well as the friends and family members of both parties, which gave her a greater insight into the depth of a larger societal problem. Deborah also produces a podcast to help those that have been affected by traumatic events.
Garret Biss, USMC (Ret.), CPRC, MRED, is a retired Marine Corps Pilot. Transitioning from a career of military service was a traumatic chapter of Garret's life; one defined by anxiety, panic attacks, and a struggle with substances and alcohol. While surviving this chapter, Garret began a journey of personal discovery and a search for meaning in his life. This search led him to study the science of human flourishing and well-being. Garret leverages his experience to serve those in recovery by helping them to improve resilience, confidence, and self-efficacy. His work includes curriculum development, live and virtual workshops, online programming, and recovery mindset coaching in his Thriving in YOUR Recovery™ program.
The co-founder of a local addiction recovery residence, an award-winning author and prolific speaker, Garret's message leaves the audience with increased self-esteem, greater emotional resilience, and a renewed sense of meaning.
Jennifer Matthews, Ph.D., MSPH, Certified CRM Teacher, earned her doctorate in Health Education and Health Promotion from the University of Alabama and the University of Alabama at Birmingham School of Public Health. Dr. Matthews is currently a professor in the Department of Health Education and Promotion at ECU. Her research focuses on the impact of trauma and resilience on substance use. Dr. Matthews' current funding includes the Drug- Free Communities and the CARA grant from CDC providing support for the Pitt County Coalition on Substance Use (PCCSU) in preventing underage drinking and opioid misuse. Dr. Matthews was a founding member and currently serves on the leadership team for the local collaborative (BRACE) that seeks to address trauma and resilience in Pitt County. She also volunteers with PCCSU, serves on Pitt County Juvenile Crime Prevention Council, and is a certified Community Resiliency Model (CRM)® Teacher.
Keith Cartwright, Adverse Childhood Experiences Coordinator for Virginia Department of Behavioral Health and Developmental Services, has led a movement that now has over 300 ACE Interface Master Trainers and Presenters across the state of Virginia. Since 2017, this group has educated over 16,000 Virginians on the impacts of positive and adverse childhood experiences on long term health and wellness. Keith also serves as the Alcohol and Drug Education Coordinator at Randolph-Macon College in Ashland, Virginia.
Kerri Kehoe, LMBT, is a newly licensed massage therapist who went to school at JSG School of Massage in Northvale, NJ. Kerri specializes in Swedish Massage and is eager to expand her knowledge and specialties. Kerri believes massage therapy benefits people on a mental, physical, emotional, and a spiritual level. She feels rewarded when her clients feel relaxed and are being relieved from any pain or stress they may have.
Kia Glosson, MSW, LCSWA, Certified CRM Teacher, works as a Training Specialist at TEDI BEAR Children's Advocacy Center (CAC), a subspecialty clinic of East Carolina Brody School of Medicine. She began her work there offering Stewards of Children, a child sexual abuse prevention, recognition, and response training. Through her work with TEDI BEAR CAC, Kia began collaborating with others to raise awareness of Adverse Childhood Experiences (ACEs) and implement trauma informed practices. Kia is a founding member of BRACE (Building Resilience and Courage to Excel), a collaborative of passionate individuals dedicated to creating a more compassionate culture in Pitt County. She is both a Reconnect for Resilience educator and a Community Resilience Model (CRM) trainer, working throughout Pitt County to provide training in which participants learn the effects of trauma on the body and brain, as well as practical wellness skills to build their resilience. She is also a Circles of Security Parenting facilitator working to help adults better understand the importance of early, secure attachments.
Leela Harpur Heyder, MA, Certified CRM Teacher, is the founder and CEO of Calm Minds Kind Hearts (CMKH), a small business based out of Kitty Hawk, NC that supports in cultivating resilient communities from the inside out. CMKH does this through teaching Mindfulness, Resilience and Social Emotional Learning (SEL) practices to community members and supporting schools and businesses in integrating these practices into the fabric of the day in order to support the well-being of individuals and teams. Leela has had her own mental well-being practice since she was 10-years-old and her passion for sharing these skills developed during her time as a middle school ESL and Spanish 1 teacher. The reality that Leela could not takeaway the struggles in her students and colleagues' lives led her to what she could do; teach emotional self-regulation tools to better meet the challenging moments, and to be more present for the joyful moments. Leela now gives her full energy to supporting humans in illuminating their well-being and leading more grounded, joyful and healthy lives. She is trained in Mindfulness through Mindful Schools, and in the Community Resiliency Model through the Trauma Resource Institute. Leela earned her teaching certificate from ECU, her MA in International Affairs from American University and her BA in Corporate Communications and Foreign Languages from Southern Methodist University. Leela enjoys surfing with her husband, traveling and learning about new cultures, reading, bicycling and dancing with her friends!
Marrin Scalone, RYT200, ACEs Specialist at Virginia Department of Behavioral Health and Developmental Services, works for the Virginia Department of Behavioral Health as the Adverse Childhood Experiences Program Specialist. She received her Bachelor's degree in Psychology from the College of William and Mary, where she first learned the importance of research and evidence-based practices in social services. Through integration of her academic research within her role at DBHDS, Marrin has become devoted to understanding the intersection of mental health, prevention, and the neuroscience of trauma. As a yoga teacher and a writer, all her greatest passions seem to stem from one common thread: the human story.
Pam Strickland, Founder of North Carolina Stop Human Trafficking. Upon learning that Human Trafficking is a problem here in NC, she felt called to be active locally in educating our community about this issue and working towards preventing Human Trafficking. The nonprofit was incorporated in 2010. Pam has attended numerous conferences and received in-depth Human Trafficking Training from a variety of entities including U.S. Immigration and Customs Enforcement, the Freedom Network Training Institute, the Not for Sale Campaign, the FBI, the SBI, and GEMS. NC Stop Human Trafficking is a member of the NC Coalition Against Human Trafficking, and Pam served as the Co-Chair, until she rotated off the Board in December 2018. In 2016, Pam led the effort to start the Pitt County Coalition Against Human Trafficking, modeled after the state-wide group. In 2020, Pam, along with 3 other nonprofit leaders, formed the NC Demand Reduction Task Force. Pam trains professional groups in how to recognize human trafficking and respond to it. Groups trained in recent months include law enforcement, social workers, teachers, counselors, therapists, healthcare providers and Crisis Intervention Teams.
Sam Lewis, BMT, CSAPC, ADETS, ASAPS, is a native to Eastern North Carolina currently living in his home town of Historic New Bern, raising his family and working as an Alcohol Substance Abuse Prevention Specialist aboard Camp Lejeune-New River MCB in Onslow County, NC. Sam earned a degree in Music Therapy from ECU where he completed a six month internship at Cherry Hospital, and holds credentials as a Certified SA Prevention Consultant (CSAPC) with NCSAPPB. He has worked in the ENC Region and with the state to provide special serve populations, mental health, substance abuse treatment, and prevention services since 2000.
Sara Nami, MA, ATR-BC, L-CAT, LCAS-A, is the clinical art therapist on staff for Naval Medical Center – Camp Lejeune SARP (Substance Abuse Rehabilitation Program) working with active duty, retired and dependents of the military population for the past 3 years. Sara is also new to the Inner Source Therapy private practice in New Bern, NC. Sara earned her master's degree in clinical art therapy from Long Island University Post and has been practicing as an art therapist for 7 years. Sara is currently working towards her LCAS and LCMHC.
Tocarra Osborne, ABA, Alliance Certified Trainer, is the Partnership Engagement Coordinator for Bladen Smart Start, A Partnership for Children in Elizabethtown, NC. She operates the Resilient Bladen program that was started in 2020. For the last 3 years, her work has centered around educating communities about adverse childhood experiences (ACEs) and how to build resilience and strengthen families in SE North Carolina. She is an Alliance Certified Trainer through the Children's Trust Fund Alliance. Her passion for improving the lives of children and families has led her to be trained as a trainer in programs around trauma, resilience, and improving family engagement.
Agenda:
*Arrive early to sign-up for the limited 10-minute chair massages by Kerri Kohoe, LMBT
7:30 Check-In, Networking, Coffee & Cookies in The View
8am-8:15am Welcome/Introductions
Tamra Church, MAEd, MCHES®, Certified CRM Teacher
8:15am-8:30am Welcome & Inclusion Activity
Leela Heyder, MA, BA, Certified CRM Teacher
8:30am-8:45am Trauma & Substance Use
Jennifer Matthews, Ph.D., MSPH, Certified CRM Teacher
8:45am-9am Trauma & Human Trafficking
Pam Strickland, Founder of NC Stop Human Trafficking
9am-9:10am Engaging Strategy: Resiliency Pause
Leela Heyder, MA, BA, Certified CRM Teacher
9:10am-10:35am Life is a WE Thing: The Relationship Between ACEs and Human Connection
Keith Cartwright, ACEs Coordinator VA Dept of Behavioral Health & Developmental Services & Marrin Scalone, RYT200, ACEs Specialist VA Dept of Behavioral Health & Developmental Services
The original Adverse Childhood Experiences study transformed our entire approach to public health and revealed the impacts of trauma and adversity for on illness, disability, and death in the United States. In our presentation, we will re-examine the impacts of ACEs to the mechanisms of relationships and assess the damage to human connection that can lead to these poor health and well-being outcomes.
Objectives:
1. Refocus the lens in which we approach Adverse Childhood Experiences from a public health issue to human connection issue.
2. Gain a deeper understanding of the neuroscience behind the complexity of human connection.
3. Highlight the opportunities for community and individual healing stemming from healthy human connection.
10:35am-10:45am Engaging Strategy: Mindful Moment
Leela Heyder, MA, BA, Certified CRM Teacher
10:45am-11:45am Creating Trauma Informed Multidisciplinary Teams as Best Practice
Becky Haas, International Trauma Informed Care Presenter
For several years, Becky Haas has been training every imaginable sector of professional to understand how to create trauma informed, resilient focused programs. A growing number of organizations realize operating in silos is not an effective way to provide client centered services. In this session, participants will understand why creating trauma informed multidisciplinary teams is recognized as best practice for effective service delivery to trauma survivors. By greater empathy and understanding among a multidisciplinary team, professionals can bring healing to trauma survivors.
11:45am– 12:45pm Relaxing Lunch with Sam Lewis (in The View & on the Veranda)
Sam Lewis, BMT, CSAPC, ADETS, ASAPS
12:45pm-1:45pm Breakout Session I:
I. Developing Resilience and Recovering Your Authentic Self
Garret Biss, USMC (Ret.), CPRC, MRED
In even the earliest stages of life, most face experiences that challenge their ability to connect with or express their authentic selves. Survival instincts throughout life lead many to abandon their authenticity in search of connection or attachment. This sacrifice of authenticity is a gateway for pain, suffering, or general life dissatisfaction for too many. The void created in one's identity is a gateway for maladaptive coping mechanisms and limiting beliefs to take root. This presentation will guide participants on a path of recovery – to recover their authentic selves and to accept their true power and beauty.
During this session you will discover how and why you may have surrendered your authenticity, the effects this has had on your life, and how to recover this lost part of yourself. If you often feel there is a missing piece in your life or that your true potential is being stifled by something you just can't identify, then you won't want to miss this session. You will depart with tools to engage your innate strengths, recognize your true ability, and re-connect with the authentic parts of you that have been lost.
Objectives:
1. Participants will be able to explain the signs and symptoms experienced when they lack sufficient resilience to express their authenticity or enjoy meaningful connections.
2. Participants will be able to explain and lead others through various processes for promoting resilience and authenticity.
3. Participants will be able to explain various methods for cultivating resilience by improving self-efficacy and promoting multiple forms of connection.
II. Human Trafficking 101
Pam Strickland, Founder of North Carolina Stop Human Trafficking
Objectives:
1. Define human trafficking.
2. Identify indicators that a person may be a victim of human trafficking.
3. Do's and Don'ts when communicating with a potential victim.
III. The Stories of WE: Building Human Connection Workshop (same as breakout session II)
Keith Cartwright, ACEs Coordinator VA Dept. of Behavioral Health & Marrin Scalone, RYT200, ACEs Specialist VA Dept of Behavioral Health
Objectives:
1. Utilize a story-driven exercise to define and harness the power of language on our relationships.
2. Learn curiosity-driven approaches to community building conversations and programming.
3. Facilitate empathy-based evaluations of our own strengths and barriers to human connection.
IV. Healing of Trauma Through Art & EMDR (Eye Movement Desensitization and Reprocessing)
Deborah Ashway, LCMHC, LCAS & Sara Nami MA, ATR-BC, L-CAT, LCAS-A
This session provides a brief overview of how and why using art and EMDR are effective modalities for healing trauma. Everyone can benefit from the process of creative expression. An Expressive Arts activity is introduced to provide an interactive experience of how the creative process engages the brain and body. Expressive Arts is typically used in situations in which words are difficult such as trauma, grief, shame, and loss. A deeper part of the brain is activated when involved in the act of creative expression. The art activity in this session is further enhanced through an EMDR exercise, which opens up access to implicit emotions allowing opportunity to gain more cognitive control.
When we submerge into exploration through the expressive process and also EMDR, we find that we are able to build resilience through a deeper understanding of ourselves and the purpose of emotions. The projects presented here are designed to create a sense of empowerment through the deliberate connection of thoughts and feelings. Art facilitates the process of self-discovery through the connection of mind/body/soul. Through EMDR we connect sensory experiences that contain emotional energy to our awareness. Both modalities have the ability to instill hope, increase empathy and love. Through these avenues people can heal from trauma, grief and original family pain.
Objectives:
1. Understand the concepts of healing trauma through expressive art therapy
2. Learn how exploring emotions helps process difficult challenges
3. Experience of the effects of creative expression in enhancing resilience
4. Gain tools for sensory and emotional processing
V. Regulation Station (Calm Corner!)
Leela Heyder, MA, BA, Certified CRM Teacher
Participants "Make & Take" their own tangible tools for emotional self-regulation. This can be offered as a breakout session, a full workshop or as stations set up around the room! Depending on the deliverable chosen, participants could create their own stress ball, rainstick, brain jar, sand timer and/or breathing bracelet. Each participant will walk away with a mini "Regulation Station" to utilize throughout their day and to share with their colleagues and family.
1:45pm-1:55pm Break
1:55pm-2:55pm Breakout Session II:
I. Lightening Your Load: Emptying Your Invisible Backpack
Kia Glosson, MSW, BFA , LCSWA, Certified CRM Teacher & Bonnie Jean Kuras, M.ED., Certified CRM Teacher
During this presentation, attendees will learn to identify the markers of stress and burn-out while giving opportunities to manage on the job stress, so as not to carry it home in their invisible backpack. Additional simple, efficient tools that balance the nervous system before, during, and after chronic stress while identifying wellness strategies that help to develop psychological protective gear to do the work you do each and every day. Participants will walk away with an implementation plan to support the completion of their own stress cycle.
Objectives:
1. Define and understand the differences between trauma and stress
2. Understand the effects of trauma and stress on the body/brain/behavior and how the brain can be rewired to mitigate these effects
3. Gain additional specific strategies to reset the nervous system to reduce secondary stress and workplace fatigue/burnout
4. Choose 3 strategies to complete the stress cycle each day
II. Bringing Protective Factors Framework to Life in Your Work
Tocarra Osborne, ABA, Alliance Certified Trainer
This introductory course provides an overview of the 5 protective factors - Parental Resilience, Social Connections, Knowledge of Parenting and Child Development, Concrete Supports in Times of Need, and Social and Emotional Intelligence of Children. The goal of this course is to gain knowledge of the 5 Protective Factors that prevent child abuse and neglect, identify strategies and everyday actions that will help families build these protective factors, understand what it means to work with families in a strength-based way, and become familiar with the Strengthening Families Self-Assessment and explore ways it can be used.
III. The Stories of WE: Building Human Connection Workshop (same as breakout session I)
Keith Cartwright, ACEs Coordinator VA Dept. of Behavioral Health & Marrin Scalone, RYT200, ACEs Specialist VA Dept of Behavioral Health
Objectives:
1. Utilize a story-driven exercise to define and harness the power of language on our relationships.
2. Learn curiosity-driven approaches to community building conversations and programming.
3. Facilitate empathy-based evaluations of our own strengths and barriers to human connection.
IV. Creative Expressive Arts
Sam Lewis, BMT, CSAPC, ADETS, ASAPS
This interactive and informative learning experience is for professionals using creative expressive arts as an intervention to serve their population in prevention or treatment. Individual/Group assessment techniques will be covered. Interactive activities will be presented illustrating practical and useful techniques without special music/artistic skills. Participants will have new and fresh ideas to add to current interventions to promote protective factors, resiliency, proactive/positive outcomes and goals.
Objectives:
1. Identify 3 of the evidence based practices of creative expressive arts modalities and the 3 practical assessment techniques for each based on age, ability, and interest;
2. Review 6 different practical examples of creative expressive arts activities that can be adapted for most all populations and ability levels in prevention or treatment settings; and
3. Demonstrate how to facilitate at least 3 or more creative expressive arts interventions in their respective practice.
V. Restorative Yoga (Adaptive Chair Yoga)
Cheryl Flanagan, RYT200, Certified Integrative Yoga Instructor
In this session, participants will learn gentle postures to use throughout the day while seated or standing with the aid of a chair. It is a wonderful and refreshing practice to align the mind and body. Enjoy this time for yourself, you deserve it! No experience necessary to join this session.
2:55pm-3:15pm Break
3:15pm-4:40pm Moving an Organization from Trauma Aware to Trauma Informed Toward Resiliency Focused
Becky Haas, International Trauma Informed Care Presenter
In this session, international subject matter expert, Becky Haas, will present best practices for moving an organization from trauma aware to a culture of trauma informed. She will provide examples of trauma informed programs, an overview of assessing trauma informed organizational structure, conducting environmental scans, implementing trauma informed policies and procedures, addressing staff well-being, and creating an action plan to move an organization toward becoming a trauma informed, resiliency focused organization.
4:40pm-4:50pm Optimistic Closure
Leela Heyder, MA, BA, Certified CRM Teacher
4:50pm-5pm Next Steps & Door Prizes
Tamra Church, MAEd, MCHES®, Certified CRM Teacher
This event was organized by the Coastal Coalition for Substance Awareness & Prevention (CCSAP) and funded by the Drug-Free Communities Support Program, Craven County ABC Board, and the Wilmington Treatment Center.

Made possible through funding by: